Timeline of Greste family actions and reactions on the road to Freeing Peter.
Imagine facing a worst-case scenario in a foreign land. For international media correspondents like Peter Greste, the threat of incarceration, kidnapping, robbery, violence or worse are risks to be weighed against the importance of the task at hand. But what if your loved-one is confronted with an overseas ordeal? Where do you turn for help? Who do you call? How do you impact a situation on the other side of the world that's seemingly spiralling out of control?
These were the types of questions Peter Greste's family would ask during the 400 days he spent locked up in Egypt under allegations of spreading false news. Here, Peter's mother and father Lois and Juris, and brothers Andrew and Michael, run through some of the key dates of Peter's Egyptian ordeal, detailing their reactions, and actions, as the situation unfolded.
December 29, 2013
Peter and colleagues arrested
Michael – The first thing I did after hearing about the arrest was to get in touch with Andrew. Mum and Dad were at the family hobby farm at the time and we were aware that they were in the dark about the arrest. Andrew and I had a short debate on the merits of telling Mum and Dad, thinking that it was all probably going to blow over, but we decided to give them a call anyway and tell them what was going on. Upon hearing the news they immediately packed up and returned to Brisbane to find out more. From this point on, and throughout the first half of the campaign, it was driven by Mum and Dad, so Andrew and I saw our roles as support for our parents, helping out where we could.
Lois & Juris – There was shock as well as surprise. Shock triggered denial that this was happening. Peter is an experienced journalist who has worked in politically and militarily sensitive places. He could not have done anything inappropriate. This must be some misunderstanding and a case of mistaken identity… Periods of deep concern were tempered with a conscious reminder not to panic. It will be OK.
January 29, 2014
Peter and colleagues are accused of spreading false news
Andrew – The charges seemed completely absurd almost farcical. By this stage things had developed into a much more serious problem and we were now facing a trial.
Lois & Juris – Spreading false news! This was getting direr as well as more incredible by the moment. To us it was not possible that Peter, mid-career with an illustrious record of achievements, would falsify news, in Egypt of all places! This was a clear case of wrongful arrest, which soon also revealed itself as a dispute between Peter's employer, Al Jazeera, and the governments of Qatar and Egypt. Peter was just a pawn, in the wrong place at the wrong time…
As preposterous as the charges were, we were absolutely convinced that, should the matter proceed to a trial, there was no evidence against Peter except possibly the transgression of being in Egypt without formal accreditation. We stepped up the media campaign to hasten the commencement of the trial and highlight the obvious: that this was an assault on free speech and on independent media, and that being a journalist was not a crime.
Michael – Upon hearing of the charges we immediately set up a meeting with DFAT [Department of Foreign Affairs and Trade] to consult with them and try and obtain some understanding of what the accusations meant, and also to hear their appraisal of the situation (which was very sobering). From the beginning I was also very conscious of the fact that Peter had no family in Egypt with him... I considered it crucial that a family member should be in Egypt as long as Peter was behind bars, and I made a push for this to occur.
February 20, 2014
The trial Begins
Andrew – It took some time to get an understanding of the Egyptian legal system, which is so different to our own. The trial seemed to progress at snail's pace with many hearings appearing as nothing happened. There were times when I was convinced the Judge would throw the case out because the prosecution case was so weak that it was making the court look foolish. It became a test of endurance, a grind to the end. I thought we just needed to get to the end of the trial, Peter would be released and we could all go home.
Lois & Juris – After the initial court hearing, we truly could not believe that the trial was not scripted by the Monty Python team or Gilbert & Sullivan. We accept cultural differences, but this trial process was unfathomable to us. We could not believe what was happening. To present photos of us as evidence against Peter was farcical. We cringed at how the Egyptian judicial system was being seen by the rest of the world – and it was. At the same time, we were anxious that as a result of this trial, even without credible evidence against Peter and his colleagues, there was a chance they could possibly still be found guilty.
June 23, 2014
Peter sentenced to seven years' jail
Lois & Juris – Few things in life are certain, but after the trial we were very confident that Peter and his colleagues would be acquitted. At the worst we thought they may be given a sentence, equivalent to time served, for some minor breach as a face-saving gesture. On the night of the verdict, a small party was organised at our house. The Champagne was on ice. A TV crew was there to record the joyous moment. It all blew up in a terrible heap. We were all completely floored by the seven-year sentence. It was totally unbelievable.
Michael – Upon hearing the sentence, we realised that there was a great deal of public support in Australia and elsewhere and thought it a good idea to establish an email account that the public could send letters of encouragement and support to Peter and his colleagues. We also thought it important to try and convince Peter how much support was out there for him, to keep encouraged.
We now had to consider our legal options, and somehow find a new legal team to take on an appeal. When the case is clearly political, it can be somewhat challenging to find a competent lawyer or barrister, let alone one who is very capable. There was also the issue of the relationship that existed between Al Jazeera and the Egyptian Government. We had very long and at-times heated discussion on the value in breaking away and disassociating ourselves from the network, at the same time knowing that if we did we could potentially eliminate their support. It was a period of extreme turmoil as no satisfactory solution presented itself, and it felt like we had to feel our way through a very dark room without any light.
We knew it was time for Mum and Dad to go over and visit Peter. We were acutely aware of how emotionally draining the situation was getting for them both, and Andrew and I felt it was necessary to take over the campaign to try and release some pressure from our parents. We also felt that, with them both in Egypt, it was not practical for them to manage and run a campaign. As a result Andrew and I both identified some experts here in Australia to try and assist us with the campaigning, understanding the Egyptian legal system and trying to find a strong Egyptian legal team.
July–November 2014
Political pressure mounts
Lois & Juris – We took the lead in Cairo to select and manage the local legal team. Deciding on the Egyptian lawyers was one of the hardest decisions we had to make. Peter's future was in our hands. We had to decide under time pressure as the appeal lodgement deadline was approaching fast. Andrew and Mike, lobbying local politicians and the government, drove the campaign from Australia. When Egyptian President el-Sisi publicly announced that had he been in office at the time of the arrest, the boys would not be in prison, this was a ray of hope and an important sign that the people at the highest level were feeling the international pressure that we had managed to generate. While the Egyptian bureaucracy was still a dark maze to us, we gained some confidence that our loud shouting and drum beating had been heard. We were contributing to the damage being done to Egypt's international reputation. After meeting with the Presidential spokesman, we knew they wanted a way out.
November 13, 2014
Deportation decree granted
Michael – We saw the enacting of the decree as a major step towards Peter's release. We felt that it was especially created by the Egyptians to assist in finding a way to release Peter that would be acceptable for all parties. The Egyptians are incredibly sensitive and needed to find a way of releasing Peter without looking like they were conceding anything. So, while we saw this as a step forward, we knew there was still some work to do to get the ball rolling, and at the end of the day the Egyptians still had the final say.
Andrew – This was a very encouraging sign as we were told privately that it was most probably written to deal specifically with Peter's case. It also created a lot of urgency and frustration when dealing with our Egyptian lawyers. We felt we needed to be the first ones to test this Presidential decree. Our Egyptian lawyer was treating the decree cautiously as there was no precedent, and Peter was also skeptical about the possibility of release under the decree.
We were also having some disagreements with Peter about his reluctance to consider a 'deal', or invoke the deportation decree during November. Also during this period we were trying to convince him not to start a hunger strike. So we felt we had to manage quite a few issues inside the prison as well as out.
January 1, 2015
Retrial announced
Michael – The granting of a retrial was no doubt welcome, and it was somewhat of a relief to know that we could have another crack at defending Peter. However, to be fair, our confidence in the Egyptian legal system was by now non-existent.
Lois & Juris – There was a difficult fork in the road… Peter was passionate to clear his name in this retrial. The decree, as drafted, would require Peter to serve time in Australia. That was unacceptable to all of us.
The appeal court granting a retrial was welcome. We had good intelligence that the Prosecutor would call for the case to be dismissed. That did not happen. In the meantime, diplomatic and legal negotiations were in high gear and on a tight rope, pressing for the exercise of the Presidential decree – but for Peter's outright freedom, not to spend prison time in Australia.
February 1, 2015
Peter released
Michael – When I first heard that Peter was going to be released, I was of course relieved but also tentative. So many times throughout the ordeal did we find cause to get excited about the possibility of Peter's release, only to have those hopes dashed. So while news of his release was exciting, I was concerned that something might happen that would cause the Egyptians to either renege or otherwise pull out of the deal. My relief was not realised until we landed in Cyprus and disembarked from the plane, because technically while we were on an Egypt Air flight, the Egyptian authorities could have directed the plane to turn around and return to Egypt. In other words, we were not out of Egyptian 'control' until were off the Egypt Air flight. The excitement of having Peter released was not fully appreciated until we arrived back in Australia and were greeted by an overwhelming number of supporters who'd come to the airport at an ungodly hour to welcome Peter back into the country.
Andrew – For me it was a feeling of relief and satisfaction rather than one of excitement… It was a few days after he left Cairo that we were reunited in Brisbane – 2am on a weekday morning and Brisbane Airport was packed with supporters and well-wishers. It was a great moment.
Lois & Juris – Peter's return to Brisbane, accompanied by his youngest brother Mike, will remain a high point in the family heritage. We were all totally shocked by the reception of the large media contingent and the public, as well as friends, who had all turned up in large numbers at the airport in the middle of the night to be part of a historic moment.
---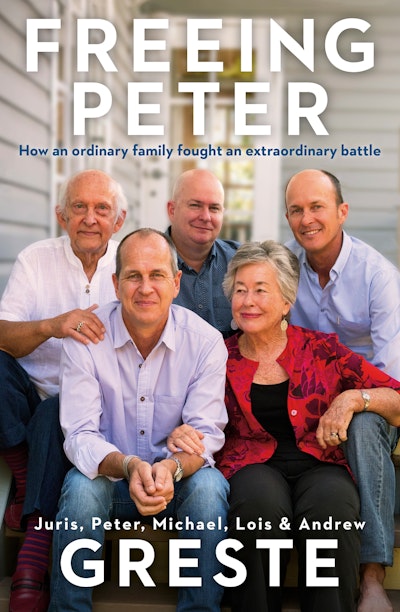 Freeing Peter tells the extraordinary true story of how an ordinary Australian family took on the Egyptian government to get Peter Greste out of prison.
Buy now
Buy now
---