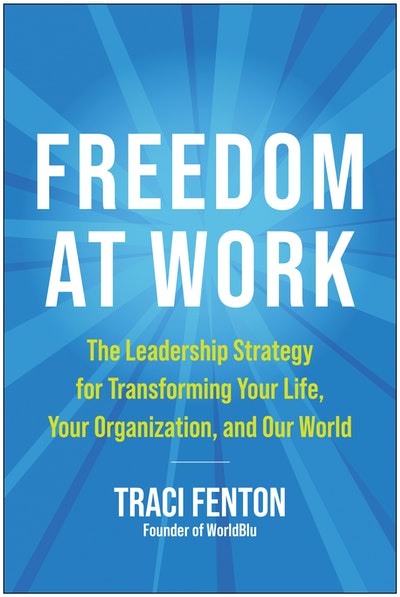 Published:

16 March 2022

ISBN:

9781953295491

Imprint:

BenBella Books

Format:

Hardback

Pages:

304

RRP:

$49.99
Freedom at Work
The Leadership Strategy for Transforming Your Life, Your Organization, and Our World
---
---
Discover the leadership handbook our fear-based world desperately needs right now.
Whether it shows up as stress, top-down leadership styles, drama, or uncertainty, fear kills good decision-making, dampens morale, lowers employee engagement, and hurts bottom-line growth. 
The good news is that there's an antidote: Freedom at Work.
More than two decades ago, Traci Fenton started a movement of leaders committed to leading themselves, their teams, and their businesses on the principles of freedom and organizational democracy—rather than fear and control.
In this groundbreaking book, Fenton brings together decades of original research, based on her team's work with hundreds of top companies around the world, such as The WD-40 Company, DaVita, Menlo Innovations, Zappos, Widen, HCL Technologies, Mindvalley and more, revealing the proven pathway to leadership success. This powerful leadership strategy will benefit any leader at any level in any type of organization, from entrepreneurs to mid-level managers to the C-suite.
Freedom at Work is based on three key pillars: 
  • Freedom-Centered Mindset, to break through limitations, make better decisions, and act with clarity and confidence.
  • Freedom-Centered Leadership, to lead yourself and others from a place of freedom rather than fear
  • Freedom-Centered Organizational Design, an optimal model based on the 10 principles of organizational democracy 
For leaders who are passionate about advancing freedom and democracy in our world through the way we design our business, Freedom at Work is a revolutionary guide that will help make any organization high-performing and highly profitable, while creating a culture people love. What's more, this book features practical strategies to help leaders grow their team or organization, improve revenue growth, and quickly pivot during a crisis or recession—all crucial components of robust companies. 
Freedom at Work will help leaders to weave freedom and democracy into our global tapestry through the way they run their teams and organizations—ultimately transforming our world for the better.
Published:

16 March 2022

ISBN:

9781953295491

Imprint:

BenBella Books

Format:

Hardback

Pages:

304

RRP:

$49.99