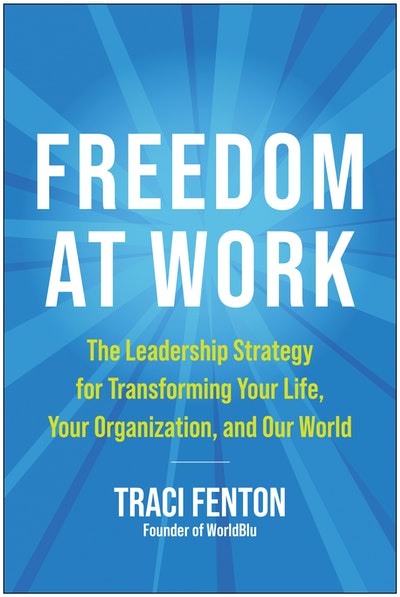 Published:

16 March 2022

ISBN:

9781953295491

Imprint:

BenBella Books

Format:

Hardback

Pages:

240

RRP:

$46.99
Freedom at Work
The Leadership Strategy for Transforming Your Life, Your Organization, and Our World
---
---
It's the last thing most leaders will admit, but fear is rampant in our workplaces—from the frontlines to the C-suite. And chances are it's present in yours. Whether it shows up as stress, top-down leadership styles, drama, or uncertainty, fear kills good decision making, dampens morale, lowers employee engagement, and hurts bottom-line growth.
The good news is that there's an antidote: Freedom at Work.
In any business, there are two very different types of leaders: those who lead from a place of fear and those who lead from a place of freedom and possibility. Fear-based leaders build workplace environments based on top-down, command-and-control-based principles. They think that fear is a motivator, but it actually squelches creativity and makes employees want to leave. The good news is that when you lead from a place of freedom, you can create a workplace environment people love, maximize your team's ingenuity and potential, and see great bottom-line results.
So . . . do you want to lead with freedom or fear?
In this groundbreaking book, Traci Fenton, founder and CEO of WorldBlu, presents the Freedom at Work leadership model, encompassing mindset, leadership skills, and organizational design. This powerful strategy is designed for leaders at any level in any organization, from up-and-comers to mid-level managers to the C-suite. Based on more than 20 years of research and work with hundreds of top companies around the world, such as WD-40, DaVita, Menlo Innovations, Zappos, Widen, HCL Technologies and more, Fenton teaches leaders the mindset, leadership skills, and 10 principles of organizational democracy. Freedom at Work will show you how to design a robust, scalable and engaging team or organization based on freedom—with accountability—rather than fear and control.
Through engaging and inspirational stories, Traci shows leaders how freedom in the workplace drives real results. She teaches you how to practice Freedom at Work, so you, too, can grow teams and organizations that have greater revenue growth compared to the S&P 500, can more quickly pivot during a crisis or recessions, are much more stable and robust, and are proven to make a positive impact on their surrounding communities.
Freedom at Work will help to weave one more thread of freedom and democracy into our global tapestry—ultimately transforming our organizations and our world for the better.

Published:

16 March 2022

ISBN:

9781953295491

Imprint:

BenBella Books

Format:

Hardback

Pages:

240

RRP:

$46.99