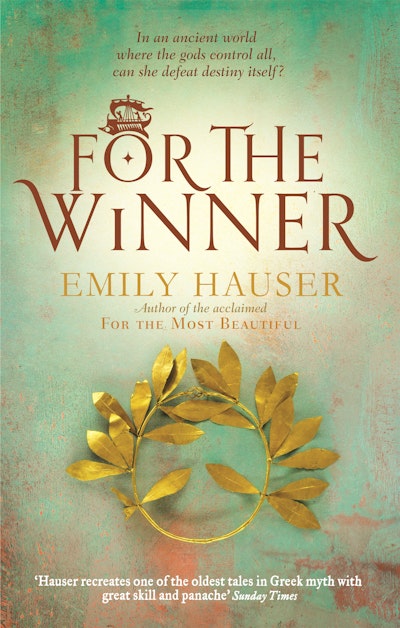 Published:

15 June 2017

ISBN:

9781473525528

Imprint:

Transworld Digital

Format:

EBook

Pages:

448
For the Winner
---
---
---
The enthralling new historical novel by the author of the acclaimed For the Most Beautiful, retelling the time-honoured legend of Jason and the Argonauts and the Golden Fleece, and of Atalanta, the princess who became a warrior and who fought alongside the warrior heroes of Greece on the greatest adventure of their age...
Some three thousand years ago, in a time before history, the warriors of Greece journeyed to the ends of the earth in the greatest expedition the world had ever seen.
One woman fought alongside them.
Abandoned at birth on the slopes of Mount Pelion, Atalanta is determined to prove her worth to the father who cast her aside. Having taught herself to hunt and fight, and disguised as a man, she wins a place on the greatest voyage of that heroic age: with Jason and his band of Argonauts in search of the legendary Golden Fleece.
And it is here, in the company of men who will go down in history as heroes, that Atalanta must battle against the odds - and the will of the gods - to take control of her destiny and change her life forever.
With her unrivalled knowledge and captivating storytelling, Emily Hauser brings alive an ancient world where the gods can transform a mortal's life on a whim, where warriors carve out names that will echo down the ages . . . and where one woman fights to determine her own fate.
Published:

15 June 2017

ISBN:

9781473525528

Imprint:

Transworld Digital

Format:

EBook

Pages:

448
Praise for For the Winner
In For the Winner, Emily Hauser tells the compelling story of the brave, strong and clever Atalanta as she seeks to take her rightful place in her father's life. Her many adventures with Jason and his Argonauts kept me utterly absorbed. Here is a heroine to cheer for, and a book to cherish.

Margot Livesey
One of the most fascinating and innovative recent novelisations of the legendary journey of Jason and the Argonauts to capture the Golden Fleece seen from the eyes of the only heroine who, according to myth, took part: Atalanta. Although Jason and the Argonauts is one of the most famous stories of Greek mythology, the story of Atalanta has been less known or even neglected throughout the centuries. Emily Hauser's novel fills this gap with intellectual erudition, passion and paralleled imagination in order to give us, in the liveliest way possible, the story of an amazing female character and her journey from anonymity to immortality through her unbelievable heroic deeds.

Antony Makrinos, Fellow in Classics at UCL
An enchanting, dramatic novel that brings to life iconic mythic characters, including a woman whose voice had long been silenced.

Judith Starkston, author of HAND OF FIRE
For the Winner is beautifully descriptive and full of historical detail, easily drawing the reader into a lost world of gods and heroes. By taking the viewpoint of Atalanta, a lesser known character from Greek myth, Hauser gives us a refreshingly original take on Jason's famous quest for the Golden Fleece.

Glyn Iliffe, author of KING OF ITHACA
A brilliant, epic tale full of breath-taking action with a shining star at its centre, Atalanta, a female warrior of incredice force and drive. This gem of a book will leave you desperate for the next Emily Hauser novel.

Crystal King, author of FEAST OF SORROW
Hauser recreates one of the oldest tales in Greek myth with great skill and panache.

Sunday Times
An enthralling re-telling of Greek myth . . . Hauser's rendering of Atalanta is captivating, the story-telling masterful and engaging. The ancient myths are in good hands!

Dr Michael Scott, Associate Professor of Classics and Ancient History at Warwick University
An erudite page-turner.

Lady
It's wonderful how Emily Hauser brings alive this Bronze Age world . . . this is immersive writing, marvellously descriptive and evocative . . . an elegant, exciting and in some ways moving story.

Kate Atherton, For Winter Nights
It is Atalanta, determined to prove herself every bit as good as a man, who turns this into a story which speaks to us . . . Despite the will of the gods, she is very clearly in charge of her own destiny. It is this mixture of feminism and self-determination which makes For the Winner a very modern and relevant novel.

Historical Novel Society