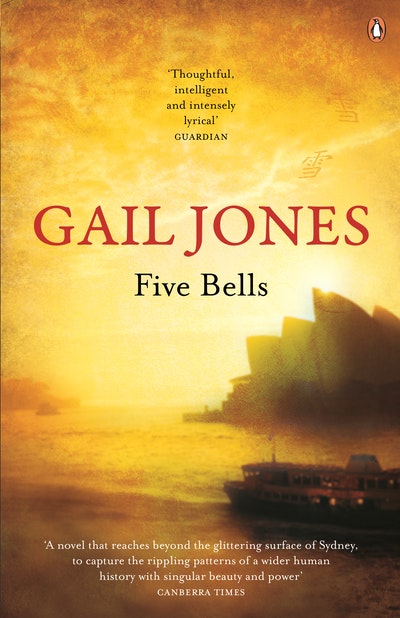 Published:

19 March 2018

ISBN:

9780143790815

Imprint:

Penguin

Format:

Paperback

Pages:

224

RRP:

$22.99
Five Bells
---
---
---
Winner of the Kibble Literary Award, Shortlisted for the Victorian Premier's Prize for Fiction, the Adelaide Festival Award for Literature, The ALS Gold Medal, the Barbara Jefferiss Prize and the Indies Award.
On a radiant day in Sydney, four adults converge on Circular Quay, site of the iconic Opera House and the Sydney Harbour Bridge. Crowds of tourists mix with the locals, enjoying the glorious surroundings and the play of light on water. But each of the four carries a complicated history from elsewhere; each is haunted by past intimacies, secrets and guilt: Ellie is preoccupied by her sexual experiences as a girl, James by a tragedy for which he feels responsible, Catherine by the loss of her beloved brother in Dublin and Pei Xing by her imprisonment during China's Cultural Revolution. Told over the course of a single Saturday, Five Bells describes four lives which chime and resonate, sharing mysterious patterns and symbols. A fifth figure at the Quay, a barely glimpsed child, reminds us that some patterns are imprecise and do not resolve. By night-time, when Sydney is drenched in a rainstorm, each life has been transformed. Five Bells is a novel of singular beauty and power by one of Australia's most gifted novelists.
Published:

19 March 2018

ISBN:

9780143790815

Imprint:

Penguin

Format:

Paperback

Pages:

224

RRP:

$22.99
"Thoughtful, intelligent and intensely lyrical."
Jem Poster, The Guardian
"This is a story peopled by achingly real characters, memorably related in delicate, ornate prose, and throbbing with loss. Death comes to claim us all, it seems to say, so enjoy the transient glory of life while you can."
The Independent
"FIVE BELLS is a taut, intricately organised short novel that yet gives the impression of expansiveness. It moves with the confidence and mastery that marks Jones as one of the most distinguished of a vintage bunch of contemporary novelists."
Peter Pierce, The Canberra Times
"Jones is one of our greatest writers. For her enormous wisdom and insight as well as the shimmering intensity of her descriptive language."
Alice Nelson, The West Australian
"Long after finishing FIVE BELLS, I am still thinking about the lives of these four characters, the pasts that haunt them and the different directions they embark on at the novel's brilliant ending."
Fiona McGregor
"A luminous, finely crafted, sometimes jubilant, sometimes sad novel about time and art, history and loss, resilience and redemption, it is, as we have come to expect from Gail Jones as beguiling as it is provocative. A novel that reaches beyond the glittering surface of Sydney, to capture the rippling patterns of a wider human history with singular beauty and power."
Bron Sibree, The Canberra Times
"FIVE BELLS is a brilliant work, both explicitly Australian and insistently cosmopolitan. This new novel establishes Gail Jones as one of Australia's finest authors. She strives for moments when words draw pause; throughout FIVE BELLS this is her magnificent achievement. In the midst of pandemonium, traffic and tourist hordes gazing at icons, Jones gives us individuals who are achingly alive, filled with apprehensions of beauty, love and mortality."
Stella Clarke, The Australian
"This is, quite simply, a beautiful book. Slessor's FIVE BELLS is justly claimed as an elegy of enormous power, about place and its spirit. Memory, the sense of loss, and the painful connection between past and present are so brilliantly and immediately brought to life in Gail Jones's FIVE BELLS that it deserves to share the illustrious title."
David Gaunt, AB + P
"This book is beautifully written, with a refreshing economy of words that nonetheless provoke a surprising depth of emotions. Poignant and beautiful, this is one of the best books I have ever read."
Denise Faulkner, AGNSW Gallery Shop
"Five Bells is outstanding literary fiction. Well researched, we are taken with ease and authority from Sydney to Ireland, China and back again, and Jones finds beautiful and subtle ways to create links between these characters. It's writing that demands concentration and attention to fully appreciate, but for your time you will be richly rewarded."
The Nile
"I'm extremely and seriously cross with Random House. Where is the warning in big red letters on the proof of Five Bells. All my fiction reading is going to suffer in comparison for months. I haven't read such a sparkling piece of writing since Wolf Hall."
Karen, Better Read than Dead
"I just finished Five Bells. Wow what a beautifully crafted book and a beautiful multi-layered story. It has lingered in my mind from the first evening of dipping into it. I loved it!
I loved the characters, their journeys both to the quay and to their past. I felt bereft when James went overboard and even more bereft as Ellie longed to see him again with the possibility of re-establishing their relationship.
I loved the way you felt the motion of the train journey, the unfolding of the city as each character made their way to the quay. The colourful people that make a day by the harbour a wonderful experience no matter what your business is there. I think Gail really captured the beauty of the city, the harbour and the fragility of human nature and our complexities with one another.
And I think, and I'll make this call early - this is a prize winning novel. And deservedly so."
Stef Hoy
SORRY
'Gail Jones' sixth novel is an elegantly written lament for lost opportunities, both for its characters and a wider, national failure.'
THE AGE
'One of the most interesting and talented novelists at work in Australia today.'
THE SYDNEY MORNING HERALD
'Set in outback Western Australia during the second World War, Gail Jones' Sorry explores the strange, intense, deadly conformation of a 'ruined family'. Perdita, whose name indicates that this is the story of a lost child, is forced to deal with loneliness, the obsessions of others and the false consolations of withdrawal from the world. Yet some around her are 'given to the marvel of things'. There is some prospect of reconciliation between individuals and races in this unusual, disturbing, highly-wrought fiction.
FICTION JUDGING PANEL COMMENTS - PRIME MINISTERS LITERARY AWARDS 2008
SIXTY LIGHTS
'Wonderfully written passages... it's when Jones's ability as a stylist comes together with her intelligent and intensely visual imagination that her fiction becomes truly illuminating.' SYDNEY MORNING HERALD
'There is an intelligence and honesty to her writing that brings the characters powerfully to life.' THE AGE
'A moving and captivating story... a feast for lovers of language.' MELBOURNE TIMES
'Jones's imagery is evocative... wonderful turns of phrase.' THE BULLETIN
DREAMS OF SPEAKING
'DREAMS takes flight... with bravura flair.' TIME
'Jones is an extraordinary writer no matter what genre she is working in ... this novel strikes the most successful balance I've seen in her work so far ' AUSTRALIAN BOOK REVIEW