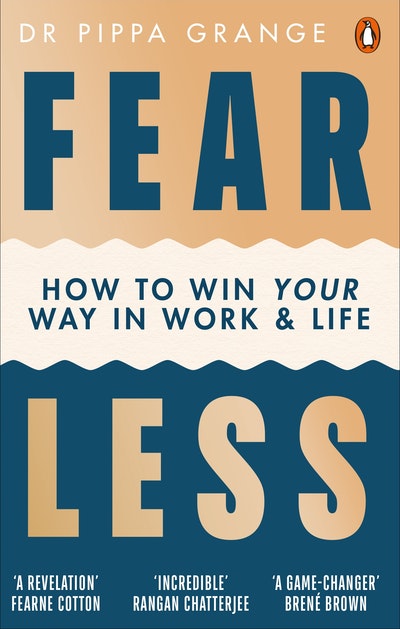 Published:

16 June 2021

ISBN:

9781785042928

Imprint:

Vermilion

Format:

Paperback

Pages:

304

RRP:

$22.99
Fear Less
How to Win at Life Without Losing Yourself
---
---
---
The empowering new manifesto from the psychologist who transformed the England team – for fans of Brené Brown, Philippa Perry and Steve Peters

'Pippa Grange has something to teach all of us when it comes to letting go of perfectionism and anxiety, and living with open hearts rather than clenched fists. Fear Less is a total game-changer.' Brené Brown
If we were truly free from fear, what could we achieve?
We strive for success, but we are rarely happy. The more we try to win - putting on a brave face for work or family - the more we risk losing ourselves. And even reaching our goals can feel strangely hollow. The culprit? Fear. It makes us anxious, or shameful, or turns us into perfectionists. We pretend to be someone else while aiming for a status that's never truly satisfying.
There is another way. A way to find our true voice, to win on our own terms. Building that open mindset is at the heart of this mould-breaking book by Dr Pippa Grange, the psychologist who helped transform the England team, taking them all the way to the World Cup semi-finals in 2018.
In Fear Less, Pippa Grange shows all of us how, by starting to live with less fear, we can find our real passions and deeper fulfilment. Her simple manifesto enables us to replace stress with courage, and connect with the people around us on a far deeper level.
This type of success isn't about trophies or beating others, it's about winning at the very deepest level: winning from within. It's time to fear less.

Published:

16 June 2021

ISBN:

9781785042928

Imprint:

Vermilion

Format:

Paperback

Pages:

304

RRP:

$22.99
Pippa Grange made the England team fearless

The Times
A fiery, Yorkshire-born psychologist, with a penchant for speaking her mind, Dr Pippa Grange was appointed to make the necessary cultural changes to develop England into a winning, well-oiled machine

Sun
The England team appears in a better place psychologically than it has for generations… and the credit goes to psychologist Pippa Grange

Guardian
The woman behind that World Cup penalty shootout miracle

Daily Mail
She's amazing… everyone listens when she talks

Dele Alli, Tottenham Hotspur & England
Gareth Southgate knew that Pippa Grange could hold the key to transforming the World Cup squad. England were a better team with her onboard

The Duke of Cambridge
Dr Pippa Grange astutely diagnoses fear as our deepest inner block to self-expression, joy, and success. In this upbeat, compelling book she provides an effective antidote.

Dr Gabor Maté, author of When The Body Says No: The Cost of Hidden Stress
So many of our negative emotions are ultimately driven by fear. In this incredibly personal, powerful book, Pippa Grange shows us how to face our fears and live free, fulfilled lives. A revelation.

Fearne Cotton
A stimulating book for performance and life. We all need to understand fear, and learn how to create the right environment to be courageous. Quality read!

Eddie Jones
This book might just change your life. Pippa Grange promises freedom from whatever it is that holds you back. Practical, powerful, profound

James Kerr, bestselling author of Legacy: What the All Blacks Can Teach Us About the Business of Life
An owner's manual for a fearful age

Michael Calvin, bestselling author of The Nowhere Men and State of Play
[Fear Less] encourages us to look at our sources of fear, know them and even embrace them so that we may live with more emotional freedom. I recommend this book

Julia Samuel, bestselling author of Grief Works and This Too Shall Pass
Any of us, including the world's top sports stars, can be held back by fear of failure. Dr Pippa Grange helps us tell different stories about ourselves, so we can be happier, more successful, and more connected to those we love

Dr Rangan Chatterjee
We all have and will inevitably encounter some kind of fear in our lives. This book took me to the why, and is rich in techniques on how to overcome it. An outstanding read

Juan Mata
Article
See, face, replace
From Fear Less, psychologist Pippa Grange offers a process for identifying your fears.