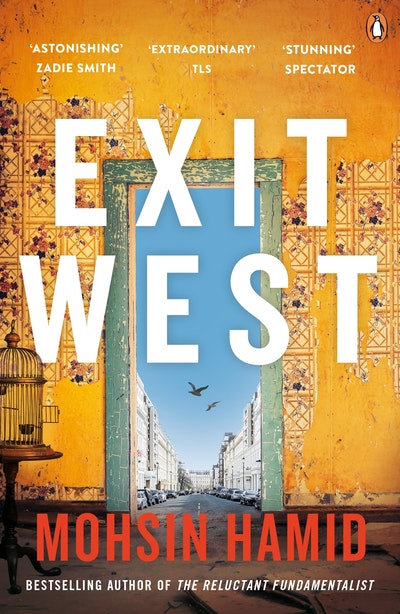 Published:

27 February 2017

ISBN:

9780241979075

Imprint:

Penguin eBooks

Format:

EBook

Pages:

240
Exit West
A BBC 2 Between the Covers Book Club Pick - Booker Prize Gems
---
---
---
From the bestselling, Man Booker shortlisted author of The Reluctant Fundamentalist, an astonishing new novel
In a city swollen by refugees but still mostly at peace, or at least not yet openly at war, two young people notice one another
They share a cup of coffee, a smile, an evening meal. They try not to hear the sound of bombs getting closer every night, the radio announcing new laws, the public executions.
Meanwhile, rumours are spreading of strange black doors in secret places across the city, doors that lead to London or San Francisco, Greece or Dubai. Someday soon, the time will come for this young couple to seek out one such door: joining the multitudes fleeing a collapsing city, hoping against hope, looking for their place in the world.
From the Man Booker-shortlisted author of The Reluctant Fundamentalist comes a journey crossing borders and continents, into a possible future. Exit West is a love story from the eye of the storm. It is a song of hope and compassion. It reaches towards something essential in humankind - something still alive, still breathing, an open hand and a thudding heart under all the rubble and dust.
Published:

27 February 2017

ISBN:

9780241979075

Imprint:

Penguin eBooks

Format:

EBook

Pages:

240
Immediately canonical

New Yorker
Writing in spare, crystalline prose, Hamid conveys the experience of living in a city under siege with sharp, stabbing immediacy

Michiko Kakutani, The New York Times
As with the very best literature, its crystalline readability fast eclipses its topicality

Mail on Sunday
[A] devastating portrait of victims of war, creating a singular parable about modernity, migration and the individual's place in the world

The Guardian
A deceptively simple conceit turns a timely novel about a couple fleeing a civil war into a profound meditation on the psychology of exile. A novel that fuses the real with the surreal - perhaps the most faithful way to convey the tremulous political fault lines of our interconnected planet

The New York Times
No conventional love story. [An] exceptionally moving and powerful novel

The Guardian
Mohsin Hamid is one of the most talented and formally audacious writers of his generation

Telegraph
Exit West is a masterpiece. It stretches the boundaries of the real just enough to make a point about the state of immigrants and refugees in the contemporary world. But it's very much grounded in reality. It's a beautiful book.

Michael Chabon
Exit West packs such an emotional wallop you will be thinking about it for days afterwards. For Hamid is not only telling a story, he is asking what sort of a world we want to live in.

Editor's Choice, the Bookseller
A love story as spare, haunting and spiritually powerful as a haiku. All my life I will remember Nadia and Saeed, their humanity against a surreal, broken landscape. Exit West is Hamid's finest book.

Kiran Desai
A man born to write

Dave Eggers
A subtle and moving examination of how human relationships endure and falter under unimaginable pressures. Exit West is an instant classic

GQ
Astonishing

Zadie Smith
Breathlessly relevant... Hamid's book could hardly be more timely; it's addictively readable and brilliantly written to boot

Mail on Sunday
Impressive... Exit West confirms Hamid's reputation as a brilliant ventriloquist who is deeply engaged with the most pressing issues of our time

Andrew Motion (Book of the Week), Guardian
It's a terrific, beautifully constructed, important novel of our time. This is what we expect fiction to do: to examine our age but also to cast an eye on the past and - very brilliantly in this case - on the future too. I love it.

Mirza Waheed
Powerful... Hamid unfolds the disintegration of civic life and the couple's poignant intimacy with vivid, economical strokes. Hamid is the master of the illuminating metaphor

Sunday Times
Publisher's description. In an unnamed city swollen by refugees but not yet at war, two young people meet and fall in love. They pretend not to hear the sound of bombs getting closer every night. But one day soon they will have to escape this place, running for their lives, searching for their place in the world.

Penguin
The voice of a changing continent. A writer at the top of his game

Metro
Wry [and] intelligent... Part pared-down romance, part 21st-century fable for a world of porous borders, Exit West is a thought experiment that pivots on the crucial figure of this century: the migrant

Financial Times