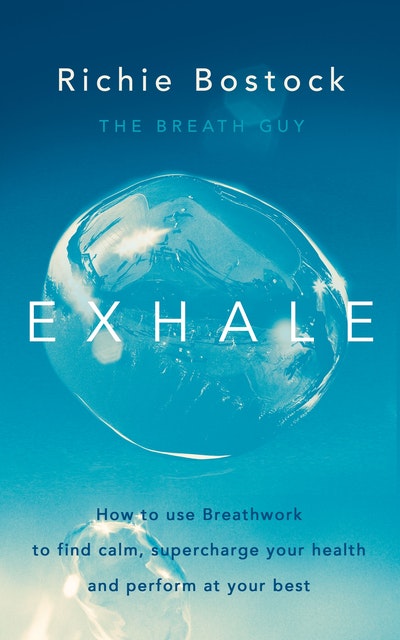 Published:

9 December 2020

ISBN:

9780241404423

Imprint:

Penguin Life

Format:

Trade Paperback

Pages:

272

RRP:

$27.99
Exhale
How to Use Breathwork to Find Calm, Supercharge Your Health and Perform at Your Best
---
---
---
A practical guide on how to use the practice of Breathwork to have more energy, less stress, better sleep and happier lives.
Breathe in. Hold for 10 seconds. Breathe out. Hold for 10 seconds, repeat.
Exhale will teach you how to harness the potential of your most overlooked tool - your breath. Written by a world-leading Breathwork practitioner, this practical and accessible guide will teach you how to overcome life's everyday challenges and boost your physical, mental and emotional wellbeing by simply breathing with purpose.
Breathing is something we all do - but very few of us know how to breathe in a way that benefits our health and enhances our quality of life. Breathwork is the art of becoming aware of your breathing and using it to spark creativity, sleep soundly, alleviate pain, improve performance and re-energise yourself.
By equipping you with the tools and techniques needed to optimise your breathing, this book will help you to discover a whole world of Breathwork possibilities and health benefits that are, quite literally, right under your nose.
Published:

9 December 2020

ISBN:

9780241404423

Imprint:

Penguin Life

Format:

Trade Paperback

Pages:

272

RRP:

$27.99
Exhale is an outstanding contribution to the Art and Science of Breathwork, from a genuine student of the breath and an avid student of life. I highly recommend it!

Dan Brulé, author of the international best seller: JUST BREATHE: Mastering Breathwork for Success in Life, Love, Business and Beyond
A fantastic guide to one of the most important exercises we've completely forgotten about. This book will help you refine the life enhancing practice of simply breathing properly

Dr Rupy Aujla, MBBS, BSc, MRCGP, Founder of The Doctor's Kitchen
I've participated in breath work with Richie in groups, one-on-one, and online sessions and am delighted that he is now offering the benefits of his knowledge, wisdom and kindness to the world in the form of this book. Exhale is your comprehensive guide to understanding what type of breather you are, through to guiding you towards a more fulfilling life, by simply changing the way you breathe. Amazing!

Dr Zoe Williams MBBS, DRCOG, MRCGP
Richie is an extraordinary individual, dedicated to facilitating deep healing and transformation. He has a strong intuition and is committed to the guidance of human flourishing through development of community and collaboration with trusted expertise. My personal experience of Breathwork with Richie has been life-changing. I truly began to see that there was within us all the possibility for deep peace and connection

Dr Tamsin Lewis, Founder: Wellgevity, holistic and personalised medical serviced to guide your healthspan
Richie has a deep, experiential understanding of breathwork. As with all the best teachers, his passion for conscious breathing techniques and his determination to bring them to a wider audience stem from his own personal journey. He conveys the practical ideas behind many different breathing disciplines in an easy, engaging way, allowing more people to access the potential of healthy breathing for life-changing health and resilience. Highly recommended!

Patrick McKeown, author of The Oxygen Advantage
A book that will literally transform lives mentally and physically for years to come by simply learning the impact of the breath - for me personally having a lung disease (Cystic Fibrosis!) and being an athlete this is an essential toolkit to improve not only my health as well impact my life positivity but performance in Ultra Endurance. An educational but inspiring book that had me hooked from the first line, one I'll be reading time and time again while including practices everyday to improve the way I breathe and enable me to control stress and to improve my sleep. Richie really is building a legacy one breath at a time - it's truly powerful and empowering

Sophie Grace Holmes, Coach & Ultra Endurance Athlete
Breathwork has grown to be a fascination for me through my own mindfulness journey and this book is a perfect blend of story telling, scientific research, ancient wisdom and practical tools. I'm thoroughly enjoying every page and feel that the knowledge of breath should be a vital part of how we move forward in the health and wellness world

Maude Hirst