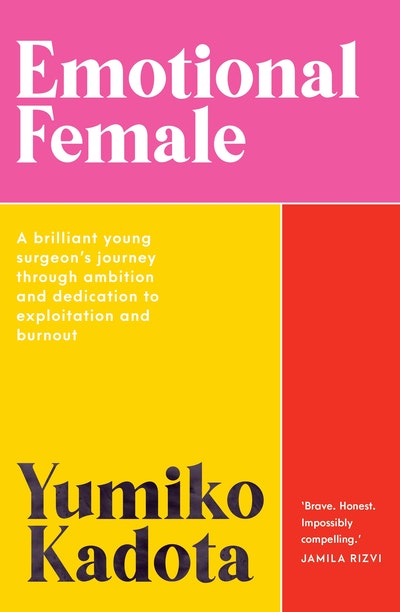 Published:

2 March 2021

ISBN:

9781760894627

Imprint:

Viking

Format:

Trade Paperback

Pages:

400

RRP:

$34.99
Emotional Female
---
---
---
A passionate account of the toxic culture of bullying and overwork that junior doctors can experience in the workplace as part of their training.
Yumiko Kadota was every Asian parent's dream: model student, top of her class in medical school and on track to becoming a surgeon. A self-confessed workaholic, she regularly put 'knife before life', knowing it was all going to be worth it because it would lead to her longed-for career.
But if the punishing hours in surgery weren't hard enough, she also faced challenges as a young female surgeon navigating a male-dominated specialty. She was regularly left to carry out complex procedures without senior surgeons' oversight; she was called all sorts of things, from 'emotional' to 'too confident'; and she was expected to work a relentless on-call roster – sometimes seventy hours a week or more – to prove herself.
Eventually it was too much and Yumiko quit.
Emotional Female is her account of what it was like to train in the Australian public hospital system, and what made her walk away.
Yumiko Kadota is a voice for her generation when it comes to burnout and finding the resilience to rebuild after suffering a physical, emotional and existential breakdown. This is a brave, honest and unflinching work from a major new talent.
Published:

2 March 2021

ISBN:

9781760894627

Imprint:

Viking

Format:

Trade Paperback

Pages:

400

RRP:

$34.99
Praise for Emotional Female
Brave. Honest. Impossibly compelling.

Jamila Rizvi
There is a powerful sense of immediacy to Kadota's writing. We share her thrill at participating in her first surgery, the gratitude of her patients, the confrontation of her first death certification and the chilling moment where she considers self-harm just so she can get some rest ... It is a privilege to review this book. Emotional Female is a brave memoir where the author doesn't hold back from sharing her most vulnerable moments. If this doesn't end up in my top three reads of this year I will be surprised.

Amanda Rayner, Readings
This is an honest and unflinching memoir that is a personal exploration of how zeal, intelligence, passion and skill counts for nothing when faced with a broken medical system. It explores how bullying, racism and sexism can flourish unchecked and how promising surgeons are treated as disposable. Essential reading!

Shanulisa Prasad, Booktopia
The pressure building over time only intensifies the acute emotional punch as Kadota measures the human cost of her once dream career.

Amy Dale, Law Society Journal
Is it the book of the year? We'd back that. This brilliant read is an absolute must for anyone this year and tales the toxic culture of bullying and overwork that junior doctors can experience in the workplace as part of their training (hint: it's not pretty) ... a true account of burnout and finding resilience to rebuild yourself after suffering physical, emotional and existential breakdowns. We take out hats off to Yumiko for sharing her story.

Urban List
A searing indictment of the sexism, racism and institutional exploitation present in the Australian medical profession ... her greatest writing strength [is] meticulous and unapologetic attention to the details of events others may deem isolated ... We need to celebrate the emotional intelligence and courage of women of colour in every industry and profession, especially when they are brave enough to call out unacceptable sexist, racist and exploitative behaviour just as Kadota has so powerfully done.

Ferdous Bahar, Kill Your Darlings
Article
Article
Yumiko Kadota Q&A
The Emotional Female author on writing, toxic workplaces and what's next.