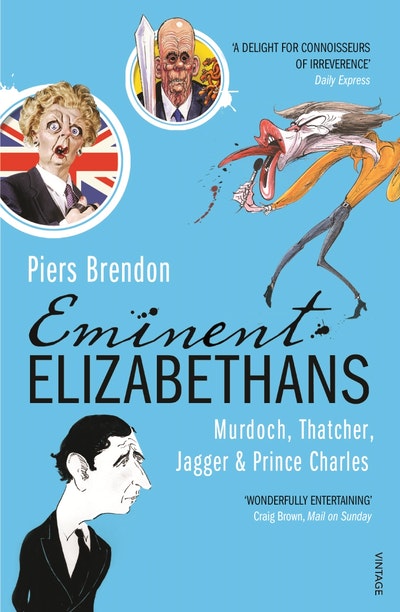 Published:

13 September 2012

ISBN:

9781409041085

Imprint:

Vintage Digital

Format:

EBook

Pages:

320
Eminent Elizabethans
Rupert Murdoch, Prince Charles, Margaret Thatcher & Mick Jagger
---
---
---
Piers Brendon, author of the bestselling Eminent Edwardians, turns his sharp and witty eye to four characters who have illuminated the age of Elizabeth II: Rupert Murdoch, Prince Charles, Margaret Thatcher and Mick Jagger.
Margaret Thatcher, Rupert Murdoch, Prince Charles, Mick Jagger - four figures who have illuminated our age.
·Margaret Thatcher – the first female Prime Minister, who dedicated herself with messianic zeal to breaking the mould of post-war British politics
·Rupert Murdoch – the billionaire media mogul whose empire, built on an ethical void, has polluted the channels of communication from London to Sydney, from New York to New Guinea
·Prince Charles – the royal dilettante whose erratic exploits shook the throne and put his own succession to it at risk
·Mick Jagger – lead singer of the Rolling Stones, who embodied the sixties counter-culture of sex and drugs and rock 'n' roll yet aspired to be a gentleman and accepted a knighthood at the behest of Tony Blair.
A sequel to Brendon's bestselling Eminent Edwardians, Eminent Elizabethans is written in the same witty, ironic and irreverent style and reveals how each one played out a major theme in the new Elizabethan medley. Each is vividly and vitally depicted through pungent anecdote, piquant quotation and mordant commentary. In short, these brilliant miniatures are as entertaining as they are illuminating.
Published:

13 September 2012

ISBN:

9781409041085

Imprint:

Vintage Digital

Format:

EBook

Pages:

320
Praise for Eminent Elizabethans
A delight for connoisseurs of irreverence (4 stars)

Christopher Silvester, Daily Express
The book abounds with funny stories…there are three or four juicy details on every page (4 stars)

Craig Brown, Mail on Sunday
Excellent… By bringing a real historian's discipline to the task, Brendon has unearthed lots of new material, including the first logged double entendre by Margaret "will this gun jerk me off?" Thatcher -

Simon Hoggart, Guardian
He possesses a sharp eye for illuminating detail and for his subjects' contradictions… Often he is as funny as he is viperfish... If there is plenty of acidity here, there is also fairness

John Preston, Sunday Telegraph
Entirely refreshing… Steers well clear of reverence… It's all merrily contentious stuff – and Brendon wears his mask of criticism well

Bel Mooney, Daily Mail
Brendon's great skill lies not just in telling funny stories, but in puncturing his subjects' vision of themselves

Dominic Sandbrook, Sunday Times
[A] triumph of brevity and wit

Mary Crockett, Scotsman
Pacy, even racy, prose

Donald Trelford, Literary Review
The spirit of our age, as captured in the lives of four prominent figures

Sunday Times
Brendon is faced with an excess of material and his challenge is to select from the sea of online and biographical information just enough detail to give us the quintessence of his subjects. An excellent writer, he manages more than this, giving the reader not simply a taste of each figure but their full flavor… His genius is to resurrect the anecdote… A relentless routine of gags, related in Brendon's rapid, incisive prose (5 stars)

Frances Wilson, Daily Telegraph
Readers of this book will find it compulsively readable and often hilarious, and most will emerge refreshed from the experience

Press Association (syndicated review)
Brendon possesses a sharp eye for illuminating detail and his subjects' contradictions

Sunday Telegraph
The author seeks out the funniest anecdotes and weaves them together with his own observational wit… A welcome addition to the trilogy

Antonia Charlesworth, Big Issue in the North
A very enjoyable read about four of the most controversial figures of our time

Bookbag