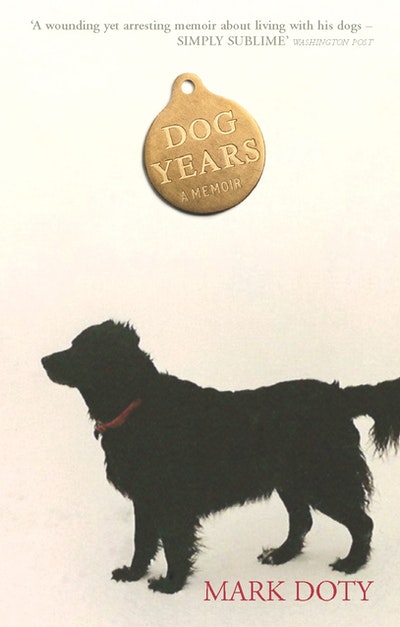 Published:

2 June 2008

ISBN:

9780224080910

Imprint:

Jonathan Cape

Format:

Trade Paperback

Pages:

224

RRP:

$29.99
Dog Years
A Memoir
---
---
---
The story of the acclaimed poet's time with his two beloved retrievers - and a poignant, perceptive meditation on life, death, and the nature of canine companionship.
Why do dogs speak so profoundly to our inner lives? When Mark Doty decides to adopt a dog as a companion for his dying partner, he finds himself bringing home Beau, a large golden retriever, malnourished and in need of loving care, to join Arden, the black retriever. As Beau bounds back to life, the two dogs become Mark Doty's companions, his solace, and eventually the very life force that keeps him from abandoning all hope during the darkest days - their tenacity, loyalty and love inspiring him when all else fails.
Dog Years is a remarkable work: a moving and intimate memoir interwoven with profound reflections on our feelings for animals and the lessons they teach us about life, love, and loss. Mark Doty writes about the heart-wrenching vulnerability of dogs, the positive energy and joy they bring, and the gift they bear us of unconditional love. A book unlike any other, Mark Doty's surprising meditation is radiantly unsentimental yet deeply affecting. Beautifully written, Dog Years is a classic in the making.
Published:

2 June 2008

ISBN:

9780224080910

Imprint:

Jonathan Cape

Format:

Trade Paperback

Pages:

224

RRP:

$29.99
Dog Years is about dogs, which is to say, it is about everything we cannot talk about. Although Mark Doty manages to write about what he calls "the unsayable" about our relationships with animals, and about unspeakable times of loss, Dog Years is not a dark book. It is illuminated from within by generous wonder.

Louise Erdrich
Dog Years shows both the abundant pleasures and unavoidable heartbreak of loving people, life, and especially dogs. As someone who is in love with a dog, I found this book to be an oracle of truth. For those who have yet to love a dog, it will be a revelation.

Ann Patchett
Mark Doty moves lyrically from the weight of a dog's head in one's hand to the enduring questions of religion, the soul, and connection. Evocative, compassionate, a love story both intimate and grand, this is a beautiful book.

Amy Hempel
A wounding yet arresting memoir about living with his dogs - simply sublime

Washington Post
The beauty has a flooding effect that reverberates outward from the heart...Doty makes the unsayable sayable, bringing the ungraspable within our reach.

Los Angeles Times
It's a lyrical account of his life with two retrievers and his various experiences of love, loss, despair, depression and death, lightened by insightful humour and by intelligent delight in doggy details.

Irish Times
A vindication of the heartbreaking risk of loving those you may lose, and one of the best books about depression and grief I have ever read.

The Guardian
A superbly sustained piece of reflective autobiography, Dog Years gives voice to unspeakable grief.

The Daily Herald
A memoir ... that robes the peculiarly strong and almost inexpressible relationship between people and mute creatures - a love that at times goes beyond reason, yet can also represent the most profound attachment ... Doty, who is also a poet, writes with intelligence and lyricism.

Metro
Illuminating, perceptive and profound meditation on life, death and the adoration of dogs.... Doty is rightly regarded as one of America's finest living poets - recipient of the Los Angeles Times Book Prize and the T.S.Eliot Prize. He brings that sensibility to bear on the very weight of a dog's head in your hand, the way they know you are leaving and show it in their eyes, the nuances of their wags. He unashamedly regales us with the silliest details (the way the animals sprawl on the bed between him and his partner) to demonstrate his own inarguable humanity.... You finish this memoir like a retriever after a stick, with no choice but to start over again.

The Times
[A] moving book.

The Reader