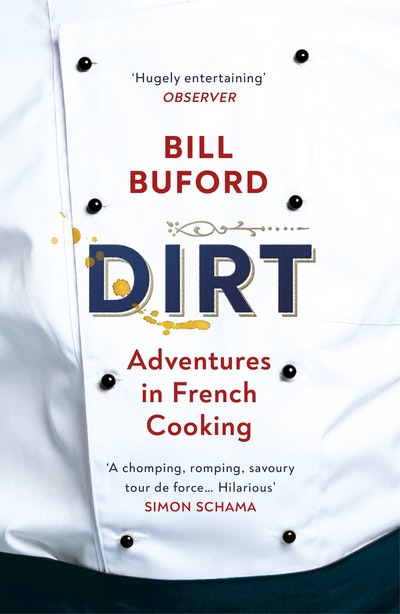 Published:

14 December 2021

ISBN:

9780099464440

Imprint:

Vintage

Format:

Paperback

Pages:

432

RRP:

$22.99
Dirt
Adventures in French Cooking
---
---
---
From the author of the widely acclaimed Heat - a hilarious and highly obsessive account of the author's adventures in the world of French haute cuisine
From the author of the widely acclaimed Heat, an exhilarating account of Bill Buford's adventures in the world of French cooking.
'A romping, chomping, savoury tour de force... Hilarious' Simon Schama
What does it take to master French cooking? This is the question that drives Bill Buford to abandon his perfectly happy life in New York City and (with his wife and three-year-old twin sons in tow) move to Lyon, the so-called gastronomic capital of France.
But what was meant to be six months in a new city turns into a wild five-year odyssey. As Buford apprentices at Lyon's best boulangerie, studies at a legendary culinary school and cooks at a storied Michelin-starred restaurant, he discoveries the true grit, precision and passion of the French kitchen.
'Hugely entertaining' Observer
'Rollicking, food-stuffed entertainment... Gourmets and gourmands will savour this' Spectator
Published:

14 December 2021

ISBN:

9780099464440

Imprint:

Vintage

Format:

Paperback

Pages:

432

RRP:

$22.99
By turns funny, intimate, insightful, and occasionally heartbreaking. It's a remarkable book, and even readers who don't know a sabayon from a Sabatier will find it endlessly rewarding.

Publishers Weekly, starred review
Pure pleasure. Masterfully written. If you care at all about food, about writing, about obsessive people with a sense of adventure, you have to read this book. It is, in a word, wonderful.

Ruth Reichl
One of the greatest writers of his generation... Bill's latest is required reading for anyone with a love of history, good eating, and masterful storytelling.

David Chang
A chomping, romping, savoury tour de force: by turns hilarious (often at his own expense); and seriously thought provoking about our relationship with cooking and appetite... You finish it stuffed and groggy with happy illumination but as with every great feast, wanting even more!

Simon Schama
A book to drool for. Magnifique!

Mary Norris
This book may well be an even greater pleasure than its predecessor... Delightful, highly idiosyncratic.

Lisa Abend, New York Times Book Review
A welcome reminder of simpler times... Buford's writing is filled with humor and heart.

Annabel Gutterman, TIME
A warm and funny and very delicious story about a man late in life falling in love with cooking... Buford [is] an energetic, exquisite writer.

John Freeman, Lit Hub
Hugely entertaining.

Tim Adams, Observer
Another rollicking, food-stuffed entertainment... Gourmets and gourmands will savour this.

Adam Begley, Spectator
I adore Buford's enthusiasm, which is unstinting, endlessly curious and absolutist in the best sense.

Rachel Cooke, Observer
I admire this book enormously; it's a profound and intuitive work of immersive journalism.

Dwight Garner, New York Times
Buford has an inexhaustible zest for life; the book is a tour de force.

Karen Barnes, Delicious
Hugely enjoyable... Buford's patience and composure are remarkable, his reportage illuminating.

Roger Lewis, The Times
For a rip-roaring account of French food culture and the dos and don'ts of working in a kitchen, look no further.

Olivia Marks, Vogue *The Best Food Writing For Autumn 2020*
[An] ecstatic, turbocharged book.

Francesca Carington, Tatler *Best New Autumnal Reads*
Buford is excellent company - candid, self-deprecating and insatiably, omnivorously interested... [I] wolfed it down.

Orlando Bird, Telegraph
Fluidly readable... exhaustive and enlightening.

Stuart Walton, World of Fine Wine
As reportage, it's as immersive as you could wish for. It's also hilarious and humbling

Hephzibah Anderson, Observer