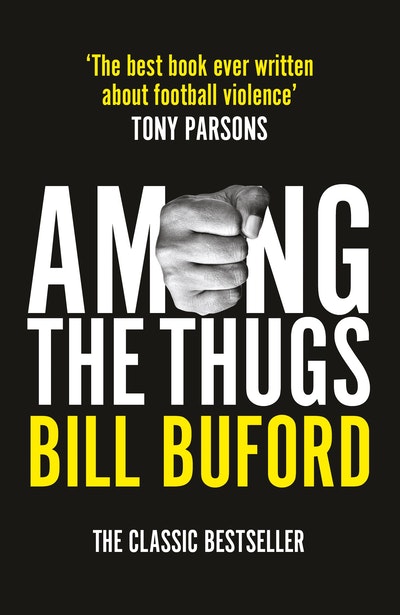 Published:

25 January 2011

ISBN:

9781446439654

Imprint:

Cornerstone Digital

Format:

EBook

Pages:

336
Among The Thugs
---
---
---
Before Running with the Firm came Among the Thugs - the bestselling classic account of football violence in English football.
___________________________
THE BESTSELLING ACCOUNT OF FOOTBALL VIOLENCE
Welcome to the world of football thuggery.
They have names like Bonehead, Paraffin Pete and Steamin' Sammy. They like lager, football, the Queen, and themselves. They love England. They dislike the rest of the known universe.
The beautiful game remains ugly.
From following Manchster's Red Army to drinking with skinheads, acclaimed writer Bill Buford enters this alternate society and records both its savageries and its sinister allure with the social imagination of George Orwell and the raw personal engagement of Hunter S. Thompson.
Among the Thugs is a terrifying, malevolently funny, supremely chilling book about the experience, and the eerie allure, of crowd violence and football culture.
Published:

25 January 2011

ISBN:

9781446439654

Imprint:

Cornerstone Digital

Format:

EBook

Pages:

336
Praise for Among The Thugs
The definitive guide to hooligan culture

joe.co.uk
[Buford] gatecrashes a social world that most of us have spent some portion of our lives avoiding and brings it to life on the page with a ferocious relish that only someone who was a foreigner to soccer could manage, or stomach

Jonathan Raban
Among the Thugs is, by some distance, the best book ever written about football violence. Intelligent, succinct, and always in the thick of it, it reads as a blood-fuelled ode to English football, and as a primer for what will be when Russia hosts the World Cup. It grabs the readers attention like a headbutt to the cakehole.

Tony Parsons
A grotesque, horrifying, repellent and gorgeous book; A Clockwork Orange come to life.

John Gregory Dunne
A very readable, often funny, book.

The Economist
An extraordinary and powerful cautionary cry.

Kirkus
Brilliant. . . one of the most unnerving books you will ever read

Newsweek
Buford creates with the majesty of a Tom Wolfe the ultimate price paid by so many for this footballing fever - the Hillsborough disaster, recalled with electrifying eloquence and power

Time Out
Buford pushes the possibilities of participatory journalism to a disturbing degree . . . Among the Thugs does severe damage to the conventional wisdom that England and Europe are bastions of civilization.

New York Times
Buford's accounts of the thugs he moved with are by turns amazing, repugnant, stunning, horrid and exhilarating.

Howler
Buford's book is important in that it offers a far more compelling explanation for the football violence than any offered by the pundits of Left and Right . . . Had Buford's account been written by a tabloid reporter or an academic sociologist it might be more easily dismissed. That is comes from a highly intelligent observer, and a neutral outsider with no axe to grind, makes his book all the more powerful and yet troubling.

Michael Crick, Independent
Buford's reportage is vivid and racy, dropping you in the thick of the madness with a Wolfe-like immediacy

Daily Telegraph
Compelling, intelligent and fully engaged

Martin Amis
His prose is tough and vivid

ID
Possesses something of the quality of A Clockwork Orange

The Times
Sizzling writing to rival the best of white-heat gonzo journalism

New Statesman
Superbly written ... darkly exhilarating ... a sort of rollercoaster chamber of horrors

Guardian
The defining book on England's hooliganism

Simon Parkin, Guardian
The excellence of his writing takes the reader to the centre of the mob... His words have the fragmented accuracy of a hand-held television camera in a war zone

John Stalker, Sunday Times
This is an absorbing read, and another winner from Buford, who writes so very, very well

Buzzfeed