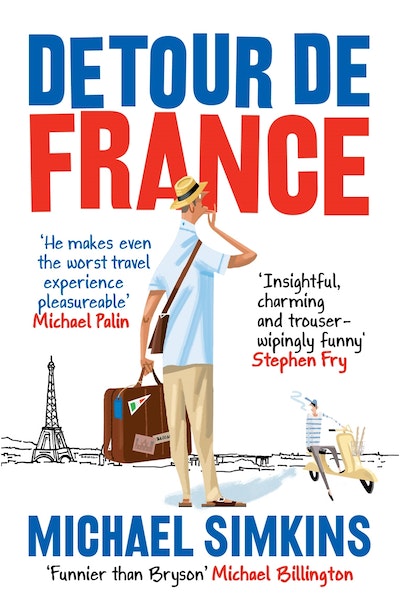 Published:

1 September 2010

ISBN:

9781407027463

Imprint:

Ebury Digital

Format:

EBook

Pages:

320
Detour de France
An Englishman in Search of a Continental Education
---
---
---
From the critically acclaimed and bestselling author of Fatty Batter and The Last Flanelled Fool comes this hilarious tale of a Brit abroad.
Though happy enough with his lot, Michael Simkins has never truly shaken the nagging doubt - helpfully upheld by his partner Julia - that he somehow lacks worldly sophistication. While she spent her teenage years as a nanny on a boat moored at Cannes, his utter lack of travel experience (Weymouth, Cleethorpes and a day trip to Dieppe) still has the power to shock people into leaving dinner parties early.
So as he hits middle-age, Michael takes up the challenge of broadening his horizons. He decides to improve himself in the same way English gentlemen lacking refined edges have for centuries: by learning from our more cultured French neighbours. Michael, an English provincial ingénue, sets off to discover just what the Gallic nation can teach him and the rest of us Anglo-Saxons about living the good life. Armed only with 50 Useful Phrases in French, he waits to see if his odyssey from La Manche to the Riviera will finally turn him from the scotch-egg eating spawn of Anne Widdecombe and John McCririck into the champagne-sipping love child of Serge Gainsbourg and Catherine Deneuve. Julia is saying a prayer for him at Lourdes.
Published:

1 September 2010

ISBN:

9781407027463

Imprint:

Ebury Digital

Format:

EBook

Pages:

320
Praise for Detour de France
Vive le Simkins!

Metro
Brimming with well-told anecdotes with perfectly delivered punchlines...a must-read for anyone stepping on the Eurostar

The Daily Telegraph
Insightful, charming and trouser-wipingly funny.

Stephen Fry
Simkins makes even the worst travel experience pleasurable. In fact, the worse it is, the better he gets.

Michael Palin
Funnier than Bryson

Michael Billington
It's impossible to resist a book that makes you laugh aloud twice within the space of the first 5 paragraphs

Daily Telegraph