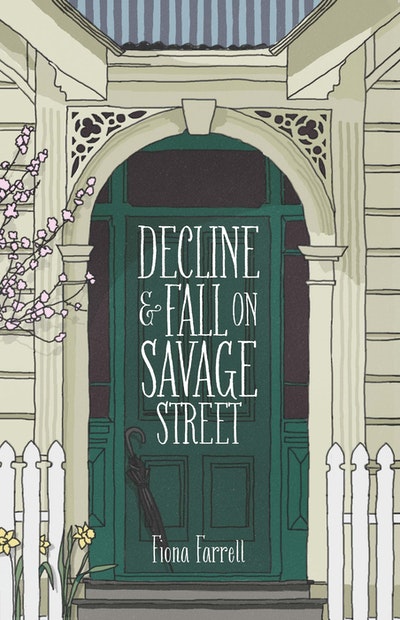 Published:

31 July 2017

ISBN:

9780143770633

Imprint:

RHNZ Adult ebooks

Format:

EBook

Pages:

368
Decline and Fall on Savage Street
---
---
---
A fictional companion to The Villa at the Edge of the Empire and winner of the 2017 NZ Heritage Novel Award.
A fascinating prize-winning novel about a house with a fanciful little turret, built by a river.
Unfolding within its rooms are lives of event and emotional upheaval. A lot happens. And the tumultuous events of the twentieth century also leave their mark, from war to economic collapse, the deaths of presidents and princesses to new waves of music, art, architecture and political ideas.
Meanwhile, a few metres away in the river, another creature follows a different, slower rhythm.
And beneath them all, the planet moves to its own immense geological time.
With insight, wide-ranging knowledge and humour, this novel explores the same territory as its non-fiction twin, The Villa at the Edge of the Empire. Writing in a city devastated by major earthquakes, Fiona Farrell rebuilds a brilliant, compelling and imaginative structure from bits and pieces salvaged from one hundred years of history.
A lot has happened. This is how it might have felt.
'It's a work of incredible research and incredible scope and incredible feeling . . . it's really wonderful. It think we will look back at these two books [Decline and Fall on Savage Street and The Villa at the Edge of Empire] and think of them as being very important in our local literary history as marking time and place and moment and feeling; it's a wonderful piece of art.' - Louise O'Brien, Radio NZ
'It's so vast, it shouldn't work; but it does. Primarily this is because, rather than anchoring her text to dry, historical minutiae, Farrell chooses to ground it to people, particularly family. So, as well as the impressive detail made especially graceful thanks to the author's poetic skill, the narrative follows one house settled upon the titular street and its inhabitants, particularly one family, extended and diverse. As such, chapter by chapter are, like a relay team, an exercise in passing the chronological story along. . . . Wide-ranging yet intimate, poetic yet simple, of the singular home yet speaking to the complexities of city and nation, Decline and Fall on Savage Street is a remarkable read.' - Siobhan Harvey, Waikato Times
Published:

31 July 2017

ISBN:

9780143770633

Imprint:

RHNZ Adult ebooks

Format:

EBook

Pages:

368
Praise for Decline and Fall on Savage Street
It's a work of incredible research and incredible scope and incredible feeling . . . it's really wonderful. It think we will look back at these two books [Decline and Fall on Savage Street and The Villa at the Edge of Empire] and think of them as being very important in our local literary history as marking time and place and moment and feeling; it's a wonderful piece of art.

Louise O'Brien, Radio NZ
It's so vast, it shouldn't work; but it does. Primarily this is because, rather than anchoring her text to dry, historical minutiae, Farrell chooses to ground it to people, particularly family. So, as well as the impressive detail made especially graceful thanks to the author's poetic skill, the narrative follows one house settled upon the titular street and its inhabitants, particularly one family, extended and diverse. As such, chapter by chapter are, like a relay team, an exercise in passing the chronological story along. . . . Wide-ranging yet intimate, poetic yet simple, of the singular home yet speaking to the complexities of city and nation, Decline and Fall on Savage Street is a remarkable read.

Siobhan Harvey, Waikato Times
The intricate subtleties of private lives intertwine with the twists and turns of history, from the Great Depression to the Springbok Tour and the fall of the Twin Towers, as the house and its residents slide down and then up the social scale. . . . As the quakes take hold, Farrell's writing is at its finest. Flowing and apparently effortless, never self-consciously clever or intrusively overwrought, the expertly rendered detail is supported by strong foundations. She's particularly good at the difficult job of writing about children and teenagers, caught between the shifting earth and their destabilised parents, trying to make the best of their broken surroundings. The repeated blows endured by the house, the family and their community both generate and reveal deep fractures in lives and relationships.

Anne Else, NZ Listener
Decline & Fall on Savage Street follows the wonderfully engaging stories of the individuals and families, their inner and outer lives, who inhabit a house on the titular Savage Street. . . . If you have any interest in New Zealand social history, any interest in the Christchurch quakes or the rise of neo-liberalism, or if you just love good fiction, read this book.

NZ Doctor
Farrell's work is immensely readable. Her writing is simple and effective and flows beautifully. Her characters are well-drawn, the setting familiar, yet nonetheless fascinating, and the format ensures a natural pull to the finish. . . This is at once a captivating and poignant story and social commentary. Farrell reflects on progress and loss, the circle of life. Her love for Christchurch is evident, but her anger at various bureaucratic bunglings is never far from the surface.

Helen Speirs, Otago Daily Times
Farrell is a clever writer this book made me laugh, smile, feel sad and want to go back for more.

Linda Hall, Manawatu Guardian
Selected as one of the '100 Best Books of 2017'.

Russell Baillie, NZ Listener
Fiona Farrell is a marvellously inventive writer . . . Decline and Fall on Savage Street should not be approached as a conventional novel. . . . It races along at a rapid pace, introducing a plethora of characters. . . . As if it were a house itself, the book depends heavily on its architectural design. . . . Always, the language is light and inventive. There are flashes of humour and thunderbolts of anger . . . The book is a work of great maturity, wisdom and insight.

Stephanie Johnson, Landfall
International Dublin Literary Award
Longlisted • 2019 • Dublin Literary Award