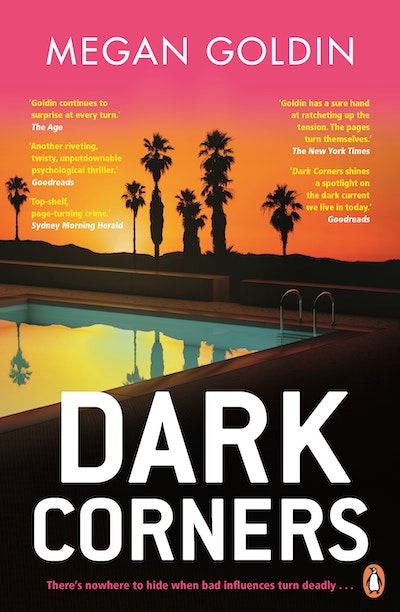 Published:

8 August 2023

ISBN:

9781761343162

Imprint:

Michael Joseph

Format:

Trade Paperback

Pages:

352

RRP:

$32.99
Dark Corners
---
---
---
True crime podcaster Rachel Krall is back, in search of a popular influencer who disappears after visiting a suspected serial killer.

Being an influencer is like feeding a monster … nothing is ever enough. No matter how much you give, there's always someone giving more. Eventually you have to give your soul …
Suspected serial killer Terence Bailey is about to be released from prison when he gets a surprise visit from Maddison Logan, a hot, young influencer with a huge social media following. Hours later, Maddison disappears, and police suspect she's been kidnapped – or worse.
When they hit a wall in the investigation, the FBI reluctantly call in true-crime podcaster Rachel Krall for help in finding the missing influencer. Maddison seems to only exist on social media; she has no family, no friends, and other than in her posts, most people have never seen her. Who is she, really?

Using a fake Instagram account, Rachel goes undercover to BuzzCon, a popular influencer conference, where she discovers a world of fierce rivalry that may have turned lethal.
Racing to find the missing woman before it's too late, Rachel is forced to confront the very real dangers that lurk in the dark corners of the internet. She discovers that some social media influencers have secrets, and some of them can be deadly.
The heart-stopping new thriller from international superstar Megan Goldin. A wickedly entertaining and terrifying look at how dangerous our obsession with social media fame can be.

'A gripping story that is equal parts shocking, unnerving, and thrilling. Goldin takes the 'true crime' trope to new and unexpected territory.' Karin Slaughter
PRAISE FOR MEGAN GOLDIN
'High-wire tension from the first moment to the last.' – Harlan Coben
'The pages turn themselves . . . A sleek, well-crafted ride to a surprisingly twisty conclusion.' – The New York Times Book Review'Goldin – writing in sharp, uncluttered prose – cleverly keeps us guessing.' – The Washington Post
Published:

8 August 2023

ISBN:

9781761343162

Imprint:

Michael Joseph

Format:

Trade Paperback

Pages:

352

RRP:

$32.99
A gripping story that is equal parts shocking, unnerving, and thrilling. Goldin takes the 'true crime' trope to new and unexpected territory.

Karin Slaughter
Aspiring crime writers, read this book. If anyone can show you how to grab a hold of a reader and not let go, it's Megan Goldin. It only took me eight pages to realise I wasn't going to get anything else done until I finished this novel. Short, sharp chapters, every other one ending on a cliffhanger, were the real hook. Then add an intelligent, strong-willed and likeable main character, and a truly despicable bad guy, and you've got a cracker of a read. ...although I didn't quite get through the whole book in one sitting, it was close.

Readings