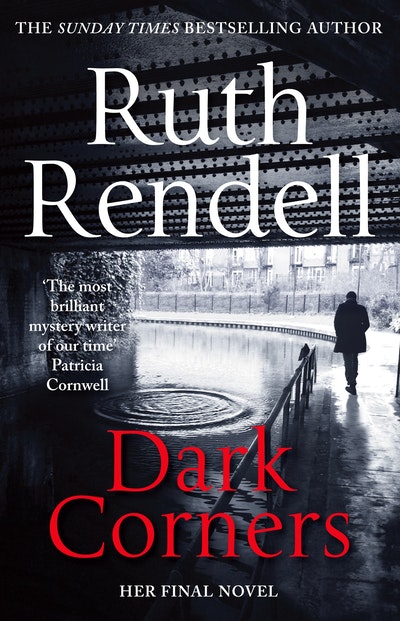 Published:

22 October 2015

ISBN:

9781473535244

Imprint:

Cornerstone Digital

Format:

EBook

Pages:

288
Dark Corners
---
---
---
A brilliantly dark and sinister novel of psychological suspense by Ruth Rendell, 'unequivocally the most brilliant crime-writer of our time' (Patricia Cornwell).
A tragic accident. A blackmail plot. A house of cards.
And murder.
In his late father's house, Carl finds a hoard of pills, 'wonder drugs' and herbal remedies. He sells a box of slimming pills to his close friend Stacey.
She dies.
And Carl's new tenant is now scheming to blackmail him, imposing more and more demands on an increasingly unstable Carl, pushing him to the point of no return...
_________________________
Ruth Rendell's final novel is a dark and atmospheric tale of psychological suspense, full of mistaken identity, kidnap, blackmail, and a cast of normal people driven to do abnormal things. Infused with her distinctive blend of wry humour, acute observation and deep humanity, this is Rendell at her most memorable and best.
Published:

22 October 2015

ISBN:

9781473535244

Imprint:

Cornerstone Digital

Format:

EBook

Pages:

288
The Girl Next Door is vintage Rendell and a perfect celebration of her half-century. She's so effortlessly prolific that it's easy to take her for granted; we assume that if we miss one of her books, there'll be another one along in a minute. This novel, however, reminded me of the singularity of Ruth Rendell's talent, her effortless mastery of language and her uncanny genius for mapping a criminal mind.

The Times
Rendell is as masterful as ever; her writing tense, brittle, and brilliant.

Sunday Mirror
She is the peer of Kingsley Amis and Muriel Spark. The Girl Next Door is as great a novel as Stanley and the Women or Memento Mori . . . a joy to read. Rendell's novels establish a sense of order that is deeply satisfying.

Evening Standard
Fifty years on, the girl from Essex has become the unchallenged crime queen of suburbia. Her powers of observation are as acute as ever, and she writes about old age with as much gusto as any of the subjects she has tackled in her long career.

Sunday Times
This book is extraordinarily courageous, a demonstration that fiction can take us where reportage dares not go.

Independent
Rendell gives an acutely observed portrayal of old age through her characters' regrets, losses and bewilderment . . . Difficult themes such as death, usually dressed up in mystery in a crime novel are, thanks to these elderly protagonists, real, hard-hitting and constant.

Observer
That The Girl Next Door works as a standalone novel is partly attributable to Rendell's deftness in parrying comparisons with her best-known creation. It also unravels a satisfying mystery, stretching tentacles into the past.

Spectator
An excellent analysis of re-found youth, this novel shows how people can surprise themselves even in their winter years.

Sunday Express
In this engaging novel, the portraits of elderly people living today and their preoccupations are presented with almost sociological precision, and scattered throughout are acute observations about changing language and manners.

Literary Review
Nobody does the suburbs like Ruth Rendell: in her expert hands they exert a morbid fascination. Behind the immaculate exteriors lurks a world of unhappiness and deceit – and at times murder. An excellent read.

The Lady
When many of the literary novelists of our time are forgotten, Ruth Rendell's books will remain, and future generations will see that not only did she keep her readers on tenterhooks with every book, she also wrote stories which held up a mirror to her times.

Daily Mail
Rendell's work, mapping the manic and malevolent extremes of human behaviour, was distinguished by terse yet elegant prose and sharp psychological insights.

Daily Telegraph
Rendell's novels have been a major force in lifting crime writing out of genre fiction and into both cutting-edge and mainstream literature.

Jeanette Winterson
Ruth Rendell: one of the all-time greats.

Sophie Hannah
Rendell was a prolific and hugely popular writer of intricately plotted mystery novels that combined psychological insight, social conscience and, not infrequently, teeth-chattering terror.

New York Times
Rendell was unequivocally the most brilliant mystery writer of our time.

Patricia Cornwell
Every aspect of Ruth Rendell's dark art is splendidly showcased in Dark Corners. One can't say she saved the best for last, because a great many books by Ms Rendell and her alter ego Barbara Vine are so splendid, but it's among the best. You won't put it down. I loved it.

Stephen King
Rendell set an extraordinarily high benchmark in crime fiction that continued throughout her long career. She is revered by all who came after her.

Ian Rankin
Rendell transformed what had become a staid and formulaic genre into a different kind of crime novel. She turned it into a prism for examining the world around her with a critical eye.

Val McDermid
This is the innocent-seeming start of a journey into the very darkest recesses of the human mind; for such a nice woman, Rendell had an amazing empathy with psychotic killers. Dark Corners is Rendell at her incomparable best; talk about going out in style!

Saga Magazine - Book of the Month
Another of Rendell's penetrating studies of ordinary people trapped in extraordinary circumstances . . . her countless admirers will seize on it with delight.

Literary Review
Dark Corners is written in a deceptively simple manner, and at times it reads like a twisted fairytale. It leaves an uneasiness behind like a dark stain on the consciousness . . . The violence of Dark Corners is the violence that stems from the mundane and the ordinary, and it is all the more frightening because of that.

Independent
A gripping story . . . You will feel the authentic Rendell prickle of fear as you realise how easily a mis-step could plunge you into a situation like [the protagonist's].

Daily Telegraph
Cunningly wrought . . . a triumph . . . the ending is perfect - a fitting full stop at the end of a great career.

Mail on Sunday
As hard-edged as ever. A brooding, claustrophobic mystery

Sunday Mirror
Not once does Rendell let up on the tension. This, her last book, is a triumph

Daily Mail
From the impressive variety of tones and styles to which she had access as a writer, Rendell chose for Dark Corners black comedy that echoes Muriel Spark . . . [Dark Corners] enjoyably and honourably concludes Rendell's six decades of exploring the death force that, as her last book demonstrates, may be triggered in unexpected people and places.

Guardian
The late Ruth Rendell put a permanent stamp on crime fiction with 65 novels of screw-twisting suspense, written under both her own name and the pseudonym Barbara Vine. The posthumously published DARK CORNERS is a worthy final entry in her body of work

The Wall Street Journal
Everything that makes Rendell's work so memorable - gothic but believable people and plots, simple yet vivid prose, peerlessly rendered settings, and fear and despair as the twin 'parents' of violence - is in evidence here.

Publishers Weekly
It enjoyably and honourably concludes Rendell's six decades of exploring the death force that, as her last book demonstrates, may be triggered in unexpected people and places. - Mark Lawson

Guardian, Books of the Year
Her absence is keenly felt. But we do have this mesmeric book . . . It's a felicitous last hurrah for Rendell

Barry Forshaw, Independent, Books of the Year
It's a Rendell 'stand-alone' - a pitch-black thriller.

The Times
Dark Corners is compulsively readable and involving . . . [Rendell] had a superb gift for understanding and unsettling her legion of fans with her spare, elegant prose.

Daily Express