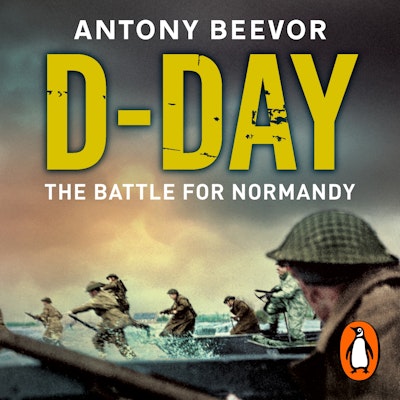 Published:

6 July 2017

ISBN:

9780241982488

Imprint:

Penguin Audio

Format:

Audio Download

RRP:

$24.99
D-Day
The Battle for Normandy
---
---
---
The closest you will ever get to war - the taste, the smell, the noise and the fear
Penguin presents the unabridged, downloadable audiobook edition of D-Day: The Battle for Normandy by Antony Beevor, read by Cameron Stewart.
'As near as possible to experiencing what it was like to be there. . . It is almost impossible for a reader not to get caught up in the excitement' Giles Foden, Guardian
The Normandy Landings that took place on D-Day involved by far the largest invasion fleet ever known. The scale of the undertaking was simply awesome. What followed them was some of the most cunning and ferocious fighting of the war, at times as savage as anything seen on the Eastern Front. As casualties mounted, so too did the tensions between the principal commanders on both sides. Meanwhile, French civilians caught in the middle of these battlefields or under Allied bombing endured terrible suffering. Even the joys of Liberation had their darker side.
Antony Beevor's gripping narrative conveys the true experience of war.
Published:

6 July 2017

ISBN:

9780241982488

Imprint:

Penguin Audio

Format:

Audio Download

RRP:

$24.99
Beevor can be credited with single-handedly transforming the reputation of military history

David Edgar, Guardian
His singular ability to make huge historical events accessible to a general audience recalls the golden age of British narrative history, whose giants include Gibbon, Macaulay and Carlyle

Boyd Tonkin, Independent
Magnificent, vivid, moving, superb . . . offers a thousand vignettes of drama, terror, cruelty, compassion, courage and cowardice

Max Hastings, Sunday Times
A knockout reassessment of one of the Second World War's great set-piece battles. Swoops from the vicious close-quarter fighting in the hedgerows to the petrified French onlookers and onwards to the political leaders wrestling with monumental decisions

Sunday Times
Beevor has succeeded brilliantly. D-Day can sit proudly alongside his other masterworks on Stalingrad and the fall of Berlin. Superbly brings the events of that summer to life again

Patrick Bishop, Daily Telegraph
As near as possible to experiencing what it was like to be there. . . It is almost impossible for a reader not to get caught up in the excitement

Giles Foden, Guardian
A magnificent portrait. Beevor has assembled a mass of unfamiliar sources, fresh voices, and untold. As powerful and authoritative an account of the battle for Normandy as we are likely to get

Max Hastings, Sunday Times
D-Day is a triumph of research. . . on almost every page there's some little detail that sticks in the mind or tweaks the heart. This is a terrific, inspiring, heart-breaking book

Sam Leith, Daily Mail
It tells a thrilling story, with all Beevor's narrative mastery

Chris Patten, Financial Times
Impeccable, splendid, thoroughly researched and gripping. Beevor is master of narrative, expertly blending the grand sweep with the telling anecdote

Dominic Sandbrook, Observer