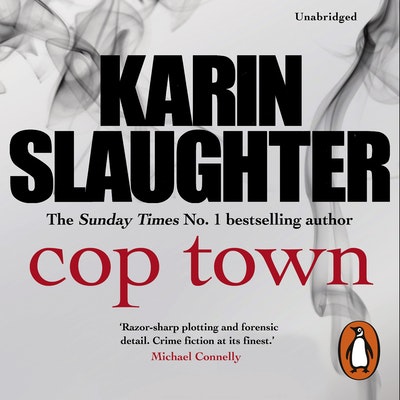 Published:

17 July 2014

ISBN:

9781448185917

Imprint:

Cornerstone Digital

Format:

Audio Download

Length:

12 hr 6 min

Narrator:

Lorelei King

RRP:

$24.99
Cop Town
---
---
---
'Karin Slaughter is simply one of the best thriller writers working today, and Cop Town shows the author at the top of her game - relentless pacing, complex characters, and gritty realism, all set against the backdrop of a city on the edge. Slaughter's eye for detail and truth is unmatched . . . I'd follow her anywhere.' Gillian Flynn, author of Gone Girl
Featured in The Times Top 10 Crime Books of the Decade
_________________________________________
'Karin Slaughter is simply one of the best thriller writers working today, and Cop Town shows the author at the top of her game - relentless pacing, complex characters, and gritty realism, all set against the backdrop of a city on the edge. Slaughter's eye for detail and truth is unmatched . . . I'd follow her anywhere.' GILLIAN FLYNN
_________________________________________
Atlanta, 1974. As a brutal killing and a furious manhunt rock the city, Kate Murphy wonders if her first day on the police force will also be her last. For life is anything but easy in the male-dominated world of the Atlanta Police Department, where even the other female cops have little mercy for the new girl.
Kate isn't the only woman on the force who is finding things tough. Maggie Lawson followed her uncle and brother into the ranks to prove her worth in their cynical eyes. When Maggie and Kate become partners, and are sidelined in the search for the city's cop killer, their fury, pain, and pride finally reach boiling point.
With the killer poised to strike again, will Kate and Maggie have the courage to pursue their own line of investigation? And are they prepared to risk everything as they venture into the city's darkest heart?
_________________________________________
Crime and thriller masters know there's nothing better than a little Slaughter:
'I'd follow her anywhere' GILLIAN FLYNN
'One of the boldest thriller writers working today' TESS GERRITSEN
'Her characters, plot, and pacing are unrivalled' MICHAEL CONNELLY
'Passion, intensity, and humanity' LEE CHILD
'A writer of extraordinary talents' KATHY REICHS
'Fiction doesn't get any better than this' JEFFERY DEAVER
'A great writer at the peak of her powers' PETER JAMES
'Raw, powerful and utterly gripping' KATHRYN STOCKETT
'With heart and skill Karin Slaughter keeps you hooked from the first page until the last' CAMILLA LACKBERG
'Amongst the world's greatest and finest crime writers' YRSA SIGURÐARDÓTTIR
Published:

17 July 2014

ISBN:

9781448185917

Imprint:

Cornerstone Digital

Format:

Audio Download

Length:

12 hr 6 min

Narrator:

Lorelei King

RRP:

$24.99
Karin Slaughter is simply one of the best thriller writers working today, and Cop Town shows the author at the top of her game - relentless pacing, complex characters, and gritty realism, all set against the backdrop of a city on the edge. Slaughter's eye for detail and truth is unmatched . . . I'd follow her anywhere.

Gillian Flynn, author of GONE GIRL
Much more than a thriller ... Karin Slaughter's unforgettable female characters, and stunning evocation of time and place, make Cop Town one of the most powerful and moving reads of recent memory ... A masterpiece.

Kathryn Stockett, author of THE HELP
Stunning . . . In Karin Slaughter's first stand-alone novel, she breaks new ground with this riveting story of two young police officers trying to stop a serial killer targeting cops. Her characters, plot and pacing are unrivaled among thriller writers and if you haven't yet read her, this is the moment.

Michael Connelly
Vivid, gritty and taut, this terrific whodunit keeps you guessing.

Sunday Mirror
Karin Slaughter has long been comfortably ahead of the pack in the field of powerful and disturbing crime fiction but Cop Town shows a broadening of reach: it is a more ambitious novel than any she has previously written. Her achievement here is such that many fans will be happy to see her continuing to devote her attention to similar standalone novels.

Financial Times
This is hardboiled crime fiction from the pen of an absolute master of the genre. The characters are credible, and the sexist, racist, homophobic world they inhabit is brilliantly and brutally drawn. The end hints at a returning series, and we'd definitely be back for more.

heat magazine
The plot, which describes the hunt for a killer, is enriched by the vivid portrait of the place and time. This is a gripping thriller with a feminist subtext, describing the foreign country that is the recent past.

Literary Review
Dark, atmospheric thriller.

Sun
Cop Town is a terrific read, fast-moving and witty, yet as grimly gritty as it gets, so not for the faint-hearted.

Irish Independent