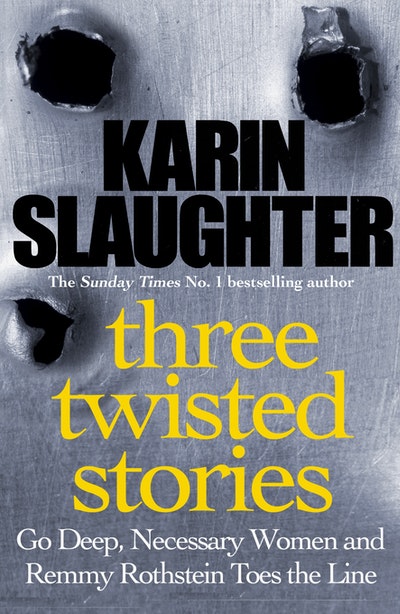 Published:

10 February 2015

ISBN:

9781473535329

Imprint:

Cornerstone Digital

Format:

EBook

Pages:

156
Three Twisted Stories
---
---
This genre-bending eBook bundle proves that not only is Karin Slaughter 'one of the best thriller writers working today' (Gillian Flynn, author of Gone Girl), she's one of today's very best writers, period.
'One of the boldest thriller writers working today' TESS GERRITSEN
'Her characters, plot, and pacing are unrivalled' MICHAEL CONNELLY
__________________________________
From the hallucinatory noir of 'Go Deep'to the twists of 'Necessary Women' and 'Remmy Rothstein Toes the Line,' this collection showcases the Sunday Times No. 1 bestselling author's dark humour, limitless imagination, and masterly command of voice and character.
GO DEEP
The arrangement is simple: Charlie picks up a suit from the dry cleaner's. In the suit pocket is the name of a very important man. The next day, that man walks into the dealership, drives out in a new car, and Charlie gets a fat envelope full of cash. Everyone's happy. No one gets hurt. So long as Charlie doesn't cross his business partner. But with one twist of a knife, the unthinkable happens. And suddenly Charlie is in deeper trouble than he could have possibly imagined.
NECESSARY WOMEN
In a border town between Georgia and Alabama, in a three-room house made of cement block, a fourteen-year-old girl watches her mother die. Now, her father tells her, she's the woman of the house, and she must do all the necessary things that a woman must do. But there's a lot more to being a woman than fixing dinner and doing the wash. She won't end up like her mother - and she'll do anything to prove it.
REMMY ROTHSTEIN TOES THE LINE
As an intrepid adjudicator of World Records, Mindy Patel has met lots of strange people in lots of strange places. But none stranger than the Swampers of the Georgia bayou. Mindy has braved the oppressive August heat in search of Remmy Rothstein'. If the photos are indeed accurate, she might be about to certify Remmy as the World Record Holder for Longest Tongue in the World . . . and maybe even the Widest! But nothing could prepare her for an eyeful of Remmy himself: a man who measures up to his singular reputation in ways that will change the course of Mindy's life.
'Go Deep' and 'Remmy Rothstein Toes the Line' also available as single stories and 'Necessary Women' also available as part of a bundle with 'The Mean Time.'
Published:

10 February 2015

ISBN:

9781473535329

Imprint:

Cornerstone Digital

Format:

EBook

Pages:

156