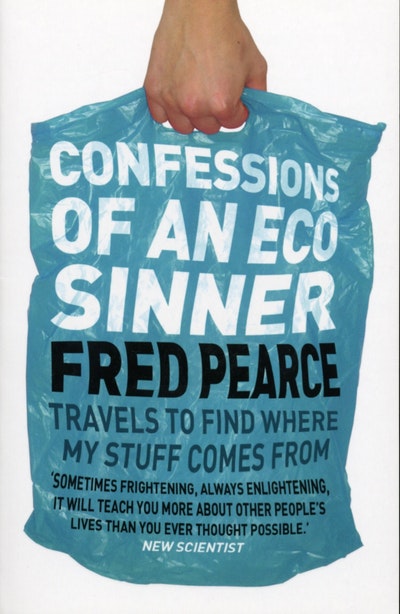 Published:

1 September 2010

ISBN:

9781407033594

Imprint:

Transworld Digital

Format:

EBook

Pages:

400
Confessions of an Eco Sinner
Travels to find where my stuff comes from
---
---
---
This book offers the hidden story behind all our everyday things, revealing the cost of well-meaning but muddle-headed thinking.
The road to hell is paved with good intentions. Ever wondered if declaring support for fair-trade and then chucking Kenyan beans from your shopping trolley to reduce food miles really added up? Or whether the women in Bangladeshi sweatshops really want you to stop buying the clothes from their sewing machines? Or how the system works when you dump stuff but never buy from a charity shop?
While none of us should stop trying, it was never easy being green. Mindful of his footprint, Fred goes in search of the source of the cotton in his shirt, the prawns in his curry and the people who grew, mined or made all his stuff in an attempt to discover the true story behind our everyday things. This compelling story of his travels moves green thinking on to a new, more sophisticated plane.
Published:

1 September 2010

ISBN:

9781407033594

Imprint:

Transworld Digital

Format:

EBook

Pages:

400
Praise for Confessions of an Eco Sinner
This is a splendid book and will do much good to counteract the comfortable hypocrisy of urban and suburban greens who pretend to 'save the earth' while carrying on business as usual. Fred Pearce goes out and sees the world as well as thinking and writing about it; he is one of the few that understand the Earth as it really is and we must listen to him.

James Lovelock, author of THE REVENGE OF GAIA
Sometimes frightening, always enlightening, it will teach you more about other people's lives than you ever thought possible.

New Scientist
Follow in his global footprints as you read this compelling, thoughtful, provocative and utterly fascinating book.

CHOICE magazine
Beguiling . . . honest and revealing . . . optimistic . . . A big book for big problems.

Country Living
Pearce shows us how our greed, and our wilful blindness, are ruining the world in faraway places . . . An excellent book.

Guardian
[Pearce] makes a strong case that the well-meaning Joe Publics of the world really do need someone to tell it like it is, in language they can understand and with the vital statistics intelligible to all. Essential reading.

New Agriculturist