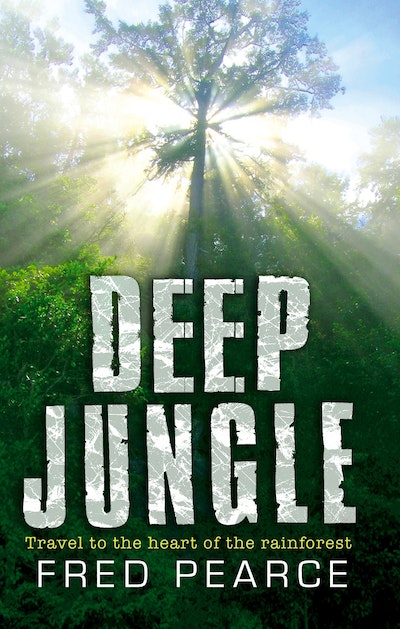 Published:

1 December 2010

ISBN:

9781409010968

Imprint:

Transworld Digital

Format:

EBook

Pages:

320
Deep Jungle
Journey To The Heart Of The Rainforest
---
---
Fred Pearce explores every aspect of the world's rainforests. Following the trail of jungle adventurers from the past and from our high-tec present, he examines both the remains of early civilizations and the clues to our own civilization's dependence on the flora and fauna of the canopy.
DEEP JUNGLE is an exploration of the most alien and feared habitat on Earth. Starting with man's earliest recorded adventures, Fred Pearce journeys high into the canopy – home to two-thirds of all the creatures on our planet, many of whom never come down to earth. During his travels he encounters all manner of fantastic flora and fauna, including a frog that can glide from tree to tree, a spider that can drag live chickens into its burrow and a flower that smells of decaying flesh.
It is in the jungle that Pearce discovers secrets about how evolution works, the intricate links that connect us all, and maybe even clues to where humans came from – here is the key to our future foods and medicines, our climate and our understanding of how life works. At the start of a new millennium Pearce asks why we continue to waste precious time – and billions of dollars – looking for signs of life elsewhere in our universe when the greatest range of life-forms that have ever existed lies right here on our doorstep. Today environmentalists say we are on the verge of destroying the last rainforests, and with them the planet's evolutionary crucible, and maybe even its ability to maintain life on Earth. But nature has a way of getting its own back. The Mayans and the people of Angkor went too far in manipulating nature and paid the ultimate price. Their civilisations died and the jungle returned. Nature reclaimed it's own and it may do so again...
Published:

1 December 2010

ISBN:

9781409010968

Imprint:

Transworld Digital

Format:

EBook

Pages:

320
...a fascinating piece of work. It contains a wealth of facts, legend and argument that should be of interest to anyone with any curiosity about the history and future of the planet

The Sunday Tribune
This is a fascinating exploration of the Earth's most alien, feared and fecund habitat...Pearce produces a cornucopia of wonderful facts and seeks to distinguish between the reality and myths surrounding the heart and lungs of our planet.

Carla McKay, Daily Mail
Pearce proves himself a skilful guide to the history and science of the "most extreme, the most complex place on Earth".

PD Smith, Guardian
Fortunately, Fred Pearce's flights of rhetorical hyperbole are rare, his tone being one of genial enthusiasm mixed with discreet, but genuine, awe...This is more than a catalogue of curiosities...and Pearce does not shy from the daunting question of what the forests should be for.

The Observer