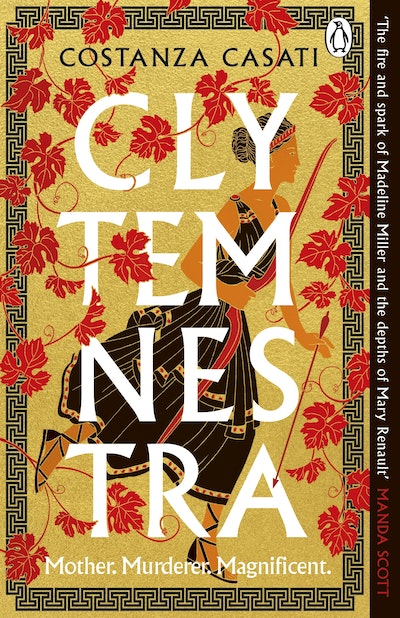 Published:

23 April 2024

ISBN:

9781405951722

Imprint:

Michael Joseph

Format:

Paperback

Pages:

416

RRP:

$22.99
Clytemnestra
The spellbinding retelling of Greek mythology's greatest heroine
---
---
---
Giving voice to a woman condemned by history, this debut is an epic feminist retelling of the story of notorious Spartan queen, Clytemnestra
'When vengeance calls and the gods stop watching,
what do we do to those who harm the people we love?'
Wife. Mother. Fighter. Conspirator. Queen. CLYTEMNESTRA.
This is the story of a daughter betrayed by her father. Who watches her sister be destroyed by violence and rape. Whose child is sacrificed to ensure her family's power. Who fights as fiercely as any warrior. Who falls in love with her husband's enemy. Who is hungry for otherworldly retribution against both men and gods...

This is Clytemnestra, the most notorious heroine of the Ancient World. Know her name.

Condemned by Homer and the Greek poets as a sexually faithless, deceitful, murderous woman, Clytemnestra's voice is obscured by the spiteful judgement of history. A judgement that refuses to see her strength and her cunning, her grief and her rage. Costanza Cosati's dazzling debut isn't just a retelling of the consequences of war on women - it is about how women fought their own wars. Because Clytemnestra understood something that the others didn't:
If power isn't given to you, you have to take it for yourself.
Published:

23 April 2024

ISBN:

9781405951722

Imprint:

Michael Joseph

Format:

Paperback

Pages:

416

RRP:

$22.99
Vivid with fury, passion and strength, this is a fabulous myth retelling. A powerful, thought-provoking portrayal of a fascinating and complicated woman framed in beautiful prose. I loved it

JENNIFER SAINT, bestselling author of ARIADNE and ELEKTRA
Vivid with fury, passion and strength, this is a fabulous myth retelling. A powerful, thought-provoking portrayal of a fascinating and complicated woman framed in beautiful prose. I loved it

JENNIFER SAINT, bestselling author of ARIADNE and ELEKTRA
Vivid with fury, passion and strength, this is a fabulous myth retelling. A powerful, thought-provoking portrayal of a fascinating and complicated woman framed in beautiful prose. I loved it

JENNIFER SAINT, bestselling author of ARIADNE and ELEKTRA
Vivid with fury, passion and strength, this is a fabulous myth retelling. A powerful, thought-provoking portrayal of a fascinating and complicated woman framed in beautiful prose. I loved it

JENNIFER SAINT, bestselling author of ARIADNE and ELEKTRA
Vivid with fury, passion and strength, this is a fabulous myth retelling. A powerful, thought-provoking portrayal of a fascinating and complicated woman framed in beautiful prose. I loved it

JENNIFER SAINT, bestselling author of ARIADNE and ELEKTRA
Vivid with fury, passion and strength, this is a fabulous myth retelling. A powerful, thought-provoking portrayal of a fascinating and complicated woman framed in beautiful prose. I loved it

JENNIFER SAINT, bestselling author of ARIADNE and ELEKTRA
Vivid with fury, passion and strength, this is a fabulous myth retelling. A powerful, thought-provoking portrayal of a fascinating and complicated woman framed in beautiful prose. I loved it

JENNIFER SAINT, bestselling author of ARIADNE and ELEKTRA
Vivid with fury, passion and strength, this is a fabulous myth retelling. A powerful, thought-provoking portrayal of a fascinating and complicated woman framed in beautiful prose. I loved it

JENNIFER SAINT, bestselling author of ARIADNE and ELEKTRA
Rivals House of the Dragon in conspiracies and feminine brutality. Here is a complex and courageous woman, all flesh and blood, simmering with passion. Facing the grimmest of betrayals, Clytemnestra's ruthless desire for revenge powers a thrilling plot. This is an electrifying read that shocks and fascinates in equal measure

LIZ FREMANTLE, the critically acclaimed author of QUEEN'S GAMBIT
Rivals House of the Dragon in conspiracies and feminine brutality. Here is a complex and courageous woman, all flesh and blood, simmering with passion. Facing the grimmest of betrayals, Clytemnestra's ruthless desire for revenge powers a thrilling plot. This is an electrifying read that shocks and fascinates in equal measure

LIZ FREMANTLE, the critically acclaimed author of QUEEN'S GAMBIT
Rivals House of the Dragon in conspiracies and feminine brutality. Here is a complex and courageous woman, all flesh and blood, simmering with passion. Facing the grimmest of betrayals, Clytemnestra's ruthless desire for revenge powers a thrilling plot. This is an electrifying read that shocks and fascinates in equal measure

LIZ FREMANTLE, the critically acclaimed author of QUEEN'S GAMBIT
Rivals House of the Dragon in conspiracies and feminine brutality. Here is a complex and courageous woman, all flesh and blood, simmering with passion. Facing the grimmest of betrayals, Clytemnestra's ruthless desire for revenge powers a thrilling plot. This is an electrifying read that shocks and fascinates in equal measure

LIZ FREMANTLE, the critically acclaimed author of QUEEN'S GAMBIT
Rivals House of the Dragon in conspiracies and feminine brutality. Here is a complex and courageous woman, all flesh and blood, simmering with passion. Facing the grimmest of betrayals, Clytemnestra's ruthless desire for revenge powers a thrilling plot. This is an electrifying read that shocks and fascinates in equal measure

LIZ FREMANTLE, the critically acclaimed author of QUEEN'S GAMBIT
Rivals House of the Dragon in conspiracies and feminine brutality. Here is a complex and courageous woman, all flesh and blood, simmering with passion. Facing the grimmest of betrayals, Clytemnestra's ruthless desire for revenge powers a thrilling plot. This is an electrifying read that shocks and fascinates in equal measure

LIZ FREMANTLE, the critically acclaimed author of QUEEN'S GAMBIT
Rivals House of the Dragon in conspiracies and feminine brutality. Here is a complex and courageous woman, all flesh and blood, simmering with passion. Facing the grimmest of betrayals, Clytemnestra's ruthless desire for revenge powers a thrilling plot. This is an electrifying read that shocks and fascinates in equal measure

LIZ FREMANTLE, the critically acclaimed author of QUEEN'S GAMBIT
Rivals House of the Dragon in conspiracies and feminine brutality. Here is a complex and courageous woman, all flesh and blood, simmering with passion. Facing the grimmest of betrayals, Clytemnestra's ruthless desire for revenge powers a thrilling plot. This is an electrifying read that shocks and fascinates in equal measure

LIZ FREMANTLE, the critically acclaimed author of QUEEN'S GAMBIT
Costanza Casati renders a singularly vibrant Ancient Greece, absolutely alive with emotion and suspense. Casati reveals a Clytemnestra we've never met before: fiercely intelligent, passionate, and loving - and willing to do anything to avenge the ones she loves

Naomi Krupitsky, New York Times bestselling author of THE FAMILY
Costanza Casati renders a singularly vibrant Ancient Greece, absolutely alive with emotion and suspense. Casati reveals a Clytemnestra we've never met before: fiercely intelligent, passionate, and loving - and willing to do anything to avenge the ones she loves

Naomi Krupitsky, New York Times bestselling author of THE FAMILY
Costanza Casati renders a singularly vibrant Ancient Greece, absolutely alive with emotion and suspense. Casati reveals a Clytemnestra we've never met before: fiercely intelligent, passionate, and loving - and willing to do anything to avenge the ones she loves

Naomi Krupitsky, New York Times bestselling author of THE FAMILY
Costanza Casati renders a singularly vibrant Ancient Greece, absolutely alive with emotion and suspense. Casati reveals a Clytemnestra we've never met before: fiercely intelligent, passionate, and loving - and willing to do anything to avenge the ones she loves

Naomi Krupitsky, New York Times bestselling author of THE FAMILY
Costanza Casati renders a singularly vibrant Ancient Greece, absolutely alive with emotion and suspense. Casati reveals a Clytemnestra we've never met before: fiercely intelligent, passionate, and loving - and willing to do anything to avenge the ones she loves

Naomi Krupitsky, New York Times bestselling author of THE FAMILY
Costanza Casati renders a singularly vibrant Ancient Greece, absolutely alive with emotion and suspense. Casati reveals a Clytemnestra we've never met before: fiercely intelligent, passionate, and loving - and willing to do anything to avenge the ones she loves

Naomi Krupitsky, New York Times bestselling author of THE FAMILY
Costanza Casati renders a singularly vibrant Ancient Greece, absolutely alive with emotion and suspense. Casati reveals a Clytemnestra we've never met before: fiercely intelligent, passionate, and loving - and willing to do anything to avenge the ones she loves

Naomi Krupitsky, New York Times bestselling author of THE FAMILY
Costanza Casati renders a singularly vibrant Ancient Greece, absolutely alive with emotion and suspense. Casati reveals a Clytemnestra we've never met before: fiercely intelligent, passionate, and loving - and willing to do anything to avenge the ones she loves

Naomi Krupitsky, New York Times bestselling author of THE FAMILY
Ablaze with moments of deep tenderness and visceral ferocity, Casati's Clytemnestra gives the phrase 'fight like a girl' its rightfully heroic and empowering meaning! Beautifully told in a style that pays nimble homage to classic Greek mythology, Clytemnestra is a rich and compelling read, and even more so for every woman who has ever had to fight to reclaim her power. A must-read!

Buki Papillon, author of AN ORDINARY WONDER
Ablaze with moments of deep tenderness and visceral ferocity, Casati's Clytemnestra gives the phrase 'fight like a girl' its rightfully heroic and empowering meaning! Beautifully told in a style that pays nimble homage to classic Greek mythology, Clytemnestra is a rich and compelling read, and even more so for every woman who has ever had to fight to reclaim her power. A must-read!

Buki Papillon, author of AN ORDINARY WONDER
Ablaze with moments of deep tenderness and visceral ferocity, Casati's Clytemnestra gives the phrase 'fight like a girl' its rightfully heroic and empowering meaning! Beautifully told in a style that pays nimble homage to classic Greek mythology, Clytemnestra is a rich and compelling read, and even more so for every woman who has ever had to fight to reclaim her power. A must-read!

Buki Papillon, author of AN ORDINARY WONDER
Ablaze with moments of deep tenderness and visceral ferocity, Casati's Clytemnestra gives the phrase 'fight like a girl' its rightfully heroic and empowering meaning! Beautifully told in a style that pays nimble homage to classic Greek mythology, Clytemnestra is a rich and compelling read, and even more so for every woman who has ever had to fight to reclaim her power. A must-read!

Buki Papillon, author of AN ORDINARY WONDER
Ablaze with moments of deep tenderness and visceral ferocity, Casati's Clytemnestra gives the phrase 'fight like a girl' its rightfully heroic and empowering meaning! Beautifully told in a style that pays nimble homage to classic Greek mythology, Clytemnestra is a rich and compelling read, and even more so for every woman who has ever had to fight to reclaim her power. A must-read!

Buki Papillon, author of AN ORDINARY WONDER
Ablaze with moments of deep tenderness and visceral ferocity, Casati's Clytemnestra gives the phrase 'fight like a girl' its rightfully heroic and empowering meaning! Beautifully told in a style that pays nimble homage to classic Greek mythology, Clytemnestra is a rich and compelling read, and even more so for every woman who has ever had to fight to reclaim her power. A must-read!

Buki Papillon, author of AN ORDINARY WONDER
Ablaze with moments of deep tenderness and visceral ferocity, Casati's Clytemnestra gives the phrase 'fight like a girl' its rightfully heroic and empowering meaning! Beautifully told in a style that pays nimble homage to classic Greek mythology, Clytemnestra is a rich and compelling read, and even more so for every woman who has ever had to fight to reclaim her power. A must-read!

Buki Papillon, author of AN ORDINARY WONDER
Ablaze with moments of deep tenderness and visceral ferocity, Casati's Clytemnestra gives the phrase 'fight like a girl' its rightfully heroic and empowering meaning! Beautifully told in a style that pays nimble homage to classic Greek mythology, Clytemnestra is a rich and compelling read, and even more so for every woman who has ever had to fight to reclaim her power. A must-read!

Buki Papillon, author of AN ORDINARY WONDER
Bold and elegant, this novel deconstructs Clytemnestra's infamy and then, with tremendous empathy and wisdom, reconstructs her into an enthrallingly complex figure filled with passion and spirit. This fiery tale of revenge and desire really is the stuff of legend

Sarah Priscus, author of the critically-acclaimed GROUPIES
Bold and elegant, this novel deconstructs Clytemnestra's infamy and then, with tremendous empathy and wisdom, reconstructs her into an enthrallingly complex figure filled with passion and spirit. This fiery tale of revenge and desire really is the stuff of legend

Sarah Priscus, author of the critically-acclaimed GROUPIES
Bold and elegant, this novel deconstructs Clytemnestra's infamy and then, with tremendous empathy and wisdom, reconstructs her into an enthrallingly complex figure filled with passion and spirit. This fiery tale of revenge and desire really is the stuff of legend

Sarah Priscus, author of the critically-acclaimed GROUPIES
Bold and elegant, this novel deconstructs Clytemnestra's infamy and then, with tremendous empathy and wisdom, reconstructs her into an enthrallingly complex figure filled with passion and spirit. This fiery tale of revenge and desire really is the stuff of legend

Sarah Priscus, author of the critically-acclaimed GROUPIES
Bold and elegant, this novel deconstructs Clytemnestra's infamy and then, with tremendous empathy and wisdom, reconstructs her into an enthrallingly complex figure filled with passion and spirit. This fiery tale of revenge and desire really is the stuff of legend

Sarah Priscus, author of the critically-acclaimed GROUPIES
Bold and elegant, this novel deconstructs Clytemnestra's infamy and then, with tremendous empathy and wisdom, reconstructs her into an enthrallingly complex figure filled with passion and spirit. This fiery tale of revenge and desire really is the stuff of legend

Sarah Priscus, author of the critically-acclaimed GROUPIES
Bold and elegant, this novel deconstructs Clytemnestra's infamy and then, with tremendous empathy and wisdom, reconstructs her into an enthrallingly complex figure filled with passion and spirit. This fiery tale of revenge and desire really is the stuff of legend

Sarah Priscus, author of the critically-acclaimed GROUPIES
Bold and elegant, this novel deconstructs Clytemnestra's infamy and then, with tremendous empathy and wisdom, reconstructs her into an enthrallingly complex figure filled with passion and spirit. This fiery tale of revenge and desire really is the stuff of legend

Sarah Priscus, author of the critically-acclaimed GROUPIES
Powerful and sympathetic, Clytemnestra shines a light on Helen of Troy's overshadowed sister. Crafted with page-turning suspense, Casati spins a mesmerizing story of an ambitious warrior queen who must use all her skill to protect herself and those she loves from men who view women not as equals, but as pawns to be sacrificed upon the altars of lust, greed, and fame. An ancient and intriguing tale made fresh for today's 21st century battles

Liz Michalski, author of DARLING GIRL: A NOVEL OF PETER PAN
Powerful and sympathetic, Clytemnestra shines a light on Helen of Troy's overshadowed sister. Crafted with page-turning suspense, Casati spins a mesmerizing story of an ambitious warrior queen who must use all her skill to protect herself and those she loves from men who view women not as equals, but as pawns to be sacrificed upon the altars of lust, greed, and fame. An ancient and intriguing tale made fresh for today's 21st century battles

Liz Michalski, author of DARLING GIRL: A NOVEL OF PETER PAN
Powerful and sympathetic, Clytemnestra shines a light on Helen of Troy's overshadowed sister. Crafted with page-turning suspense, Casati spins a mesmerizing story of an ambitious warrior queen who must use all her skill to protect herself and those she loves from men who view women not as equals, but as pawns to be sacrificed upon the altars of lust, greed, and fame. An ancient and intriguing tale made fresh for today's 21st century battles

Liz Michalski, author of DARLING GIRL: A NOVEL OF PETER PAN
Powerful and sympathetic, Clytemnestra shines a light on Helen of Troy's overshadowed sister. Crafted with page-turning suspense, Casati spins a mesmerizing story of an ambitious warrior queen who must use all her skill to protect herself and those she loves from men who view women not as equals, but as pawns to be sacrificed upon the altars of lust, greed, and fame. An ancient and intriguing tale made fresh for today's 21st century battles

Liz Michalski, author of DARLING GIRL: A NOVEL OF PETER PAN
Powerful and sympathetic, Clytemnestra shines a light on Helen of Troy's overshadowed sister. Crafted with page-turning suspense, Casati spins a mesmerizing story of an ambitious warrior queen who must use all her skill to protect herself and those she loves from men who view women not as equals, but as pawns to be sacrificed upon the altars of lust, greed, and fame. An ancient and intriguing tale made fresh for today's 21st century battles

Liz Michalski, author of DARLING GIRL: A NOVEL OF PETER PAN
Powerful and sympathetic, Clytemnestra shines a light on Helen of Troy's overshadowed sister. Crafted with page-turning suspense, Casati spins a mesmerizing story of an ambitious warrior queen who must use all her skill to protect herself and those she loves from men who view women not as equals, but as pawns to be sacrificed upon the altars of lust, greed, and fame. An ancient and intriguing tale made fresh for today's 21st century battles

Liz Michalski, author of DARLING GIRL: A NOVEL OF PETER PAN
Powerful and sympathetic, Clytemnestra shines a light on Helen of Troy's overshadowed sister. Crafted with page-turning suspense, Casati spins a mesmerizing story of an ambitious warrior queen who must use all her skill to protect herself and those she loves from men who view women not as equals, but as pawns to be sacrificed upon the altars of lust, greed, and fame. An ancient and intriguing tale made fresh for today's 21st century battles

Liz Michalski, author of DARLING GIRL: A NOVEL OF PETER PAN
Powerful and sympathetic, Clytemnestra shines a light on Helen of Troy's overshadowed sister. Crafted with page-turning suspense, Casati spins a mesmerizing story of an ambitious warrior queen who must use all her skill to protect herself and those she loves from men who view women not as equals, but as pawns to be sacrificed upon the altars of lust, greed, and fame. An ancient and intriguing tale made fresh for today's 21st century battles

Liz Michalski, author of DARLING GIRL: A NOVEL OF PETER PAN
Wow! What a powerhouse of a novel. Savage, passionate and absolutely spellbinding. The recreation of Sparta is astonishing - you feel you are with Clytemnestra, completely immersed in the brutal world she inhabits with her siblings, whose complex relationships are drawn with skill and tenderness. Clytemnestra's rage, heartbreak and determination radiate off the page. I was utterly gripped

Elodie Harper, bestselling author of THE WOLF DEN & THE HOUSE WITH THE GOLDEN DOOR
Wow! What a powerhouse of a novel. Savage, passionate and absolutely spellbinding. The recreation of Sparta is astonishing - you feel you are with Clytemnestra, completely immersed in the brutal world she inhabits with her siblings, whose complex relationships are drawn with skill and tenderness. Clytemnestra's rage, heartbreak and determination radiate off the page. I was utterly gripped

Elodie Harper, bestselling author of THE WOLF DEN & THE HOUSE WITH THE GOLDEN DOOR
Wow! What a powerhouse of a novel. Savage, passionate and absolutely spellbinding. The recreation of Sparta is astonishing - you feel you are with Clytemnestra, completely immersed in the brutal world she inhabits with her siblings, whose complex relationships are drawn with skill and tenderness. Clytemnestra's rage, heartbreak and determination radiate off the page. I was utterly gripped

Elodie Harper, bestselling author of THE WOLF DEN & THE HOUSE WITH THE GOLDEN DOOR
Wow! What a powerhouse of a novel. Savage, passionate and absolutely spellbinding. The recreation of Sparta is astonishing - you feel you are with Clytemnestra, completely immersed in the brutal world she inhabits with her siblings, whose complex relationships are drawn with skill and tenderness. Clytemnestra's rage, heartbreak and determination radiate off the page. I was utterly gripped

Elodie Harper, bestselling author of THE WOLF DEN & THE HOUSE WITH THE GOLDEN DOOR
Wow! What a powerhouse of a novel. Savage, passionate and absolutely spellbinding. The recreation of Sparta is astonishing - you feel you are with Clytemnestra, completely immersed in the brutal world she inhabits with her siblings, whose complex relationships are drawn with skill and tenderness. Clytemnestra's rage, heartbreak and determination radiate off the page. I was utterly gripped

Elodie Harper, bestselling author of THE WOLF DEN & THE HOUSE WITH THE GOLDEN DOOR
Wow! What a powerhouse of a novel. Savage, passionate and absolutely spellbinding. The recreation of Sparta is astonishing - you feel you are with Clytemnestra, completely immersed in the brutal world she inhabits with her siblings, whose complex relationships are drawn with skill and tenderness. Clytemnestra's rage, heartbreak and determination radiate off the page. I was utterly gripped

Elodie Harper, bestselling author of THE WOLF DEN & THE HOUSE WITH THE GOLDEN DOOR
Wow! What a powerhouse of a novel. Savage, passionate and absolutely spellbinding. The recreation of Sparta is astonishing - you feel you are with Clytemnestra, completely immersed in the brutal world she inhabits with her siblings, whose complex relationships are drawn with skill and tenderness. Clytemnestra's rage, heartbreak and determination radiate off the page. I was utterly gripped

Elodie Harper, bestselling author of THE WOLF DEN & THE HOUSE WITH THE GOLDEN DOOR
Wow! What a powerhouse of a novel. Savage, passionate and absolutely spellbinding. The recreation of Sparta is astonishing - you feel you are with Clytemnestra, completely immersed in the brutal world she inhabits with her siblings, whose complex relationships are drawn with skill and tenderness. Clytemnestra's rage, heartbreak and determination radiate off the page. I was utterly gripped

Elodie Harper, bestselling author of THE WOLF DEN & THE HOUSE WITH THE GOLDEN DOOR
A thrilling reimagining of an infamous Greek figure

RED
A thrilling reimagining of an infamous Greek figure

RED
A thrilling reimagining of an infamous Greek figure

RED
A thrilling reimagining of an infamous Greek figure

RED
A thrilling reimagining of an infamous Greek figure

RED
A thrilling reimagining of an infamous Greek figure

RED
A thrilling reimagining of an infamous Greek figure

RED
A thrilling reimagining of an infamous Greek figure

RED
A thrilling tale of power and prophecies, and the fierce Queen who fought back at those who wronged her

COSMOPOLITAN, 'The best books to look forward to in 2023'
A thrilling tale of power and prophecies, and the fierce Queen who fought back at those who wronged her

COSMOPOLITAN, 'The best books to look forward to in 2023'
A thrilling tale of power and prophecies, and the fierce Queen who fought back at those who wronged her

COSMOPOLITAN, 'The best books to look forward to in 2023'
A thrilling tale of power and prophecies, and the fierce Queen who fought back at those who wronged her

COSMOPOLITAN, 'The best books to look forward to in 2023'
A thrilling tale of power and prophecies, and the fierce Queen who fought back at those who wronged her

COSMOPOLITAN, 'The best books to look forward to in 2023'
A thrilling tale of power and prophecies, and the fierce Queen who fought back at those who wronged her

COSMOPOLITAN, 'The best books to look forward to in 2023'
A thrilling tale of power and prophecies, and the fierce Queen who fought back at those who wronged her

COSMOPOLITAN, 'The best books to look forward to in 2023'
A thrilling tale of power and prophecies, and the fierce Queen who fought back at those who wronged her

COSMOPOLITAN, 'The best books to look forward to in 2023'
A heroine of fierce spirit caught in a world ruled by men, finding a way through with a sharp, unquenchable courage. With the fire and spark of Madeline Miller and the depths of Mary Renault, Clytemnestra will keep you reading well into the small hours, and your dreams will be of worlds where women reach for the gods

MANDA SCOTT
A heroine of fierce spirit caught in a world ruled by men, finding a way through with a sharp, unquenchable courage. With the fire and spark of Madeline Miller and the depths of Mary Renault, Clytemnestra will keep you reading well into the small hours, and your dreams will be of worlds where women reach for the gods

MANDA SCOTT
A heroine of fierce spirit caught in a world ruled by men, finding a way through with a sharp, unquenchable courage. With the fire and spark of Madeline Miller and the depths of Mary Renault, Clytemnestra will keep you reading well into the small hours, and your dreams will be of worlds where women reach for the gods

MANDA SCOTT
A heroine of fierce spirit caught in a world ruled by men, finding a way through with a sharp, unquenchable courage. With the fire and spark of Madeline Miller and the depths of Mary Renault, Clytemnestra will keep you reading well into the small hours, and your dreams will be of worlds where women reach for the gods

MANDA SCOTT
A heroine of fierce spirit caught in a world ruled by men, finding a way through with a sharp, unquenchable courage. With the fire and spark of Madeline Miller and the depths of Mary Renault, Clytemnestra will keep you reading well into the small hours, and your dreams will be of worlds where women reach for the gods

MANDA SCOTT
A heroine of fierce spirit caught in a world ruled by men, finding a way through with a sharp, unquenchable courage. With the fire and spark of Madeline Miller and the depths of Mary Renault, Clytemnestra will keep you reading well into the small hours, and your dreams will be of worlds where women reach for the gods

MANDA SCOTT
A heroine of fierce spirit caught in a world ruled by men, finding a way through with a sharp, unquenchable courage. With the fire and spark of Madeline Miller and the depths of Mary Renault, Clytemnestra will keep you reading well into the small hours, and your dreams will be of worlds where women reach for the gods

MANDA SCOTT
A heroine of fierce spirit caught in a world ruled by men, finding a way through with a sharp, unquenchable courage. With the fire and spark of Madeline Miller and the depths of Mary Renault, Clytemnestra will keep you reading well into the small hours, and your dreams will be of worlds where women reach for the gods

MANDA SCOTT
A blaze of a novel, fiery and furious - and alight with murderous revenge. Like Madeline Miller and Jennifer Saint, Casati offers the female perspective on the old, patriarchal tropes of the Greek myths

Daily Mail
A blaze of a novel, fiery and furious - and alight with murderous revenge. Like Madeline Miller and Jennifer Saint, Casati offers the female perspective on the old, patriarchal tropes of the Greek myths

Daily Mail
A blaze of a novel, fiery and furious - and alight with murderous revenge. Like Madeline Miller and Jennifer Saint, Casati offers the female perspective on the old, patriarchal tropes of the Greek myths

Daily Mail
A blaze of a novel, fiery and furious - and alight with murderous revenge. Like Madeline Miller and Jennifer Saint, Casati offers the female perspective on the old, patriarchal tropes of the Greek myths

Daily Mail
A blaze of a novel, fiery and furious - and alight with murderous revenge. Like Madeline Miller and Jennifer Saint, Casati offers the female perspective on the old, patriarchal tropes of the Greek myths

Daily Mail
A blaze of a novel, fiery and furious - and alight with murderous revenge. Like Madeline Miller and Jennifer Saint, Casati offers the female perspective on the old, patriarchal tropes of the Greek myths

Daily Mail
A blaze of a novel, fiery and furious - and alight with murderous revenge. Like Madeline Miller and Jennifer Saint, Casati offers the female perspective on the old, patriarchal tropes of the Greek myths

Daily Mail
A blaze of a novel, fiery and furious - and alight with murderous revenge. Like Madeline Miller and Jennifer Saint, Casati offers the female perspective on the old, patriarchal tropes of the Greek myths

Daily Mail
Clytemnestra, whose name has come to epitomise female wickedness, has found a worthy advocate in Costanza Casati and this fascinating Greek myth retelling . . . Casati brings the blood-soaked world of Greek mythology fully alive in this powerful novel

Woman & Home
Clytemnestra, whose name has come to epitomise female wickedness, has found a worthy advocate in Costanza Casati and this fascinating Greek myth retelling . . . Casati brings the blood-soaked world of Greek mythology fully alive in this powerful novel

Woman & Home
Clytemnestra, whose name has come to epitomise female wickedness, has found a worthy advocate in Costanza Casati and this fascinating Greek myth retelling . . . Casati brings the blood-soaked world of Greek mythology fully alive in this powerful novel

Woman & Home
Clytemnestra, whose name has come to epitomise female wickedness, has found a worthy advocate in Costanza Casati and this fascinating Greek myth retelling . . . Casati brings the blood-soaked world of Greek mythology fully alive in this powerful novel

Woman & Home
Clytemnestra, whose name has come to epitomise female wickedness, has found a worthy advocate in Costanza Casati and this fascinating Greek myth retelling . . . Casati brings the blood-soaked world of Greek mythology fully alive in this powerful novel

Woman & Home
Clytemnestra, whose name has come to epitomise female wickedness, has found a worthy advocate in Costanza Casati and this fascinating Greek myth retelling . . . Casati brings the blood-soaked world of Greek mythology fully alive in this powerful novel

Woman & Home
Clytemnestra, whose name has come to epitomise female wickedness, has found a worthy advocate in Costanza Casati and this fascinating Greek myth retelling . . . Casati brings the blood-soaked world of Greek mythology fully alive in this powerful novel

Woman & Home
Clytemnestra, whose name has come to epitomise female wickedness, has found a worthy advocate in Costanza Casati and this fascinating Greek myth retelling . . . Casati brings the blood-soaked world of Greek mythology fully alive in this powerful novel

Woman & Home
If magical mythological books call your name, Clytemnestra is the one for you

Glamour UK
If magical mythological books call your name, Clytemnestra is the one for you

Glamour UK
If magical mythological books call your name, Clytemnestra is the one for you

Glamour UK
If magical mythological books call your name, Clytemnestra is the one for you

Glamour UK
If magical mythological books call your name, Clytemnestra is the one for you

Glamour UK
If magical mythological books call your name, Clytemnestra is the one for you

Glamour UK
If magical mythological books call your name, Clytemnestra is the one for you

Glamour UK
If magical mythological books call your name, Clytemnestra is the one for you

Glamour UK
A swift-paced telling of the story of Clytemnestra, the fierce but loving princess of often-brutal Sparta . . . The easy-to-follow storytelling and well-rounded characters in the novel really draw in the reader

i
A swift-paced telling of the story of Clytemnestra, the fierce but loving princess of often-brutal Sparta . . . The easy-to-follow storytelling and well-rounded characters in the novel really draw in the reader

i
A swift-paced telling of the story of Clytemnestra, the fierce but loving princess of often-brutal Sparta . . . The easy-to-follow storytelling and well-rounded characters in the novel really draw in the reader

i
A swift-paced telling of the story of Clytemnestra, the fierce but loving princess of often-brutal Sparta . . . The easy-to-follow storytelling and well-rounded characters in the novel really draw in the reader

i
A swift-paced telling of the story of Clytemnestra, the fierce but loving princess of often-brutal Sparta . . . The easy-to-follow storytelling and well-rounded characters in the novel really draw in the reader

i
A swift-paced telling of the story of Clytemnestra, the fierce but loving princess of often-brutal Sparta . . . The easy-to-follow storytelling and well-rounded characters in the novel really draw in the reader

i
A swift-paced telling of the story of Clytemnestra, the fierce but loving princess of often-brutal Sparta . . . The easy-to-follow storytelling and well-rounded characters in the novel really draw in the reader

i
A swift-paced telling of the story of Clytemnestra, the fierce but loving princess of often-brutal Sparta . . . The easy-to-follow storytelling and well-rounded characters in the novel really draw in the reader

i
Swift-paced, straightforward storytelling, richly imagined characters. Timeless

Scotsman
Swift-paced, straightforward storytelling, richly imagined characters. Timeless

Scotsman
Swift-paced, straightforward storytelling, richly imagined characters. Timeless

Scotsman
Swift-paced, straightforward storytelling, richly imagined characters. Timeless

Scotsman
Swift-paced, straightforward storytelling, richly imagined characters. Timeless

Scotsman
Swift-paced, straightforward storytelling, richly imagined characters. Timeless

Scotsman
Swift-paced, straightforward storytelling, richly imagined characters. Timeless

Scotsman
Swift-paced, straightforward storytelling, richly imagined characters. Timeless

Scotsman
A passionate picture of a fiercely patriarchal society and her heroine's refusal to be bound by its rules

Sunday Times
A passionate picture of a fiercely patriarchal society and her heroine's refusal to be bound by its rules

Sunday Times
A passionate picture of a fiercely patriarchal society and her heroine's refusal to be bound by its rules

Sunday Times
A passionate picture of a fiercely patriarchal society and her heroine's refusal to be bound by its rules

Sunday Times
A passionate picture of a fiercely patriarchal society and her heroine's refusal to be bound by its rules

Sunday Times
A passionate picture of a fiercely patriarchal society and her heroine's refusal to be bound by its rules

Sunday Times
A passionate picture of a fiercely patriarchal society and her heroine's refusal to be bound by its rules

Sunday Times
A passionate picture of a fiercely patriarchal society and her heroine's refusal to be bound by its rules

Sunday Times
Strong and immersive. Well-worth plucking from the pile of chiton-lit

The Times
Strong and immersive. Well-worth plucking from the pile of chiton-lit

The Times
Strong and immersive. Well-worth plucking from the pile of chiton-lit

The Times
Strong and immersive. Well-worth plucking from the pile of chiton-lit

The Times
Strong and immersive. Well-worth plucking from the pile of chiton-lit

The Times
Strong and immersive. Well-worth plucking from the pile of chiton-lit

The Times
Strong and immersive. Well-worth plucking from the pile of chiton-lit

The Times
Strong and immersive. Well-worth plucking from the pile of chiton-lit

The Times
Savage, passionate and absolutely spellbinding. Clytemnestra's rage, her heartbreak and her determination radiate off the page

ELODIE HARPER, bestselling author of THE WOLF DEN and THE HOUSE WITH THE GOLDEN DOOR
Article
Article
Article