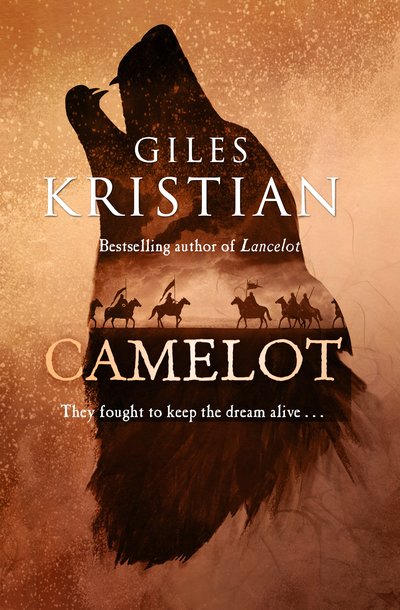 Published:

21 July 2020

ISBN:

9781787630550

Imprint:

Bantam Press

Format:

Trade Paperback

Pages:

448

RRP:

$32.99
Camelot
The epic new novel from the author of Lancelot
---
---
---
Following on from the top 10 bestseller Lancelot, Giles Kristian returns to Britain's greatest island history - the Arthurian legend - for his new novel: a rich tale of passion, heart-ache, adventure, war and wonder, this is the story of Galahad, son of Lancelot . . .
Following his acclaimed Sunday Times bestseller, Lancelot, Giles Kristian's new novel returns us to the realms of Arthurian legend . . .
Britain is a land riven by anarchy, slaughter, famine, filth and darkness. Its armies are destroyed, its heroes dead, or missing. Arthur and Lancelot fell in the last great battle and Merlin has not been seen these past ten years. Now, the Saxons are gathering again, their warbands stalk the land, their king seeks dominion. As for the lords and kings of Britain, they look only to their own survival and will not unite as they once did under Arthur and his legendary sword Excalibur.
But in an isolated monastery in the Avalon marshes, a novice of the order is preparing to take his vows when the life he has known is suddenly turned upside down in a welter of blood. Two strangers - the wild-spirited, Saxon-killing Iselle and the ageing warrior Gawain - will pluck the young man from the wreckage of his simple existence. Together, they will seek the last druid and the cauldron of a god. And the young man must come to terms with his legacy and fate as the son of the most celebrated yet most infamous of Arthur's warriors: Lancelot.
For this is the story of Galahad, Lancelot's son - the reluctant warrior who dared to keep the dream of Camelot alive . . .
Acclaim for Lancelot:
'A masterpiece.' Conn Iggulden
'Stands head and shoulders above the rest.' Manda Scott
'Glorious. Tragic. Lyrical. Totally gripping.' Ben Kane
'A gorgeous, rich retelling.' The Times
'An extraordinary writer . . . an exceptional book.' Dr Janina Ramirez
Published:

21 July 2020

ISBN:

9781787630550

Imprint:

Bantam Press

Format:

Trade Paperback

Pages:

448

RRP:

$32.99
Adventure, intrigue and love abound in this retelling of a tale that is veiled in myth and legend . . . Kristian's writing weaves a spell on the reader as surely as Merlin at the height of his powers. Kristian has done it again. Camelot is a wonderful book.

MATTHEW HARFFY, author of The Serpent Sword
This is SUCH a good book. I loved it - the sense of time and place is so beautiful, so haunting. And the people, as ever, are bitingly real. Wrapped in the rich lore of the Arthurian saga, Giles has given us a vital, glorious story: rich, rewarding, and utterly revealing of our times - Camelot is a novel you'll savour long after the last page has been turned.

MANDA SCOTT, author of A Treachery of Spies
Camelot gave me one-hell of a punch. It contained some of the best writing in historical-fiction today and completely knocked me off my feet. It had the emotion and intimacy of Lancelot, just with something more. A phenomenal read.

GRIMDARK Magazine
Kristian's sequel to his acclaimed Arthurian novel Lancelot is, in some ways, even better than the first book . . . evokes post-Roman Britain in a masterly fashion, totally immersing the reader into the dank, misty, marshlands of hounded Britons and brutal Saxon invaders; of Merlin's twisty, amoral magic and the raw, skinned-knuckle courage of the warrior trapped in the bloody crush of the shield wall. It is, in short, a triumph. Highly recommended, especially to fans of Bernard Cornwell's seminal Warlord Chronicles.

ANGUS DONALD, author of Outlaw
After finishing Lancelot, I had my doubts whether Camelot could have the same impact on me, whether it could captivate and enchant me in the same way. I needn't have feared. Kristian once again works his sorcery, and weaves a superb blend of high fantasy and historical fiction, enriched by luscious prose . . . herein lies the beauty of Camelot, it is a book where the past hauntingly mirrors the present.

FANTASY HIVE
A wonderfully crafted novel . . . a good book is one that will take you through a range of emotions, from laughter to tears, and that will - when you get to the final page - leave you bereft that there is no more to read, and disappointed that you know you will not read anything so good any time soon. Camelot fills all these criteria. It surprises you at every turn. It is probably the best book I will read this year - and it's only April!

HISTORY...THE INTERESTING BITS!
Just brilliant . . . I loved this book. From the prose, to characters, to action sequences. Everything in this book is brilliant. That is partly due to my love for anything Arthurian, but it is also due to the intricate and powerful story Giles Kristian has magically created.

BOOKNEST
Camelot sees the storytelling brilliance of Giles Kristian reach for and attain new heights . . . this duology for me is now the go-to Arthurian tale, surpassing Bernard Cornwell's . . . it truly is a classic.

PARMENION BOOKS
What a wonderful book. Beautifully evocative and bone-crunchingly bloody, filled with characters I loved and hated, all conveyed in beautifully lyrical prose and edged with the sense of hope and tragedy that is essential for any retelling of the Arthurian tale. It was fabulous to go back to 5th-century Britain and dive into the fray again.

JOHN GWYNNE, author of the Of Blood and Bone Trilogy
Giles Kristian has set himself a rather monumental task. Namely, how do you follow a novel like LANCELOT - surely already a classic in the Arthurian canon and one of those books that leaves you with your head swimming and your heart thumping long after you've read the last word? His monumental answer is: CAMELOT . . . an immense achievement . . . together, these two novels represent something altogether more monumental. Nothing short of a new milestone in British myth-making. It deserves to be an instant classic and I'd bet my last arm-ring that it will be.

THEODORE BRUN
This the second volume in Giles Kristian's retelling of the Arthurian legend which started with the superb Lancelot. Kristian has created a powerful, dark vision of Arthur's Britain, where magic has its limits and the worst monsters are human.

Antonia Senior, THE TIMES