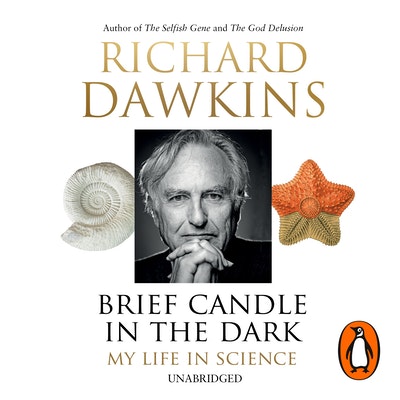 Published:

10 September 2015

ISBN:

9781448170845

Imprint:

Transworld Digital

Format:

Audio Download

Length:

13 hr 54 min

Narrator:

Richard Dawkins

RRP:

$24.99
Brief Candle in the Dark
My Life in Science
---
---
---
The second and final part of Richard Dawkins' memoirs
In An Appetite for Wonder Richard Dawkins brought us his engaging memoir of the first 35 years of his life from early childhood in Africa to publication of The Selfish Gene in 1976, when he shot to fame as one of the most exciting new scientists of his generation. In Brief Candle in the Dark he continues his autobiography, following the threads that have run through the second half of his life so far and homing in on the key individuals, institutions and ideas that inspired and motivated him.
He paints a vivid picture, coloured with wit, anecdote and digression, of the twenty-five postgraduate years he spent teaching at Oxford. He pays affectionate tribute to past colleagues and students, recalling the idiosyncrasies of an establishment steeped in ancient tradition and arcane ritual while also recording his respect for the profound commitment to learning and discovery that lies at its core. He invites us to share the life of a travelling scientist, from fieldwork on the Panama Canal to conferences of stratospheric eminence in exotic locations in the company of some of the most prominent of the world's scientific luminaries. And he describes his experiences with his many publishers, television producers, interviewers and partners in debate, not least in the heady period when, after publication of The God Delusion in 2006, he is dubbed the world's most outspoken and controversial atheist.
Most important of all, for the first time he reviews with fresh and stimulating insights the evolving narrative of his ideas about science over the course of his highly distinguished career as thinker, teacher and writer. In Brief Candle in the Dark we are invited to enter with him a constantly stimulating world of discovery and to meet a fascinating cast of exceptional characters described by the talented pen of one of the most exceptional of them all.
Includes a bonus PDF of photographs.
Published:

10 September 2015

ISBN:

9781448170845

Imprint:

Transworld Digital

Format:

Audio Download

Length:

13 hr 54 min

Narrator:

Richard Dawkins

RRP:

$24.99
Praise for Brief Candle in the Dark
Readers of Brief Candle are in for many treats: lively prose from one of our greatest living writers; stimulating ideas on the nature of life and the human condition; and the opportunity to eavesdrop on the workings of an extraordinary mind, intellectually fierce yet personally generous.

Steven Pinker
[Dawkins] is a thunderously gifted science writer

The Times
Dawkins's greatest gift has been as a lyricist ... His writing can still sparkle. He excels at capturing the scenes behind a scene, deftly explaining a scientific principle, capping a story with an amusing anecdote ... At such moments, one feels transported to a tweedy evening at Oxford, pouring the sherry as a charming senior faculty member holds court.

Nature
A highly readable account of the fascinating career of the science populariser ... Among its attractions are handy summaries of the central arguments of each of Dawkins's books ... It shows Dawkins in all his contradictory guises

Prospect
Dawkins has written with passion, urgency and clarity

Guardian
Richard always writes like he's telling you a story, which is why so many of us non-science people understand science better than we used to. But when the story is his own life, its doubly compelling.

Bill Maher
This is the Richard Dawkins I have come to know and respect ... witty, self-deprecating, intensely curious, always genuine, and a beguiling storyteller, who just happens to also be one of the best scientist-writers on the planet. For those who want some insight into the true nature of the man behind The Selfish Gene and The God Delusion, this book is sure to please, and perhaps surprise.

Lawrence Krauss
A century from now historians will take note of a handful of scientific luminaries in the second half of the 20th century who changed not just their science but their culture. First among equals in that short list will surely be Richard Dawkins, unquestionably one of the great minds of our time who is also an eloquent writer. Brief Candle in the Dark gives those future historians his pathway to greatness that begins with the publication of his monumental The Selfish Gene in 1976 and climaxes with the book that may do more to elevate atheism to a legitimate position than any that came before—The God Delusion—whose impact, like the author, reverberates still.

Michael Shermer, Publisher of 'Skeptic' magazine, monthly columnist 'Scientific American', author of 'The Moral Arc'
Brief Candle in the Dark provides so many pleasures in which to revel: the searing clarity of scientific insights and explanations; the depth of wit and width of erudition; a prose which can soar to poetry while never losing its accuracy; an inspired delight in the beauty of nature's ways and a just as inspiring delight in the gifts and talents of others. The Richard Dawkins who comes shining through these wonderful pages is as generous as he is brilliant, calling to mind Darwin's ringing words: There is grandeur in this view of life.

Rebecca Newberger Goldstein, author of Plato at the Googleplex: Why Philosophy Won't Go Away
Sometimes funny, sometimes fascinating, and always interesting,Dawkins takes us through his later years story by story, revealing the humanity behind the man like never before. Richard Dawkins stands on a well-deserved pedestal in my mind because of all he has accomplished, and how those accomplishments have affected me, personally, and millions of others as well; A Brief Candle in the Dark reminds us, warmly and eloquently, that the greatest accomplishments are achieved when science is bolstered by good will and kindness.

David Silverman, president of American Atheists, Inc.
Winston Churchill once quipped, "Mr. Attlee is a very modest man. Indeed he has a lot to be modest about." Richard Dawkins is also a very modest man, though he has a lot to be immodest about. In Brief Candle in the Dark, Dawkins takes us through a personal journey of anecdotes and conversations with world-class scientists and thinkers, without acknowledging that he is truly a rock star among them. You don't have to be a scientist to appreciate how deeply Dawkins loves interpreting science for the rest of us in this remarkable book about his own remarkable life, so far.

Herb Silverman is Distinguished Professor Emeritus, founder and president of the Secular Coalition for America, and author of Candidate Without a Prayer: An Autobiography of a Jewish Atheist in the Bible Belt
The text is fascinating, thoroughly readable, and joyful ... Whether he is relating his experiences popularizing science or summarizing his travels to the Galápagos Islands, Dawkins tells a good tale as he expounds upon the value in broadly promoting science literacy ... Dawkins offers great insight into the nature of science and introduces readers to many of the major players responsible for creating the field of evolutionary biology.

Publishers Weekly
What it lacks in intimacy it makes up for with wit and bounce and a sense that this deeply learned man is running for mayor of our brains....A line that Mr. Dawkins uses to praise another scientist, the evolutionary biologist Alan Grafen, could surely be applied to the author himself: "As P.G. Wodehouse might have put it, 'North of the collar stud, Alan stands alone.' "

NEW YORK TIMES