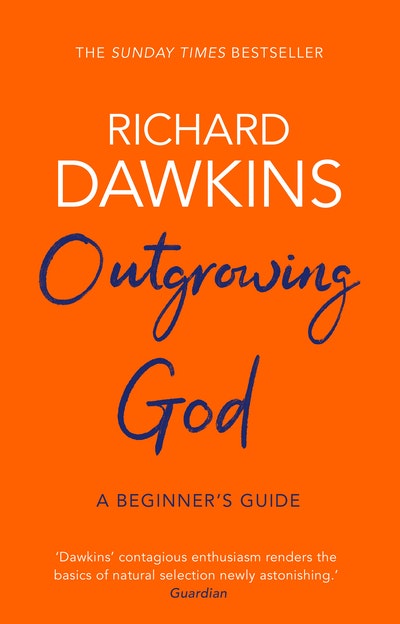 Published:

15 September 2020

ISBN:

9781784164201

Imprint:

Black Swan

Format:

Paperback

Pages:

304

RRP:

$19.99
Outgrowing God
A Beginner's Guide
---
---
---
From the author of multi-million bestseller, The God Delusion, an exciting, accessible argument for atheism, written for a new generation.
Should we believe in God? In this new book, written for a new generation, the brilliant science writer and author of The God Delusion, explains why we shouldn't.
Should we believe in God? Do we need God in order to explain the existence of the universe? Do we need God in order to be good? In twelve chapters that address some of the most profound questions human beings confront, Dawkins marshals science, philosophy and comparative religion to interrogate the hypocrisies of all the religious systems and explain to readers of all ages how life emerged without a Creator, how evolution works and how our world came into being.
For anyone hoping to grapple with the meaning of life and what to believe, Outgrowing God is a challenging, thrilling and revelatory read.
--------------------------------
Published:

15 September 2020

ISBN:

9781784164201

Imprint:

Black Swan

Format:

Paperback

Pages:

304

RRP:

$19.99
Praise for Outgrowing God
Outgrowing God is another sally against his oldest foe, the Almighty

James Marriott, The Times
Books of 2019: The scientist and controversial commentator on religious and cultural questions presents an accessible, "junior" version of The God Delusion (2006).

Guardian
His contagious enthusiasm renders the basics of natural selection newly astonishing.

Oliver Burkeman, The Guardian
Books of 2019: Richard Dawkins has always had it in for the almighty and he's back to take another pop at the poor bloke. Here he outlines what he believes is the real meaning of life.

The Times
Dawkins new book is special in the terrain of atheists' pleas for humanism and rationalism precisely since it speaks to those most vulnerable to the coercive tactics of religion. As Dawkins himself says in the dedication, this book is for "all young people when they're old enough to decide for themselves." It is also, I must add, for their parents.

Professor Janna Levin, Claire Tow Professor of Physics & Astronoy at Barnard College of Columbia University
With wit, logic, and his characteristic flair for expressing complex ideas with uncanny clarity, Richard Dawkins separates myth from reality in OUTGROWING GOD. His book is more than a beginners' guide to atheism: it is a primer that liberates us to see and explore the beauty of the Universe free of fables and fantasies.

Neil Shubin, paleontologist and author of Your Inner Fish
The author of The God Delusion, the man at the forefront of the New Atheism movement, returns with passion to his theme.

Radio Times
Dawkins' new book is perhaps his most likeable.

Joe Humphreys, The Irish Times
It offers irrefutable proof that [we] evolved from something else

Hugo Rifkind, The Times
Vividly demonstrates the spirit of scientific discovery that has made life meaningful for Dawkins himself. His contagious enthusiasm renders the basics of natural selection newly astonishing.

Oliver Burkeman, Guardian
Outgrowing God has fine content and a genial tone. It should do well.

Martin Hadley, The Skeptic
When someone is considering atheism I tell them to read the Bible first and then Dawkins. Outgrowing God - second only to the Bible!

Penn Jillette, author of God, No!
When people ask me, 'If you could have dinner with three people...', Richard Dawkins often springs to mind. Reading Outgrowing God felt like having that dinner. Dawkins spends the first half of the dinner blowing my mind by explaining what we know about the origins of the Bible, and the second half changing the way I think about evolution. I came out feeling smarter.

Tom Urban, author of Wait But Why?
Richard Dawkins is one of the great scientists and science communicators of our time, and Outgrowing God: A Beginner's Guide shows that he does not mean to relinquish those titles any time soon. It is a paean to truth and reason, written in the hope that more people will rally to the defence of those values at a time when they are being hastily abandoned. Dawkins writes so well that his hope of helping society grow up might just be fulfilled.

Areo Magazine
My son came home from his first day in the sixth grade with arms outstretched, plaintively demanding to know: 'Have you ever heard of Jesus?' We burst out laughing. He felt that he had woken up one day to a world in which his peers were expressing beliefs he found frighteningly unreasonable. He began devouring books like The God Delusion, books that helped him formulate his own arguments and stand his ground. Dawkins' new book is special in the terrain of atheists' pleas for humanism and rationalism precisely since it speaks to those must vulnerable to the coercive tactics of religion. It is also for their parents.

Janna Levin, author of Black Hole Blues