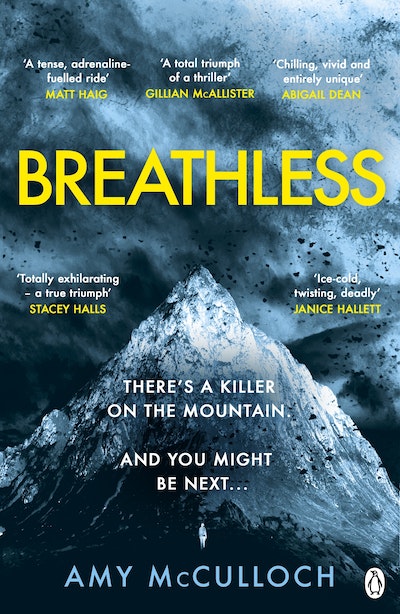 Published:

17 February 2022

ISBN:

9780241534847

Imprint:

Penguin eBooks

Format:

EBook

Pages:

400
Breathless
This year's most gripping thriller and Sunday Times Crime Book of the Month
---
---
---
When you're this high up, no one can hear you scream: an ice-cold thriller from an expert mountaineer turned bestselling author
At the top of the world's tallest mountains, there literally isn't enough oxygen to breathe. In the space of hours your body will begin to shut down. Any longer, and death is inevitable.
What better place for a serial killer to find their next victim?
Struggling journalist Cecily Wong is delighted to be invited to interview famed mountaineer Charles McVeigh, conditional on joining his team on one of the Himalayas' toughest peaks.
But on the mountain, it's clear something is wrong. It begins small - a theft, an accidental fall. And then a note, pinned to her tent in the night: there's a murderer on the mountain...
Published:

17 February 2022

ISBN:

9780241534847

Imprint:

Penguin eBooks

Format:

EBook

Pages:

400
It's rare that a thriller actually lives up to that word. But here - in the jeopardy its characters are plunged into, in the story's twists and turns, and in the true star of the novel, the mountain itself - Breathless truly manages to thrill

James Smythe, author of I Still Dream
Breathless is a thriller that moves at a breakneck pace through the ice-packed dangers of the Death Zone. I felt like I was on the mountain and raced to the end. Read it, and it'll leave you breathless, too

Laura Lam, Sunday Times bestselling author of Seven Devils and Goldilocks
A truly breathtaking thriller. It had me gasping and guessing with every turn of a page. The audacity of the adventure is only matched by the brilliance of McCulloch's deft and evocative writing

Kim Curran, author of the Slay series
Breathless is a high-altitude, high-stakes thriller that combines fascinating, authentic mountaineering experience with pure thriller entertainment. The suspense rises like the Nepalese mountain it is set on. Reminded me of the best of Michael Crichton, where in-depth knowledge and a masterful plot work together to create a tense adrenaline-fuelled ride. I loved it

Matt Haig, Sunday Times bestselling author of The Midnight Library
I loved it. I read it in two sittings. It was so tense by the end, the air in my bedroom felt as thin as in the mountains. I think it's a total triumph of a thriller.

Gillian McAllister, Sunday Times bestselling author of That Night
Tense, chilling and terrifying with unforgettable characters and an unpredictable and atmospheric plot. One of the most original thrillers I've read. It deserves to be huge!

Claire Douglas, Sunday Times bestselling author of The Couple at No. 9
A breathtaking book set at 8000 metres - the air alone can kill you, and there's a killer on the loose too. I absolutely loved this, the author's incredible knowledge of mountaineering really shone through - a real page-turner that I read in a couple of days. Tense, terrifying and fascinating in equal measure.

Catherine Cooper, Sunday Times bestselling author of The Chalet
Nail-biting, chilling, totally exhilarating - a true triumph

Stacey Halls, Sunday Times bestselling author of The Familiars
A tense, absorbing thriller with the most spectacular setting imaginable. It's bleak, beautiful and powerfully atmospheric. I couldn't put it down

Jennifer Saint, Sunday Times bestselling author of Ariadne
Breathless is both a fascinating insight into the world of high-altitude mountaineering and a chilling, twisty thriller. Absorbing and atmospheric

Louise O'Neill, bestselling author of After The Silence
This thriller would be unsettling enough at sea level, but in the death zone, it's suffocatingly tense. McCulloch combines extreme mountaineering with murder to create a novel that's chilling, vivid, and entirely unique.

Abigail Dean, Sunday Times bestselling author of Girl A
A truly terrifying thriller with a tense and twisty plot and an incredibly dangerous setting. I loved the insight into the world of the high mountains and the people who risk their lives to climb them. A brilliant concept, superbly executed.

Allie Reynolds, bestselling author of Shiver
The ultimate high-altitude mountain thriller. Ice-cold, twisting, deadly and doesn't put a foot wrong. It took me on a chilling journey to the death zone, and I loved it!

Janice Hallett, Sunday Times bestselling author of The Appeal
A visceral, thrill-seeker's story of one woman's struggle to conquer her fears, with murder and mayhem at 8,000m. I really loved it.

Rosie Andrews, author of Leviathan
If you're looking for a book to thrill and transport you, then Breathless is the read for you! Set high in the chilling Death Zone, this thriller had me on the edge of my seat. I loved being immersed in the competitive, high-stakes world of alpine climbing and Amy brilliantly evokes how risky this setting is, a setting that can only get deadlier with a murderer on the mountain... A must read for 2022

Sarah Pearse, Sunday Times bestselling author of The Sanatorium
Set on an expedition to climb one of the world's tallest mountains, Breathless is an addictive, tightly plotted thriller that will leave you chilled to the bone

Lucy Clarke, Sunday Times bestselling author of The Castaways
I have climbed Manaslu with Amy, she's a very positive thinker with good energy to be around on the mountain - she is the real deal

Nirmal "Nimsdai" Purja, star of Netflix's 14 Peaks and author of the Sunday Times bestseller Beyond Possible
A frighteningly original novel written with a deep passion for the mountains and an inquisitive mind. A brilliantly chilling read

Giles Kristian
Atmospheric enough to leave me shivering and gripping enough to make me unable to stop turning pages. This book followed me around the house as I inhaled Cecily's story, enjoying every fascinating minute of it. A 5* cracker

Gytha Lodge
A vertigo-inducing page-turner by an author who brings the high-stakes world of expert mountain-climbing to life on the page

Nita Prose, Sunday Times bestselling author of The Maid
Stunning. Suffocatingly tense, highly original and exhilarating, Breathless is an early contender for thriller of the year

Daily Express
Gripping. Thrilling. A visceral account of a novice's struggles with thin air and exhaustion

Sunday Times
If you liked Shiver by Allie Reynolds, you'll really enjoy this. Rich in authentic detail, it's a nail-biting novel

Woman's Weekly
Chilling . . . there really is something about the combination of a remote snowbound location and a killer hiding in plain sight that is a recipe for success

Crime Monthly
A blockbuster worthy thriller

OK!
There really is something about the combination of a snowbound locale and a killer hiding in plain sign that is a recipe for success, and this is an absolute belter

Heat
Vividly descriptive, packed with atmosphere, mystery twists, turns and tension, it's a nail-biter thriller

Choice Magazine
A blockbuster-worthy thriller

Sunday Express
It's a classic locked-room setting, but there's enough originality and style about this to make it an enjoyable and exciting read . . . A claustrophobic and intense read, a tale of proper obsession and danger. Keeps you turning the page, anxious to know what comes next.

NB Magazine