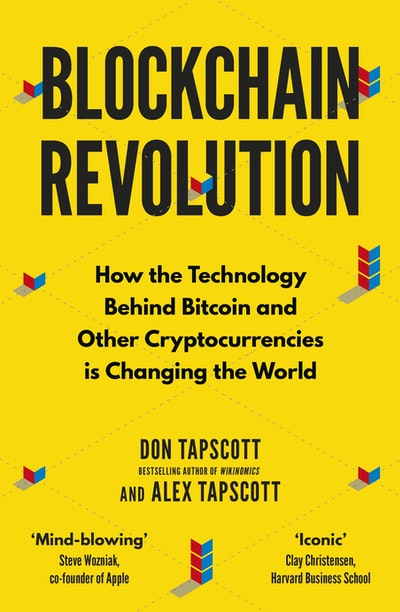 Published:

2 July 2018

ISBN:

9780241237861

Imprint:

Penguin General UK

Format:

Paperback

Pages:

432

RRP:

$22.99
Blockchain Revolution
How the Technology Behind Bitcoin and Other Cryptocurrencies is Changing the World
---
---
---
The definitive book on blockchain, the technology behind bitcoin and cryptocurrencies, and how it will fundamentally change our lives
PAPERBACK EDITION UPDATED WITH A FOREWORD AND NEW CHAPTER ON RECENT DEVELOPMENTS WITH CRYPTOCURRENCY.
Blockchain is the ingeniously simple technology behind Bitcoin. But it is much more than that. It is a public ledger to which everyone has access, but which no single person controls. It enables companies and individuals to collaborate with an unprecedented degree of trust and transparency. It is cryptographically secure, but fundamentally open. And soon it will be everywhere.
In Blockchain Revolution, Don and Alex Tapscott reveal how this game-changing technology will shape the future of the world economy, dramatically improving everything from healthcare records to online voting, and from insurance claims to royalty payments. Brilliantly researched and highly accessible, this is the essential text on the next major paradigm shift. Read it, or be left behind.
Published:

2 July 2018

ISBN:

9780241237861

Imprint:

Penguin General UK

Format:

Paperback

Pages:

432

RRP:

$22.99
Praise for Blockchain Revolution
What a spectacular book. Mind-blowing in its expansiveness and profundity. It makes me think we're at one of those times in technological, economic and social history where the sky is the limit

Steve Wozniak, co-founder of Apple Computer and Chief Scientist at Prime Data
The Tapscotts have written the book, literally, on how to survive and thrive in this next wave of technology-driven disruption. Likely to become one of the iconic books of our time

Clay Christensen, Professor of Business Administration, Harvard Business School and author of The Innovator's Dilemma
Occasionally a book comes along that changes the global discourse. This is likely to be one of those books. Blockchains are at the heart of the fourth industrial revolution and the Tapscotts lucidly explain why and how to capture the opportunity and avoid dangers

Klaus Schwab, founder and executive chairman of the World Economic Forum
A carefully researched and beautifully written book. Blockchain Revolution argues that the 'Internet of value' will transform our lives. A must-read for our disruptive times

Dominic Barton, Global Managing Director at McKinsey & Company
Don and Alex brilliantly illuminate the technology that could profoundly impact the way we manage issues of trust, security and privacy for years to come

Indra Nooyi, Chairman and CEO of PepsiCo
The great missing element in the Internet has been a 'trust protocol', a way of knowing that a transaction is verified and authentic. Blockchain technology could provide a foundation for that. It's a revolutionary idea and this lucid book explains why

Walter Isaacson, Author of Steve Jobs
A masterpiece. Gracefully dissects the potential of blockchain technology to take on today's most pressing global challenges

Hernando De Soto, Economist and President at the Institute for Liberty and Democracy in Peru
The blockchain is to trust as the Internet is to information. Like the original Internet, blockchain has potential to transform everything. Read this book and you will understand

Joichi Ito, Director of MIT Media Lab
In this extraordinary journey to the frontiers of finance, the Tapscotts shed new light on the blockchain phenomenon and make a compelling case for why we all need to better understand its power and potential

Dave McKay, President and CEO of the Royal Bank of Canada
Deconstructs the promise and peril of the blockchain in a way that is at once accessible and erudite. Blockchain Revolution gives readers a privileged sneak peak at the future

Alec Ross, Author of The Industries of the Future
If ever there was a topic for demystification, blockchain is it. Together, the Tapscotts have achieved this comprehensively and in doing so have captured the excitement, the potential and the importance of this topic to everyone

Blythe Masters, CEO of Digital Asset Holdings
This is a book with the predictive quality of Orwell's Nineteen Eighty-Four and the vision of Elon Musk. Read it or become extinct

Tim Draper, Founder of Draper Associates, DFJ and Draper University
Blockchain is a radical technological wave and, as he has done so often, Tapscott is out there, now with son Alex, surfing at dawn. It's quite a ride

Yochai Benkler, Berkman Professor of Entrepreneurial Legal Studies, Harvard Law School
If you work in business or government, you need to understand the blockchain revolution. No one has written a more thoroughly researched or engaging book on this topic than Tapscott and Tapscott

Erik Brynjolfsson, Professor at MIT and co-author of The Second Machine Age
An indispensable and up-to-the-minute account of how the technology underlying bitcoin could - and should - unleash the true potential of a digital economy for distributed prosperity

Douglas Rushkoff, author of Present Shock and Throwing Rocks at the Google Bus
Technological change that used to develop over a generation now hits us in a relative blink of the eye, and no one tells this story better than the Tapscotts

Eric Spiegel, President and CEO of Siemens USA
Few leaders push us to look around corners the way Don Tapscott does. With Blockchain Revolution he and his son Alex teach us, challenge us and show us an entirely new way to think about the future

Bill McDermott, CEO of SAP SE
Blockchain Revolution is a brilliant mix of history, technology and sociology that covers all aspects of the blockchain protocol - an invention that in time may prove as momentous as the invention of printing

James Rickards, author of Currency Wars and The Death of Money
Blockchain Revolution serves as an atlas to the world of digital money, masterfully explaining the current landscape while simultaneously illuminating a path forward toward a more equitable, efficient and connected global financial system

Jim Breyer, CEO of Breyer Capital
Blockchain Revolution is the indispensable and definitive guide to this world-changing technology

Jerry Brito, Executive Director of Coin Center
Incredible. Really incredible. The Tapscotts' examination of the blockchain as a model for inclusion in an increasingly centralised world is both nuanced and extraordinary

Steve Luczo, Chairman and CEO of Seagate Technology
Makes a powerful case for blockchain's ability to increase transparency but also ensure privacy. In the authors' words 'The Internet of Things needs a Ledger of Things'

Chandra Chandrasekaran, CEO and Managing Director of Tata Consultancy Services
The epicentre of trust is about to diffuse! The definitive narrative on the revolutionary possibilities of a decentralised trust system

Frank D'Souza, CEO of Cognizant
Identifies a profound new technology movement and connects it to the deepest of human needs: trust. Thoroughly researched and provocatively written. Every serious businessperson and policy maker needs to read Blockchain Revolution

Brian Fetherstonehaugh, Chairman and CEo of OgilvyOne Worldwide
This book has had an enormous impact on the evolution of blockchain in the world

Satya Nadella, CEO, Microsoft Corporation
A thorough, balanced and enlightening guide to the next big thing.

John Gapper, Financial Times
The Tapscotts have written the book, literally, on how to survive and thrive in this next wave of technology-driven disruption. Likely to become one of the iconic books of our time.

Clay Christensen, Harvard Business School
What a spectacular book. Mind-blowing in its expansiveness and profundity. It makes me think we're at one of those times in technology, economic and social history where the sky is the limit.

Steve Wozniak, co-founder of Apple
The blockchain is one of the most fundamental inventions in the history of computer science. Read Blockchain Revolution to understand its profound implications.

Marc Andreessen, co-founder, Netscape and Andreessen Horowitz
Blockchain Revolution is a highly readable introduction to a bamboozling but increasingly important field

Guardian
Occasionally a book comes along that changes the global discourse. This is likely to be one of those books. Blockchains are at the heart of the Fourth Industrial Revolution and the Tapscotts lucidly explain why and how to capture the opportunity and avoid the dangers.

Klaus Schwab, Founder and Executive Chairman, World Economic Forum
A carefully researched and beautifully written book. Blockchain Revolution argues that the "internet of value" will transform our lives. A must-read book for our disruptive times.

Dominic Barton, Global Managing Director, McKinsey & Company
Don and Alex brilliantly illuminate the technology that could profoundly impact the way we manage issues of trust, security and privacy for years to come.

Indra Nooyi, Chairman & CEO, PepsiCo
The great missing element in the Internet has been a "trust protocol", a way of knowing that a transaction is verified and authentic. Blockchain technology could provide a foundation for that. It's a revolutionary idea, and this lucid book explains why.

Walter Isaacson, Author of The Innovators and President and CEO of the Aspen Institute
In clear, engaging prose, this richly sourced book overflows with entertaining examples of how blockchain could enhance our lives

Oxford Economics