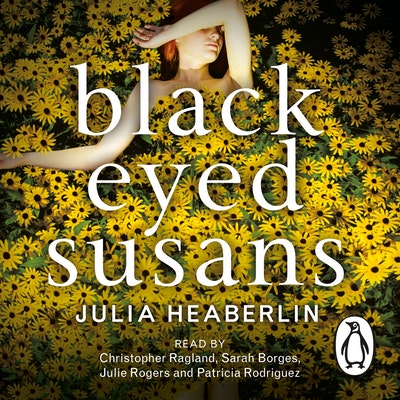 Published:

13 August 2015

ISBN:

9781405923521

Imprint:

Penguin Audio

Format:

Audio Download

RRP:

$22.99
Black-Eyed Susans
---
---
---
A chilling new thriller that gets into the heart and mind of the killer - and the victim . . .
Penguin presents the unabridged, downloadable, audiobook edition of Black Eye Susans by Julia Heaberlin, read by Sarah Borges, Christopher Ragland, Patricia Rodriguez and Julie Rogers.
Seventeen-year-old Tessa, dubbed a 'Black-Eyed Susan' by the media, became famous for being the only victim to survive the vicious attack of a serial killer. Her testimony helped to put a dangerous criminal behind bars - or so she thought.
Now, decades later the black-eyed susans planted outside Tessa's bedroom window seem to be a message from a killer who should be safely in prison.
Haunted by fragmented memories of the night she was attacked and terrified for her own teenage daughter's safety, can Tessa uncover the truth about the killer before it's too late?
Published:

13 August 2015

ISBN:

9781405923521

Imprint:

Penguin Audio

Format:

Audio Download

RRP:

$22.99
Praise for Black-Eyed Susans
It's a terrific plot, matched by the quality of the writing and superbly paced tension

The Times BOOK OF THE MONTH
Black Eyed Susans is a compelling read, especially for Serial fans

Cosmopolitan
One of the classiest thrillers you'll read this year

Charlotte Heathcote
About as good an example of Grip Lit as you could read

Sunday Independent
Sophisticated, disturbing and with plenty of red herrings

Woman and Home
We can't remember the last time a thriller burrowed under out skin like this. Sparkling characters, authentic emotion, and an unpredictable plot makes this a terrific read from start to end

iBook, Books of the Month
An absorbing character study and a good choice for readers who want to really sink into a psychological thriller

Booklist
A truly compelling tale of the fragility of memory and elusive redemption

Kirkus Reviews
Black-Eyed Susans is a masterful thriller that shouldn't be missed . . . and in terms of suspense, characterizations and storytelling... is outstanding. Heaberlin's work calls to mind that of Gillian Flynn. Both writers published impressive early novels that were largely overlooked, and then one that couldn't be: Flynn's Gone Girl and now Heaberlin's Black-Eyed Susans. Don't miss it.

Washington Post
Gripping... The suspense builds as Tessie uncovers devastating secrets from the past en route to the shocking ending

Publishers Weekly
Terrific. Impeccable plotting

Barry Forshaw
A spellbinding tale, at once both completely believable and utterly suspenseful - and once you reach the novel's perfect ending, you will want to read it again

David Dow, Death Row investigator and author of Things I've learnt from Dying
This twisted tale is disturbing in the best way, rife with suspense and rich in eerie detail. A deeply creepy page-turner that you won't want to put down

Laura McHugh, author of The Weight of Blood
With vivid, original prose that never misses its mark, Julia Heaberlin lures you into this psychologically astute and utterly riveting story of a victim left for dead by a serial killer, whose forgotten memories may hold the key to finding 'her monster.' As this dark journey into her past unfolds, you will race through the pages to discover the shocking secrets she thinks she wants to remember--only to find the truth lingering in your own mind long after you're done. A fascinating, twisted book

Koethi Zan, author of Richard and Judy-selected THE NEVER LIST
In Julia Heaberlin's mesmerising novel, the haunted Tessa is the only survivor of a serial killer's reign of terror. But after several decades, she finds flowers planted outside her bedroom window. Is the murderous monster she escaped from still in prison - or closing in on her? In a crowded field, Heaberlin is something special, and clearly an author to whom close attention must be paid

Barry Forshaw
The best thriller I have read in a very long time. Intelligent and very intriguing - this author's writing pulled me in immediately. I think it outshines both 'Gone Girl' or 'The Girl on the Train'.

Brandie is a Book Junkie!
If readers looking for the next Gone Girl do pick it up, I guarantee they won't put it down. A classic page-turner.

D Magazine
A sophisticated take on the serial killer novel

Good Housekeeping
Excellent

Crime Watch
an intriguing tale told by a compelling but unreliable narrator who struggles to remember details of her abduction as a teenager, but is convinced the wrong man faces execution for the crime

Sunday Times Crime Club
An intriguing and twisty read... This is a very well written thriller with a cleverly structured plot

My Reading Corner
In a grave under a patch of Black-eyed Susans, in a Texas field, a serial killer buries four girls. Three die. One survives. Sixteen-year-old Tessa, after several days with the three corpses, is traumatised. Her evidence in court results in a man being sentenced to death for murder. Tessa achieves a measure of normality and becomes a single mother and an artist. Now, nearly 20 years later, Black-eyed Susans are freshly planted outside her window and she's approached by lawyers trying to stop the imminent execution of the convicted man who is still on death row, claiming his innocence. The story is narrated in alternate chapters by the Tessa of 1995, soon to be a witness at the man's trial, and today's Tessa, tormented by the thought that if the wrong man has been convicted, the real killer is free and a danger to her and her daughter. But, we learn gradually, that Tessa has been keeping secrets too. It's a terrific plot, matched by the quality of the writing and superbly paced tension.

The Times BOOK OF THE MONTH
The book is a delicious mix of well-researched facts, creative plot twists and a likable main character . . . a masterful storyteller

Star Telegram
As well as a brilliant premise, the writing style keeps you hooked and at times is quite unsettling . . . it takes a lot of skill to be able to unnerve a reader like that, so hats off to Julia Heaberlin for writing such a gripping and atmospheric story that had me jumping every time I heard an unexpected noise. This book will draw you in and have you second guessing yourself page after page. Black Eyed Susans is probably one of the most cunningly clever and gripping thrillers I've read in a long while and I would recommend this as one of my top reads of the year so far

Bookshelf Butterfly
A tense, beautifully written novel of survival and hope. Highly recommended

William Landay, bestselling author of Richard and Judy-selected Defending Jacob
This is a deftly organised, impeccably paced psychological suspense thriller that nods to Daphne du Maurier and, like all Heaberlin's fiction, boasts purr-inducing prose

Sunday Times, Culture Magainze
The assured telling of this chiller combines to create a very modern Gothic horror that will keep you up way past your bedtime

Sunday Mirror
There's a hint of Kathy Reichs, Gillian Flynn's Gone Girl and of Paula Hawkins's The Girl on the Train. Despite its dark subject matter, this is a hopeful book . . . the ending managed to be both surprising and satisfying.

We Love This Book
The denouement is unexpected, plausible and perfectly satisfying . . . Black Eyed Susans is a thumping good mystery

The Bookbag
If you like dark and disturbing psychological thrillers then Black Eyed Susans should definitely go on your list

CrimeFictionLover.com
A fascinating, educated, highly absorbing read that I struggled to put down for any length of time. Any free moment was spent with my head in this book. Intense, creepy and atmospheric, Black-Eyed Susans is a intelligent character driven masterpiece excellently paced with some great plot twists which had me guessing right to the very end ... brilliant!

SJ2B House of Books
Heaberlin drip-feeds an intriguing story at a tantalising pace . . . Heaberlin has written an intelligent, absorbing and well-researched page-turner that will delight fans of Megan Abbot and Tana French

Daily Express
Fascinating details about identifying remains through bone and DNA analysis are woven through equally compelling present-day narration and flashbacks to Tessa's therapy sessions and trial testimony. The pieces can't come fast enough as the story builds to a shocking and satisfying conclusion. Deliciously twisty and eerie, Heaberlin's psychological suspense novel is intricately layered and instantly compelling

An August LibraryReads Pick
A truly compelling tale of the fragility of memory and elusive redemption

Kirkus Reviews - 9 Novels You Shouldn't Miss Before Summer's Over
This book is a rarity in that the research underpinning it is evident but not obtrusive. Black Eyed Susans is a fine achievement. It drips with authenticity, empathy and dread, meditating on the Death Penalty as well as offering an empathetic study of the life of a survivor. Take note - Julia Heaberlin belongs on every suspense fan's bookshelf

Nudge Books
Creepy and compelling, Black-Eyed Susans is a shadowy and crooked journey to a very dark place indeed, a twisty fairytale that deceives you just when you think you've cracked it and a thriller to make you remember why you love thrillers. Don't miss it.

Observer, Thriller of the Month
A powerful thriller . . . With a fairy-tale-like atmosphere, the creepy thriller works insidiously on the senses . . . Clever, ingeniously manipulative and elegant.

Maxim Jubowski, Lovereading
This dark, complex thriller is not just a gripping page-turner, but also brilliantly explores the psychology of the victim.

Mail On Sunday, You Magazine Book of the Month
This is the debut novel of Julia Heaberlin, and again it's excellent . . . Beautifully written . . . It's a great book

BBC Arts Show
Black Eyed Susans is haunting, intense and original - it'll keep you guessing till the last page

Closer