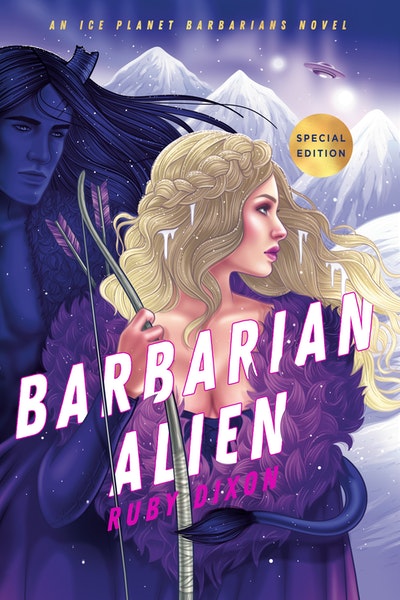 Published:

4 February 2022

ISBN:

9780593546031

Imprint:

Jove

Format:

Paperback

Pages:

336

RRP:

$24.99
Barbarian Alien
---
---
The second novel in the Ice Planet Barbarians series, the international publishing phenomenon—now in a special print edition with bonus materials and an exclusive epilogue!
Liz Cramer swears she'll find a way off of this alien planet she's stuck on—then she meets Raahosh, the surliest and stubbornest alien, who won't leave her alone, and she just might be okay with that...
Twelve humans are left stranded on a wintry alien planet. I'm one of them. Yay, me.
In order to survive, we have to take on a symbiont that wants to rewire our bodies to live in this brutal place. I like to call it a "cootie." And my cootie's a jerk, because it also thinks I'm the mate to the biggest, grumpiest alien of the bunch. Raahosh believes the cootie's right, so he steals me away from the group, determined to make me fall for him—or else.
He has no idea who he's up against.
And if I didn't want his insufferable self so much (thanks, cootie), I'd let him know exactly what I'm thinking. As it is, I'm doing my best to fight this instant attraction. Just because the symbiont thinks we're supposed to be together doesn't mean I have to go along with it. And if we fool around a little, it's merely biology. It doesn't mean I'm in love—or that I'm destined to be his.
Published:

4 February 2022

ISBN:

9780593546031

Imprint:

Jove

Format:

Paperback

Pages:

336

RRP:

$24.99
Other books in the series
Praise for Barbarian Alien
Raahosh and Liz have explosive chemistry and learn to respect each other's strengths. Liz is an especially appealing character: feisty, brave, and stubborn. She's the perfect match for the taciturn Raahosh, who wants to be loved for who he is and valued as an equal partner…A satisfying, sexy, and fast-paced alien romance.

Kirkus, starred review