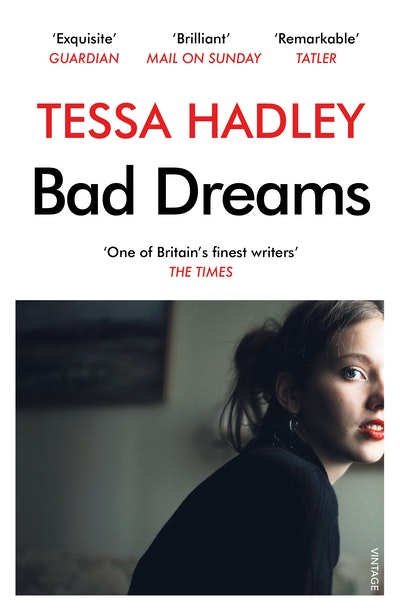 Published:

15 February 2018

ISBN:

9781784704049

Imprint:

Vintage

Format:

Paperback

Pages:

224

RRP:

$19.99
Bad Dreams and Other Stories
---
---
---
The dazzling new collection of stories from the prize-winning author of The Past and The London Train.

The dazzling collection of stories from the Sunday Times bestselling author of Free Love and Late in the Day.
**WINNER OF THE EDGE HILL SHORT STORY PRIZE**

Two sisters quarrel over an inheritance and a new baby. A housekeeper caring for a helpless old man uncovers secrets from his past. A young girl accepts a lift in a car with a group of strangers. An old friend brings bad news to a dinner party.
In these gripping and unsettling stories, the ordinary is made extraordinary and the real things that happen to people turn out to be every bit as mysterious as their dreams.
'These well-turned, exceptionally nuanced pieces are solidly evocative of place, period...and sensory detail' Sunday Times
'Few writers give me such consistent pleasure' Zadie Smith
Published:

15 February 2018

ISBN:

9781784704049

Imprint:

Vintage

Format:

Paperback

Pages:

224

RRP:

$19.99
Praise for Bad Dreams and Other Stories
Few writers give me such consistent pleasure.

Zadie Smith
Hadley is a writer whose reputation grows with every book… This new collection of short stories reconfirms her remarkable talent… Hadley excels at both genres, brilliant at conveying emotion and with an uncanny ability to get under her character's skin… These stories brim with a keen intelligence and linger in the mind long after you close the book.

Sebastian Shakespeare, Tatler
Hadley's quiet rise to become one of Britain's best writers is further confirmed by her new collection, Bad Dreams and Other Stories… These well-turned, exceptionally nuanced pieces are solidly evocative of place, period…and sensory detail.

Phil Baker, Sunday Times
The ordinary becomes extraordinary in these masterly short stories by one of the most brilliant and under-read writers of our time.

Mail on Sunday, 2017 Books of the Year
Hadley has an anthropological gift; she notices the small, regular gestures and responses of the everyday, and demonstrates their enormous impact on our perception of the world, and thus, every relationship we have.

Jane Graham and Doug Johnstone, Big Issue
[It is] lapidary, full of the most gorgeous sentences and brilliant observations.

Alex Preston, Observer, 2017 Books of the Year
The absorbing nature of Hadley's novels is demonstrated… through her ability to capture the intricate details of domestic life and make them interesting… The sense of nostalgia she creates and the wonderfully descriptive storytelling compel you to finish each story.

UK Press Syndication
It is exquisite, haunting… This is writing of great nuance and psychological acuity… It combines acerbic social observation and wry humour with moments of breathtaking delicacy and tenderness.

KJ Orr, Guardian
One of Britain's finest writers… Hadley's clear-sighted observations about people's foibles and her ability to whip up an atmosphere with only a tent pole and a pair of furry handcuffs is something to behold.

Fiona Wilson, The Times
Compassionate and luminous, Hadley sees… us all: our travails, our fantasies and our small joys.

Claire Messud, Financial Times
This is a delightful introduction to the absorbing writing of Tessa Hadley and her ability to make domestic life interesting.

Linda Wright
Full of… subtle, wise, finely grained observations.

Claire Lowdon, Literary Review
It is the quiet, reflective moments that make Tessa Hadley's stories so poignant and insightful… there is a psychological heft to her observations.

Eithne Farry, Sunday Express
Hadley's writing is direct and a pleasure to read, and she has an uncanny ability to capture the intricate details of everyday life.

Kate Whiting, The Scotsman
A new collection… demonstrates once again Hadley's unerring craft… Hadley's agile sentences never seek to dazzle, yet showcase her unerring craft nonetheless.

Anthony Cummins, Guardian
The women in these marvelous stories share quiet lives, complex feelings and, above all, secrets – some that can do real damage… Every situation captivates; every carefully chosen word rings true.

Kim Hubbard, People
Hadley at her witty best.

Gulf News
Tessa Hadley is one of the most sympathetic, insightful observers of human nature writing today.

Rebecca Rose, Financial Times
Tessa Hadley has become one of this country's great contemporary novelists ... possessed of a psychological subtlety reminiscent of Henry James, and an ironic beadiness worthy of Jane Austen

Guardian
Tessa Hadley is an acute observer of everyday dramas that have a sinister undercurrent of destruction. Although these tales are thoroughly middle-class, there is nothing cosy about Hadley's worlds.

Fiona Wilson, The Times
A collection showing all her trademark qualities of pin-sharp observation and arresting expression.

Claire Harman, Evening Standard
Spare, slightly chilly… Most of these 10 stories deliver cool shocks, but all are buoyed by an undercurrent of wry humour and pleasingly mellow irony.

Katherine A. Powers, Washington Post Sunday
The stories in Tessa Hadley's Bad Dreams…quivered with similar suppressed emotion, whether about grown-up sisters silently feuding, or a neglected schoolgirl whose longing for "life" sees her fall in with a bunch of predatory university students.

Anthony Cummins, Daily Telegraph
A novelist at the top of her game.

Daily Telegraph
Brilliant evocations of female frustration… The disappointments and misunderstandings cut deep. Hadley evokes time, place and emotion superbly well; she's a great storyteller.

William Leith, Evening Standard
Superb.

Simon Shaw, The Mail on Sunday
Tessa Hadley's short stories, Bad Dreams, are simple and artful and leave you wanting more.

Hilary Mantel
She deserves all the prizes. Hadley is psychologically acute, drily witty and absolutely wonderful on place. Her relative obscurity, then, is an unfathomable mystery . . . The female characters at the heart of her novels – clever, impulsive, not always wholly likable – are so finely drawn, I can never get them out of my head

Rachel Cooke, Observer