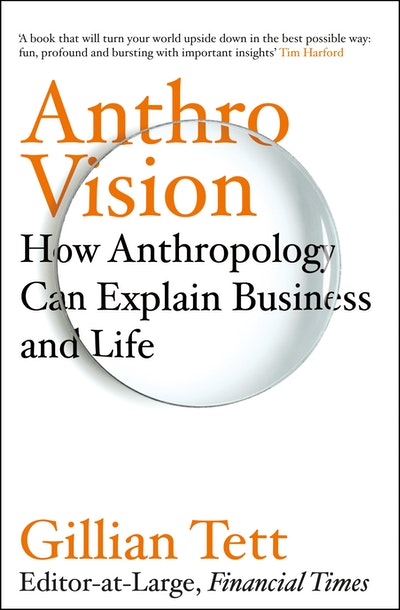 Published:

16 June 2021

ISBN:

9781847942883

Imprint:

Random House Business

Format:

Trade Paperback

Pages:

320

RRP:

$35.00
Anthro-Vision
How Anthropology Can Explain Business and Life
---
---
---
A new wave of anthropological research is transforming how the world does business. This book reveals how.
________________________________
'A book that will turn your world upside down in the best possible way: fun, profound and bursting with important insights.' Tim Harford, author of How to Make the World Add Up
________________________________
A revelatory method that explains how we buy, sell, work and live.
For over a century, anthropologists have immersed themselves in unfamiliar cultures, uncovering the hidden rituals that govern how people act. Now, a new generation of anthropologists are using these methods in a new context - to illuminate the behaviour of businesses and consumers around the globe.
In Anthro-Vision, Gillian Tett - bestselling author, Financial Times journalist, and anthropology PhD - reveals how anthropology can help make sense of the corporate world. She explains how to identify the 'webs of meaning' that underpin consumers' behaviour on the other side of the planet. She reveals why 'sense-making' can explain the most erratic behaviour of Wall Street bankers, and why concealed systems of barter shape our relationship with Silicon Valley. She delves into the cultural shifts driving investment in new markets and green issues. And she reveals what anthropology can tell us about our own workplaces, too: by identifying the hidden tribes within the office, or pinpointing which rituals are binding together a team.
Along the way, Tett draws on stories from Tajik villages and Amazon warehouses, Japanese classrooms and City trading floors, all to reveal the power of anthropology in action.
The result is a revelatory way to explain human behaviour. In a short-sighted world, we can all learn to see clearly - using the power of Anthro-Vision.
________________________________
'In a world of volatility, uncertainty, complexity and ambiguity, we need an antidote to tunnel vision, argues Gillian Tett. That antidote is Anthro-Vision - applying the techniques of anthropology she learned as a young scholar in Cambridge and Tajikistan . . . Admirers of her journalism will love this book, but they will also learn a great deal from it - including how better to understand their own familiar yet strange tribe.' Niall Ferguson
________________________________
Praise for Gillian Tett
'Rather brilliant . . . Tett's anthropological approach adds academic rigour and richness.' The Times
'Breezily readable . . . The book distinguishes itself neatly from most single-idea business manuals with its thread of anthropology.' Guardian

'Highly intelligent, enjoyable and enlivened by a string of vivid case studies . . . Refreshingly unorthodox.' Financial Times
Published:

16 June 2021

ISBN:

9781847942883

Imprint:

Random House Business

Format:

Trade Paperback

Pages:

320

RRP:

$35.00