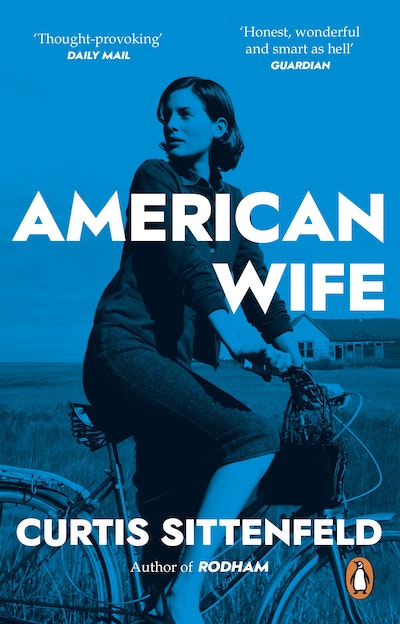 Published:

30 September 2012

ISBN:

9781446497814

Imprint:

Transworld Digital

Format:

EBook

Pages:

656
American Wife
The acclaimed word-of-mouth bestseller
---
---
---
The acclaimed word-of-mouth bestseller about the marriage of an American First Lady: A rich, utterly absorbing, powerful story of how an ordinary girl from an unremarkable town grows up to become First Lady of the United States.
'Honest, wonderful and smart as hell' Guardian
'Curtis Sittenfeld is in a league of her own' Observer
All I did is marry him. You are the ones who gave him power.
Quiet, bookish Alice Blackwell never dreamed of being First Lady. Much less to a President whose politics she doesn't believe in. On perhaps the most important day of her husband's presidency, Alice looks back on the strange and unlikely path that led her to the White House, and to a decision - both treacherous and long overdue - that could jeopardise everything.
Taking inspiration from real life, American Wife is a remarkable portrait of a woman caught between her feelings for her husband, her country, and herself.
'My favourite book of the century' HADLEY FREEMAN, GUARDIAN
Published:

30 September 2012

ISBN:

9781446497814

Imprint:

Transworld Digital

Format:

EBook

Pages:

656
American Wife is easily one of the best books written so far this century. It is honest, wonderful and smart as hell, the kind of book that you try to eke out to make it last as long as possible

Guardian
A classic story, with a langorous pace and a fierce literary integrity... Sittenfeld has provided a plausible secret history of an American embarrassment - and a grand entertainment

Joe Klein, author of Primary Colors
A deft, funny and revealing story... This clever and convincing portrait of human frailty is a reminder that perhaps none of us is what we might seem. An honest and insightful story of a marriage, and a refreshing take on recent history

Psychologies
A powerful, utterly compelling and strangely moving fictional account of a First Lady who bears more than a passing resemblance to Laura Bush

Daily Mirror
A quietly riveting parable... thought-provoking, entertaining and full of subtle reflections on class and marriage

Daily Mail
Best book: I was on the beach in Croatia recently and it was the one book that quite a few women were lying there reading. It was surreal

Jenny Eclair, Best
Curtis Sittenfeld is an amazing writer, and American Wife is a brave and moving novel about the intersection of private and public life in America. Ambitious and humble at the same time, Sittenfeld refuses to trivialize or simplify people, whether real or imagined

Richard Russo
I truly can't believe what a great writer Sittenfeld is, she's fantastic

Jenny Colgan, The Herald
I was utterly absorbed in this story of a political marriage and a wife who has her own reasons. Curtis Sittenfeld has thrown a powerful light on small town America and its misunderstood values

Linda Grant, Booker shortlisted author of The Clothes on Their Backs
My favourite book of the year

Kate Atkinson
Such an accomplished work of fiction... a thoughtful and compelling examination of the mechanics of family and marriage... Knowing and knowledgeable, yet also inventive and original, American Wife is a thrilling combination of history and surprises

Guardian
Superbly well-written - one of the most absorbing books of the year

Evening Standard
The scope and detail of American Wife are reminiscent of Richard Russo. Like Russo, she creates characters from the ground up, ancestry, neighborhood, culture and all... Her characters are carefully rendered and the story is well-constructed

Los Angeles Times
This engagingly candid First Lady is belssed with so many attractive qualities that her story grips from the very beginning. Full marks to Curtis Sittenfeld

Sunday Telegraph
This is one of the finest American novels of 2008

New Statesman
Thoroughly enjoyable. The plot is beautifully paced, the writing quick, clear, absorbing... A sweeping saga

The Times
Utterly brilliant

MARIAN KEYES
Vastly entertaining... It is an intelligent, well-crafted, psychologically astute novel

New York Sun
Weaves fate, family, marriage, wealth and power into an absorbing story

Mail on Sunday
When people ask for book recommendations I often press Curtis Sittenfeld's magnificent third novel, American Wife, into their hands. This loosely fictionalised life of former first lady Laura Bush has a rare and magical combination of accessibility, wit and serious thinking.

The Times