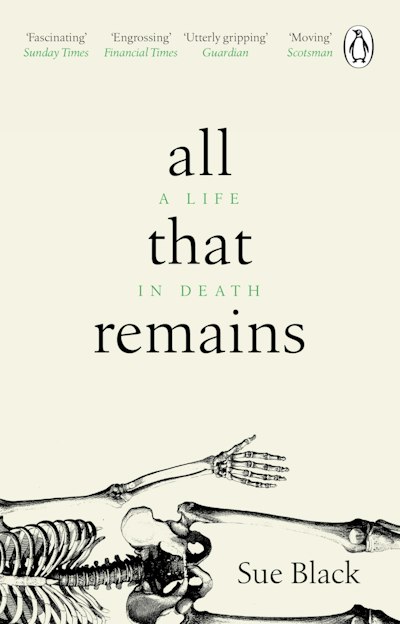 Published:

19 April 2018

ISBN:

9781473543430

Imprint:

Transworld Digital

Format:

EBook

Pages:

368
All That Remains
A Life in Death
---
---
---
'Sue Black's utterly gripping account of her life & career as a professor of anatomy & forensic anthropology.' (Guardian). A fascinating, critically acclaimed mix of science and meditation on death.
'Utterly gripping' - The Guardian
'Fascinating' - The Sunday Times
'Moving' - Scotsman
'Engrossing' - Financial Times
Sue Black confronts death every day. As a Professor of Anatomy and Forensic Anthropology, she focuses on mortal remains in her lab, at burial sites, at scenes of violence, murder and criminal dismemberment, and when investigating mass fatalities due to war, accident or natural disaster.
In All That Remains she reveals the many faces of death she has come to know, using key cases to explore how forensic science has developed, and examining what her life and work has taught her.
Do we expect a book about death to be sad? Macabre? Sue's book is neither. There is tragedy, but there is also humour in stories as gripping as the best crime novel.
Part memoir, part science, part meditation on death, her book is compassionate, surprisingly funny, and it will make you think about death in a new light.
________
SUE BLACK'S NEW BOOK, WRITTEN IN BONE, IS OUT NOW
_________
'One might expect [this book] to be a grim read but it absolutely isn't. I found it invigorating!' (Andrew Marr, BBC Radio 4 'Start the Week')
'Black's utterly gripping account of her life and career as a professor of anatomy and forensic anthropology manages to be surprisingly life-affirming. As she herself says, it is "as much about life as about death"' (PD Smith Guardian)
'An engrossing memoir . . . an affecting mix of personal and professional' (Erica Wagner, Financial Times)
'A model of how to write about the effect of human evil without losing either objectivity or sensitivity . . . Heartening and anything but morbid . . . Leaves you thinking about what kind of human qualities you value, what kinds of people you actually want to be with' (Rowan Williams, New Statesman)
'For someone whose job is identifying corpses, Sue Black is a cheerful soul . . . All That Remains feels like every episode of 'Silent Witness', pre-fictionalised. Except, you know, really good' (Helen Rumbelow, The Times)
Published:

19 April 2018

ISBN:

9781473543430

Imprint:

Transworld Digital

Format:

EBook

Pages:

368
Praise for All That Remains
Where on earth would the world be without Sue Black?

Kirsty Gunn, Scotsman
No scientist communicates better than Professor Sue Black. All That Remains is a unique blend of memoir and monograph that admits us into the remarkable world of forensic anthropology.

Val McDermid, award-winning author of THE MERMAIDS SINGING
If you ever wondered about the life of a forensic anthropologist, Sue Black reveals the truth behind the TV screens.

Val McDermid, award-winning author of THE MERMAIDS SINGING
All That Remains provides a fascinating look at death - its causes, our attitudes toward it, the forensic scientist's way of analyzing it. A unique and thoroughly engaging book.

Kathy Reichs, author of TWO NIGHTS and the Temperance Brennan series
Most of us are terrified of death, but Sue Black shows us that death is in fact a wondrous process, intimately tied with life itself. Written with warmth and humanity, All That Remains reveals her life among the dead, who can surely count her as their best friend.

Tess Gerritsen
Compelling, brave and extremely accessible.. A must for anyone who thinks about the basics of living and dying. And there are jokes as well.

Rachel Joyce
Professor Black's elegant exploration of death crafts a bridge that allows us, the living, to journey into her mesmerizing world. Her intimate examination of each layer and facet of death, is both intelligent and tender. Through her unflinching eye, we come to understand that life and death are indeed two parts of a continuous whole and that there is much insight to be gained if we approach each of these with curiosity rather than fear.

Dr Rana Awdish, author of In Shock
Dame Sue Black writes about life and death with great tenderness but no nonsense, with impeccable science lucidly explained, and with moral depths humanely navigated, so that we can all feel better about the path we must all inevitably follow. I am genuinely glad I read this book.

Lee Child
Sue Black has been intimately involved with the aftermath of death for her whole professional career and in her book she weaves in details of her amazing and active life with her analysis of death in a narrative that is personal, touching, occasionally tragic but also instilled with her wonderful sense of humour.

Dr Richard Shepherd, Consultant Forensic Pathologist
Editor's Choice: An enthralling book about forensic science and the many faces of death.

Caroline Sanderson, The Bookseller
One might expect [this book] to be a grim read but it absolutely isn't. I found it invigorating!

Andrew Marr, BBC Radio 4 'Start the Week'
Poignant and thoughtprovoking. it is the book's humanity which will connect with readers.

Scottish Daily Mail
Many crime readers delight in the disgusting, the dark and the dangerous. Black's reverence for human remains and her fearless intimacy with death in its many guises may well be a necessary antidote.

Literary Review
An engrossing memoir ... an affecting mix of the personal and professional.

Erica Wagner, Financial Times
A beautifully written memoir full of reflections on the deaths of strangers and family members.

Oliver Thring, Sunday Times
A model of how to write about the effect of human evil without losing either objectivity or sensitivity ... Heartening and anything but morbid... Leaves you thinking about what kind of human qualities you value, what kinds of people you actually want to be with.

Rowan Williams, New Statesman
This fascinating look by a world-leading forensic scientist at what the dead can tell us is a real eye-opener... Sue Black must be one of the most unusual people in Britain. extraordinary.part meditation, part popular science and part memoir...the book offers a close-up and startlingly clear view of a subject that makes most of us look away.

James McConnachie, Sunday Times
For someone whose job is identifying corpses, Sue Black is a cheerful soul ... All That Remains feels like every episode of Silent Witness, pre-fictionalized. Except, you know, really good.

Helen Rumbelow, The Times
The real thing here is not the cause of death, but the nature of the life. Black is genuinely moving about the respect we should have for the dead . There is much to admire in this book.

Scotsman
She often finds herself dealing with the most macabre cases of murder. But the no-nonsense Scot is an upbeat character with a dry sense of humour, clearly identifiable in her memoir.

Hannah Stephenson, Daily Record
Black's utterly gripping account of her life and career as a professor of anatomy and forensic anthropology manages to be surprisingly life-affirming. As she herself says, it is "as much about life as about death".

PD Smith, Guardian
The real thing here is not the cause of death, but the nature of the life. Black is genuinely moving about the respect we should have for the dead . There is much to admire in this book.

the 'i'
Let [Sue Black] take you by the hand and lead you on a journey which will inspire your awe and devotion . A wonderful surprise of a book.

Brian Masters, The Tablet
Ideal reading if you're a cheerful soul who likes to think about death. And think how it'll brighten your conversation on holiday.

The Times
Books of the Year

The Times
Best of the Year: Memoir This book captures the profundity of human life while displaying a sense of humour, and peels back the skin to reveal a world few of us ever discover

The Sunday Times
Dame Sue Black, the woman who inspired the hit television show Silent Witness and has done for forensic science what Strictly has done for ballroom dancing, is an unlikely but deeply worthy national treasure.... Black's memoir, like her story, is curiously vibrant and life-affirming.

Alex Massie, Scottish Field
You can't help but warm to this retired professor of anatomy and forensic anthropology who chose "the many faces of death" as her medical speciality, yet is herself so vividly alive. Like [David] Nott, Black travelled the world at times, sifting maggots, bullets and human body parts in war zones. Despite it all, she remains convinced that our humanity transcends the very worst of which our species is capable.

Rachel Clarke author of forthcoming Dear Life
This fascinating memoir, dealing with everything from bodies given to medical science to the trauma caused by sudden, violent ends, offers reassurance, and even hope, to the fearful and cynical.

Alexander Larman, The Observer