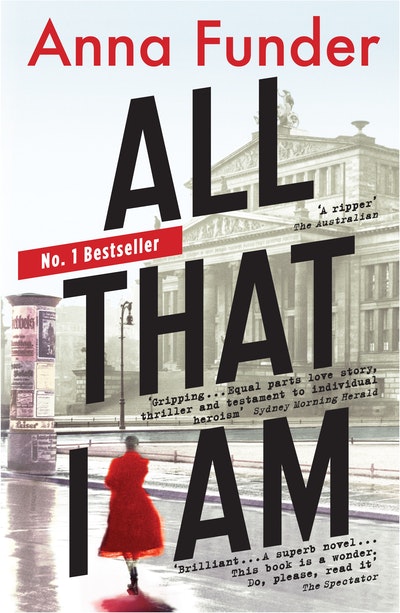 Published:

21 March 2012

ISBN:

9780143567516

Imprint:

Penguin

Format:

Paperback

Pages:

384

RRP:

$22.99
All That I Am
---
---
---
Based on real people and events, All That I Am is a masterful and exhilarating exploration of bravery and betrayal, of the risks and sacrifices some people make for their beliefs, and of heroism hidden in the most unexpected places.
When Hitler comes to power in 1933, a tight-knit group of friends and lovers become hunted outlaws overnight. United in their resistance to the madness and tyranny of Nazism, they flee the country. Dora, passionate and fearless; her lover, the great playwright Ernst Toller; her younger cousin Ruth and Ruth's husband Hans find refuge in London. Here they take awe-inspiring risks in order to continue their work in secret. But England is not the safe-haven they think it is, and a single, chilling act of betrayal will tear them apart.
Some seventy years later, Ruth is living out her days in Sydney, making an uneasy peace with the ghosts of her past, and a part of history that has all but been forgotten.
'A gripping story of love and betrayal. Dora is the most attractive fictional heroine in a long time.' New Statesman
'[Funder's] political and moral intelligence shine even more brightly than in Stasiland; the compassionate but unsentimental truthfulness towards her characters even more moving for being interwoven into a narrative of such complexity.' Raimond Gaita, Books of the Year, The Weekend Australian
'A sweeping first novel that cover love and war, friendship and betrayal, and the bonds that define a life. It is a moving and ambitious work.' Ann Patchett
Published:

21 March 2012

ISBN:

9780143567516

Imprint:

Penguin

Format:

Paperback

Pages:

384

RRP:

$22.99
History, like hope, is not something to be solved, but to be carried. Anna Funder has written an essential novel about how we carry the bricks of history on our backs, and how we continually build new homes from the material of the past. All That I Am is an intimate exploration of human connection and our responsibility to one another. Funder breathes life into Kundera's aperçu that the struggle of man against power is the struggle of memory against forgetting.

Colum McCann
In All That I Am, Anna Funder delivers a sweeping first novel that covers love and war, friendship and betrayal, and the bonds that define a life. It is a moving and ambitious work.

Ann Patchett
With all the excitement of a thriller, an absorbing study of exile, courage and memory.

John Gray, Evening Standard Best Books of the Year
A murder mystery now more than three generations old becomes a catalyst for a deeper, richer story about two perennial but inexhaustible themes, love and loyalty. Rarely has a novel been filled with such intelligent, inquisitive, introspective characters. More rarely still has the fungible, malleable quality of recollections been so beautifully revealed.

Mark Thomas, Canberra Times
Assured and poised ... A genuinely moving novel, which challenges the reader's perception and judgement at the same time as it works as a political and historical thriller ... It's not just the potential of the consequences of anybody's actions that is so riveting: it's the contest between courage and cowardice, risk and safety, loyalty and betrayal, in a world of increasing terror.

David Gaunt, Bookseller & Publisher
A ripper.

Stephen Romei, The Australian
A gripping story of love and betrayal. Dora is the most attractive fictional heroine in a long time.

New Statesman
A brilliant narrative ... Every part is beautifully rendered and balanced ... it works as a gripping spy novel ... Funder's prose, however, raises the book to a different level ... The language is assured and precise, the syntax richly expressive ... Funder has written a superb novel that transcends its setting. It is not just a book about German political exiles in London. It is a novel about confronting grievous loss, and the horror of realising, as history closes over you, that you will never be understood ... This book is a wonder. Do, please, read it.

John de Falbe, Spectator
A seamless and powerful tale ... a novel challenging the frontiers between historical fact and the creative imagination ... Funder has successfully transformed the material into a narrative of individual endeavor and survival, which examines universal themes. Above all, this is a book with a strong moral compass ... Dora and Ruth, especially, convey a sense of truthfulness and decency that transcends their time and should inspire us, even now, to expose injustice and tyranny.

Rachel Hore, Independent on Sunday
The strengths of Funder's writing are emotional and imaginative. In what she has to say about love, loss and betrayal there is profound truth.

Ian Brunskill, The Times (London)
A strong and impressively humane novel ... The subtlety of Anna Funder's novel is in the elegance of her precise prose, and in her painstaking portrait of an ordinary woman swept up in extraordinary events ... All That I Am combines a wealth of archival research and historical scholarship with an imaginative freedom to inhabit or revivify other people's lives ... This is a novel full of strong characters and dramatic historical events.

Ruth Scurr, Times Literary Supplement
In this novel, Anna Funder ... helps us to remember things that might have been forgotten. It is, specifically, the story of a group of German refugees from the growing menace of Nazism: a story of courage and betrayal, and, quietly, that of Funder's own dedication and perseverance.

Nicholas Lezard, Evening Standard
Remarkably assured ... Despite its focus on the past, the most troubling lessons of this astute work are relevant today.

John Bailey, Sunday Age
Spellbinding. There are echoes of the best espionage tales.

Sunday Telegraph
A beautifully executed blend of historical fiction and psychological thriller.

Jo Case, Australian Book Review
Unusually well written and intelligent.

James Ley, The Age
A riveting story ... a must-read novel of inspirational wartime heroism.

Glen Williams, Woman's Day
A pacy and exciting read. Captures perfectly the sense of her characters' deprived and dangerous lives.

John Harding, Daily Mail (UK)
Funder really does write beautifully.

Sunday Times (UK)
A powerful and patient work ... Funder achieves the right balance between truth and invention to pay tribute to those people who tried to get the message out about what shape the future would take under Hitler ... Funder reminds us of this truth with certainty and moral force.

David Sornig, Adelaide Review
An exceptional meditation on politics, loss and memory.

Justine Douglas, readings.com.au
Confirms her reputation as a bright, quick and brave writer ... Wonderful.

The Week
Superb ... Funder writes beautifully, with an understated lyricism that never gets in the way of the gripping story. Deeply moving and highly readable, All That I Am is a tender and worthy tribute to the brave old woman who inspired it.

Anna Carey, The Irish Times
A remarkable story told with clarity and precision, along with moments of insight and literary grace.

Rachel Cusk, The Guardian
Funder may be a first-time novelist but she's already a sophisticated, psychologically subtle writer, more than capable of recreating a critical period in recent European history and of doing it so the choices faced by her characters may rattle those of us living in far cosier circumstances ... All That I Am is, unquestionably, about people and issues that matter. It is provocative, imaginative, sometimes fierce and always humane. I loved it.

Stephanie Dowrick, Sydney Morning Herald
In language of admirable simplicity she explores the shadowy ambiguities lurking in her characters ... the good that comes with bad and the bad with good.

David Marr, The Monthly
This swift and sometimes shocking novel is powerful and extremely enjoyable.

Paul Donoughue, Sunday Mail, Brisbane
Funder beautifully captures feelings of desperation, loneliness and dislocation ... The characters and their plight stay long after turning the last page.

Germaine Leece, Good Reading
Funder is an excellent storyteller and the book is pacey and fascinating.

The Weekly Review
Gripping ... Moving and beautifully written, equal parts love story, thriller and testament to individual heroism.

David Gaunt, Sydney Morning Herald
A stirring and stunning examination of bravery, betrayal and how making peace with the past doesn't necessarily end its impact. In a word: powerful.

Michael Jacobson, Weekend Gold Coast Bulletin
Fascinating ... brilliantly written.

Jean Ferguson, Illawarra Mercury
Funder's searing portrait of humanity under fire and the love, courage and the destruction unleashed by fear and desire is timeless.

Moreland Leader
Compelling ... A masterful and enthralling account of bravery and betrayal.

Pamela Southern, Pittwater Life
Beautifully rounded ... Funder's searing portrait of humanity under fire and the love, courage and destruction unleashed by fear and desire is timeless.

Melton Leader
Incredibly moving ... beautifully told ... An extremely satisfying read.

Bellarine Times
This swift and sometimes shocking novel is powerful and extremely enjoyable.

Sunday Territorian
Spellbinding. There are echoes of the best espionage tales.

Sunday Telegraph
Australian Book Industry Awards
Winner • 2012 • Literary Fiction
Barbara Jefferis Award
Winner • 2012 • Prize for Writing for Young Adults
Indie Award
Winner • 2012 • Debut Fiction
Nielsen BookData Booksellers Choice Awd
Winner • 2012 • Prize for Writing for Young Adults
The Miles Franklin Literary Award
Winner • 2012 • Prize for Writing for Young Adults
W.A. Premier's Book Award
Winner • 2012 • Fiction
Adelaide Festival Awards for Literature
Shortlisted • 2012 • Fiction
ALS Gold Medal Award
Shortlisted • 2012 • Prize for Writing for Young Adults
NSW Premier's Literary Awards
Shortlisted • 2012 • Christina Stead Award
Prime Minister's Literary Award
Shortlisted • 2012 • Fiction
Queensland Literary Awards
Shortlisted • 2012 • Fiction
Victorian Premier's Literary Award
Shortlisted • 2012 • Fiction
Asher Literary Award
Shortlisted • 2013 • Best Book
International IMPAC Dublin Literary Award
Longlisted • 2013 • Best Marketing Campaign