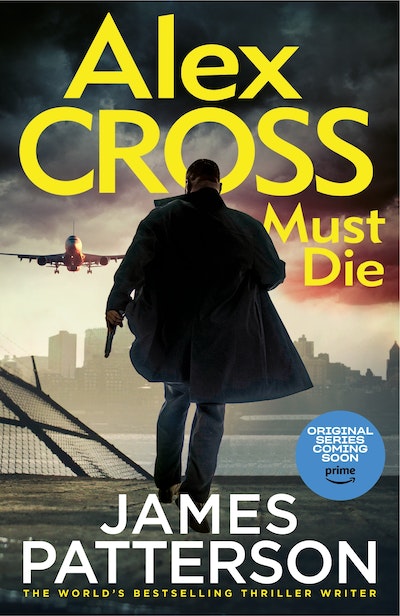 Published:

26 November 2023

ISBN:

9781529136593

Imprint:

Century

Format:

Hardback

Pages:

416

RRP:

$65.00
Alex Cross Must Die
(Alex Cross 31) The latest novel in the thrilling Sunday Times bestselling series
---
---
---
The thirty-first instalment in James Patterson's globally bestselling Alex Cross series
The thirty-first instalment in James Patterson's globally bestselling series.
When an American Airlines plane explodes in the sky, detectives Alex Cross and John Sampson are first on the scene. They don't hear the gunfire. At first.
It soon becomes clear that the plane was taken down by a rare, stolen machine gun. The list of people who could operate the weapon is short. And time runs even shorter.
But this isn't the only case the pair must solve. They're also tracking a serial killer who's ambushing young men in what the media are calling the 'Dead Hours' murders.
With two killers and two different motives, Cross and Sampson are in a deadly race against time . . .
________________________________
PRAISE FOR THE ALEX CROSS SERIES
'Patterson never, and I mean never, disappoints' USA Today
'Behind all the noise and the numbers, we shouldn't forget that no one gets this big without amazing natural storytelling talent - which is what Jim has, in spades. The Alex Cross series proves it' Lee Child
'Alex Cross is a legend' Harlan Coben
'Alex Cross ... only gets better and better' Lisa Scottoline
'[Alex Cross] has become one of the greatest fictional detectives of all time, a character for the ages' Douglas Preston and Lincoln Child
Published:

26 November 2023

ISBN:

9781529136593

Imprint:

Century

Format:

Hardback

Pages:

416

RRP:

$65.00
Other books in the series
Praise for Alex Cross Must Die
It's no mystery why James Patterson is the world's most popular thriller writer ... Simply put: Nobody does it better

Jeffrey Deaver
It's no mystery why James Patterson is the world's most popular thriller writer ... Simply put: Nobody does it better

Jeffrey Deaver
It's no mystery why James Patterson is the world's most popular thriller writer ... Simply put: Nobody does it better

Jeffrey Deaver
It's no mystery why James Patterson is the world's most popular thriller writer ... Simply put: Nobody does it better

Jeffrey Deaver
It's no mystery why James Patterson is the world's most popular thriller writer ... Simply put: Nobody does it better

Jeffrey Deaver
It's no mystery why James Patterson is the world's most popular thriller writer ... Simply put: Nobody does it better

Jeffrey Deaver
It's no mystery why James Patterson is the world's most popular thriller writer ... Simply put: Nobody does it better

Jeffrey Deaver
It's no mystery why James Patterson is the world's most popular thriller writer ... Simply put: Nobody does it better

Jeffrey Deaver
It's no mystery why James Patterson is the world's most popular thriller writer ... Simply put: Nobody does it better

Jeffrey Deaver
James Patterson is The Boss. End of.

Ian Rankin
James Patterson is The Boss. End of.

Ian Rankin
James Patterson is The Boss. End of.

Ian Rankin
James Patterson is The Boss. End of.

Ian Rankin
James Patterson is The Boss. End of.

Ian Rankin
James Patterson is The Boss. End of.

Ian Rankin
James Patterson is The Boss. End of.

Ian Rankin
James Patterson is The Boss. End of.

Ian Rankin
James Patterson is The Boss. End of.

Ian Rankin
James Patterson is the gold standard by which all others are judged

Steve Berry
James Patterson is the gold standard by which all others are judged

Steve Berry
James Patterson is the gold standard by which all others are judged

Steve Berry
James Patterson is the gold standard by which all others are judged

Steve Berry
James Patterson is the gold standard by which all others are judged

Steve Berry
James Patterson is the gold standard by which all others are judged

Steve Berry
James Patterson is the gold standard by which all others are judged

Steve Berry
James Patterson is the gold standard by which all others are judged

Steve Berry
James Patterson is the gold standard by which all others are judged

Steve Berry
Patterson boils a scene down to the single, telling detail, the element that defines a character or moves a plot along. It's what fires off the movie projector in the reader's mind

Michael Connelly
Patterson boils a scene down to the single, telling detail, the element that defines a character or moves a plot along. It's what fires off the movie projector in the reader's mind

Michael Connelly
Patterson boils a scene down to the single, telling detail, the element that defines a character or moves a plot along. It's what fires off the movie projector in the reader's mind

Michael Connelly
Patterson boils a scene down to the single, telling detail, the element that defines a character or moves a plot along. It's what fires off the movie projector in the reader's mind

Michael Connelly
Patterson boils a scene down to the single, telling detail, the element that defines a character or moves a plot along. It's what fires off the movie projector in the reader's mind

Michael Connelly
Patterson boils a scene down to the single, telling detail, the element that defines a character or moves a plot along. It's what fires off the movie projector in the reader's mind

Michael Connelly
Patterson boils a scene down to the single, telling detail, the element that defines a character or moves a plot along. It's what fires off the movie projector in the reader's mind

Michael Connelly
Patterson boils a scene down to the single, telling detail, the element that defines a character or moves a plot along. It's what fires off the movie projector in the reader's mind

Michael Connelly
Patterson boils a scene down to the single, telling detail, the element that defines a character or moves a plot along. It's what fires off the movie projector in the reader's mind

Michael Connelly
Patterson knows where our deepest fears are buried... there's no stopping his imagination

New York Times Book Review
Patterson knows where our deepest fears are buried... there's no stopping his imagination

New York Times Book Review
Patterson knows where our deepest fears are buried... there's no stopping his imagination

New York Times Book Review
Patterson knows where our deepest fears are buried... there's no stopping his imagination

New York Times Book Review
Patterson knows where our deepest fears are buried... there's no stopping his imagination

New York Times Book Review
Patterson knows where our deepest fears are buried... there's no stopping his imagination

New York Times Book Review
Patterson knows where our deepest fears are buried... there's no stopping his imagination

New York Times Book Review
Patterson knows where our deepest fears are buried... there's no stopping his imagination

New York Times Book Review
Patterson knows where our deepest fears are buried... there's no stopping his imagination

New York Times Book Review
Patterson is in a class by himself

Vanity Fair
Patterson is in a class by himself

Vanity Fair
Patterson is in a class by himself

Vanity Fair
Patterson is in a class by himself

Vanity Fair
Patterson is in a class by himself

Vanity Fair
Patterson is in a class by himself

Vanity Fair
Patterson is in a class by himself

Vanity Fair
Patterson is in a class by himself

Vanity Fair
Patterson is in a class by himself

Vanity Fair