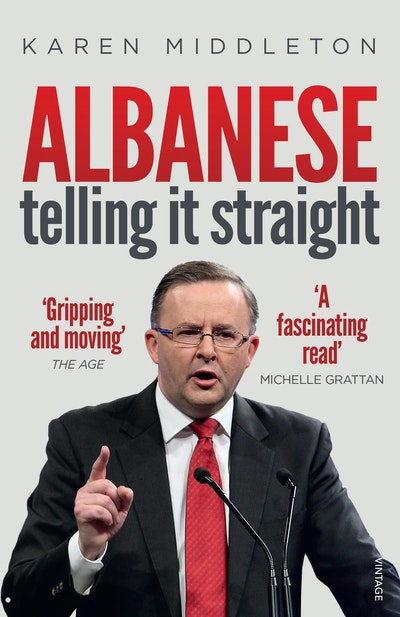 Published:

29 August 2016

ISBN:

9781925324730

Imprint:

Random House Australia

Format:

EBook

Pages:

464
Albanese
Telling It Straight
---
---
---
The moving personal story behind the very public political face of Labor's Anthony Albanese.
The moving personal story behind the very public political face of Labor's Anthony Albanese.
A window on the recent turbulent years of federal politics with a deeply personal dimension, this is the whole story of Anthony Albanese and the remarkable mother, Maryanne, who raised him.
Anthony learned his political craft among the tough men and women of NSW Labor, inheriting his mother's devotion to social justice, the South Sydney Rabbitohs and the party his family had served for three generations.
Maryanne adored her only child and Anthony his only parent.
Until his teens, he believed she had been widowed before his birth. Then one evening, she sat him down and told him the truth.
This story reveals what shaped the bloke they call 'Albo', his climb through politics by playing hard, fast and sometimes loose and how as he and his colleagues wrestled with Labor's future, he discovered his own past.
Published:

29 August 2016

ISBN:

9781925324730

Imprint:

Random House Australia

Format:

EBook

Pages:

464
Anthony Albanese got lucky with Karen Middleton, who has crafted an account of his life that is both gripping and moving – words not usually associated with the genre of political biography. Central to his story is the gutsy Maryanne Albanese, who raised him as a single mother in working-class Camperdown. Growing up in this staunchly Labor environment, Albanese went on to become a political firebrand at university and later found a father substitute in Tom Uren. But it is his belated search for his real father that makes Albanese an unexpected page-turner. While his personal story overshadows his political rise, it successfully elicits the reader's sympathy and respect.

Fiona Capp, The Sydney Morning Herald
Karen Middleton is a great journalist and tells the story beautifully.

Lisa Wilkinson, TODAY show
A fascinating read.

Michelle Grattan, The Conversation
A fascinating mixture of two stories.

Bob Hawke
I think it's almost impossible to overstate the influence of those early years on Albo.

Bob Hawke
He's put his hand up and been a great club man, and he has served his country with the same selfless passion.

Russell Crowe
Middleton's detailed evocation of the whole social milieu in which he grew up is itself an important contribution to our understanding of the contemporary political divide. Its strengths are in the portrayal of intersecting political and social worlds, and here it invites a revitalised debate about how the terms of the relationship between those worlds have changed over the past two generations.

Jane Goodall, Inside Story
Article
Book List
Political lives
Stories of passion, policy and power, and life in the public eye.