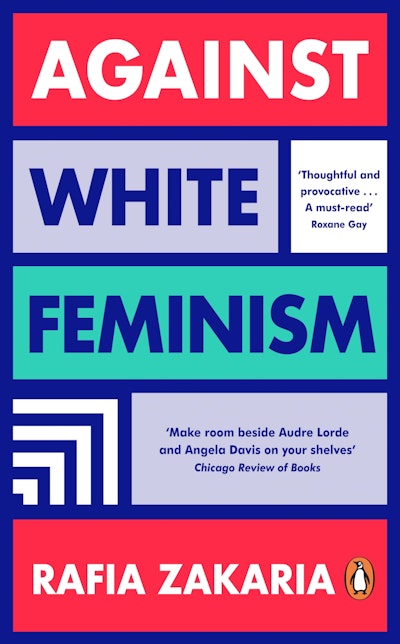 Published:

29 November 2022

ISBN:

9780241989319

Imprint:

Penguin General UK

Format:

Paperback

Pages:

208

RRP:

$22.99
Against White Feminism
---
---
---
Powerfully persuasive, personal and provocative - an unforgettable takedown of white feminism and an empowering manifesto for revolution
Most of us believe that feminism is a force for good. In the past 200 years, it has paved the way for women to advance economically, increasing their safety and their power in society, and advocating for their needs and experiences. But not for all women.
If you are poor, if you are an immigrant to the West or (even worse!) don't live here at all, and above all if your skin is not white, the door to mainstream feminism has been shut to you from day one. This is not oversight or an accident. It is an active and sustained strategy to advance white women at the expense of everyone else. And what makes this con especially dangerous - and especially effective - is how most of us have no idea we are participating in it.
In Against White Feminism, lawyer, academic and human rights activist Rafia Zakaria traces the connections between feminism and white supremacy from the first suffrage movements right up to the world we inherit today, demonstrating how a coalition supposedly based on equality is in fact riddled with inequality and exploitation. And she issues a powerful call to every reader to build a new kind of feminism, lighting the path to emancipation for all.
Published:

29 November 2022

ISBN:

9780241989319

Imprint:

Penguin General UK

Format:

Paperback

Pages:

208

RRP:

$22.99
Praise for Against White Feminism
Against White Feminism is the book I have been waiting for. This landmark work will forever change how we view the feminist movement and our place in it

Sonia Faleiro, author of 'The Good Girls'
A brilliant, bracing, and deeply necessary text. Showing how feminism had systematically centred white women's voices, and excluded others', this is a polemic that couldn't be more urgent in improving feminism as a movement

Kate Manne, author of 'Down Girl'
Zakaria is a warm-hearted and sharp-eyed writer who brings compassion, intelligence and a steady drumbeat of change to redefining feminism... This book is going to light fires everywhere, so if you are prone to combust, get right the hell out of the way

Lit Hub - Most Anticipated Books of 2021
Lucid and persuasive... Tackling complex philosophical ideas with clarity and insight, Zakaria builds an impeccable case for the need to rebuild feminism from the ground up. Readers will want to heed this clarion call for change

Publishers Weekly
In this searing takedown, Rafia Zakaria expertly puts into words what so many women of colour feel and endure. An exhilarating and brilliantly researched read that doubles up as a long overdue call to action. Unputdownable, required reading for people of all genders, generations and races

Zahra Hankir, editor of 'Our Women on the Ground'
Zakaria eloquently reveals the smug assumptions behind white western feminism [and] demonstrates quite brilliantly the hypocrisy of middle and upper class white feminists who conveniently ignore and exploit the power advantages traceable to centuries of imperialism. This book is a wake-up call for white feminists

Remi Adekoya, author of 'Biracial Britain'
Zakaria lays out the case for the harm caused by the movement escaping acknowledgment of its privilege and how it monopolizes networks and opportunities, shutting out women of colour and nonbinary individuals... A reckoning and a wake-up call

Boston.com
An exploration of the divisive effects of whiteness on feminism and a strong argument for transforming long-standing power structures... Demanding anti-capitalist empowerment, political solidarity, and intersectional redistributive change, the author eviscerates white-centred feminism, the tokenization of women of colour, the aid industrial complex, and more... A worthy contribution to feminist and activist studies

Kirkus
Against White Feminism is full of harsh, painful truths about how one kind of feminism can dominate and silence woman outside of its focus. Strong and powerfully persuasive, it accords with much that I have experienced. It's a fantastic book

Nadifa Mohamed, author of 'The Fortune Men'
Ambitious, elegant and brilliantly argued... My head never stopped nodding in agreement. Zakaria doesn't just tell us that white supremacy must be excised from feminism: she shows us how it harms Black and brown women and offers a different politics and system of relations in its place. I am grateful to Zakaria for her inventory of white feminism's many problems, including hypocrisy, condescension and cowardice. I am grateful to her for this book

Myriam Gurba, author of 'Mean'
A total reconstruction of feminism... Her powerful exploration of the movement's past, which has traditionally been shaped by white women, aims to inform readers, while also illustrating why it is past time to centre Black and brown voices as feminism moves forward

Pop Sugar
Bracing and compassionate... Make room beside Audre Lorde and Angela Davis on your shelves

Chicago Review of Books
[A] societal paradigm-buster...

Daily Kos
What does feminism look like when it centers on Black and Brown women? And when it doesn't hold hands with colonialism? Rafia Zakaria makes a clear case for intersectional feminism that puts power in a different place

Washington Post
Complacent, well-intentioned feminism isn't good enough... The heart of what this book demands - a feminism that is less self-satisfied and secure in its power, more curious about the differences in women's experiences, and more generous and expansive in its reach - is worth fighting for

Mythili G. Rao, Washington Post
Zakaria effectively shows that white feminists often focus on bringing feminism and enlightenment to marginalized people instead of examining the ways in which these marginalized people already practice feminism within their own lives and experiences... Her examination of current examples from politics and pop culture furnishes crucial evidence of the continued colonization of feminism by white women

Library Journal
A thoughtful and provocative collection calling for a sharper feminism... It is a must-read

Roxane Gay
Razor-sharp [and] detailed analysis... A true feminist will remain engaged in the feminist agenda while also rejecting white feminism

Litro Magazine
[A] necessary read for anyone interested in gender equality

Book Riot
Glued to the pages, I read the book in one sitting. Want to think seriously about the exquisite power of "personal is political"? Want to think carefully about privilege - and White privilege? This is your book... [Against White Feminism is] a call to address our complicity in structures of power

Ruby Lal, 'Arts ATL'