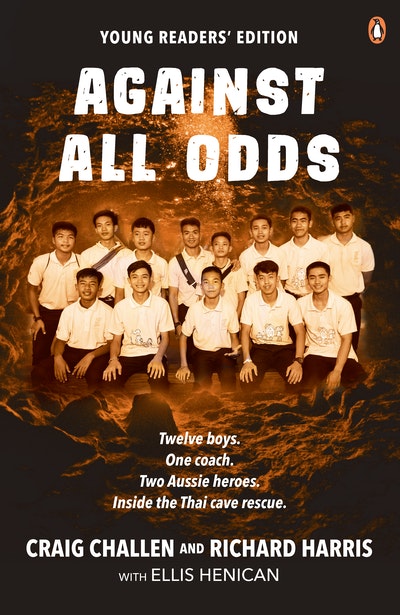 Published:

2 August 2022

ISBN:

9780143778202

Imprint:

Puffin

Format:

Paperback

Pages:

288

RRP:

$17.99
Against All Odds Young Readers' Edition
---
---
---
The incredible true story of the Tham Luang Thai cave rescue of a boys' soccer team trapped for days with no supplies and decreasing oxygen levels. From joint Australians of the Year Richard Harris and Craig Challen. Now in a special edition for young readers.
A young readers' edition of the incredible true story of the Tham Luang Thai cave rescue of the Wild Boars soccer team. Portrayed in the major motion picture Thirteen Lives directed by Ron Howard and starring Colin Farrell, Viggo Mortensen and Joel Edgerton, and in the National Geographic documentary, The Rescue.
In June 2018, for seventeen days, the world watched and held its breath as the Wild Boars soccer team were trapped deep in a cave in Thailand. Marooned beyond flooded cave passages after unexpected rains, they were finally rescued, one-by-one, against almost impossible odds, by an international cave-diving team that included Australians Dr Richard 'Harry' Harris and Dr Craig Challen.
Harry and Craig were chosen for their medical expertise and cave diving knowledge, but this dangerous rescue asked so much more of them. They had to remain calm under extreme pressure and intense scrutiny, adapt to constantly changing circumstances and, most importantly, build trust among the rescue team and with the young boys and their coach, whose lives were in their hands.
An astonishing and moving story of courage, determination and compassion told by two Aussie heroes, who were made joint Australians of the Year for their key role in the rescue.
This Young Readers' edition has been specially edited and condensed for a younger audience and includes new maps and diagrams explaining the rescue as well as photographs, a timeline and glossary, and a new introduction especially for young readers written by the two authors.

Published:

2 August 2022

ISBN:

9780143778202

Imprint:

Puffin

Format:

Paperback

Pages:

288

RRP:

$17.99
Praise for Against All Odds Young Readers' Edition
a fascinating tale with . . . first-hand accounts filling in the gaps that could not be shown on the nightly news . . . the enduring message is that of the doctors and young readers should be inspired. A legacy indeed.

Barbara Braxton