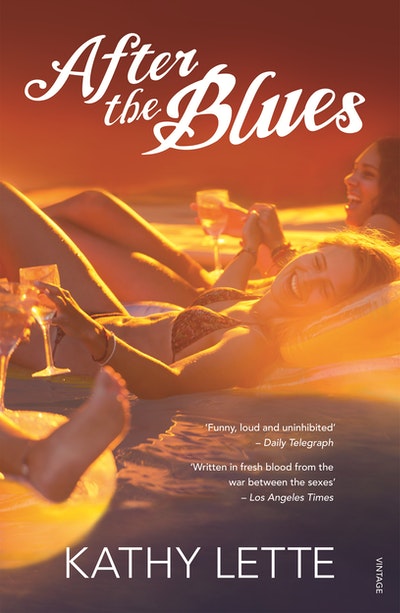 Published:

27 November 2017

ISBN:

9780143786962

Imprint:

Vintage Australia

Format:

Trade Paperback

Pages:

288

RRP:

$32.99
After the Blues
Extract
The tsunami
'By the time you find yourself, there'll be nobody home!'
That was my father's verdict when I rang home from Central Station to let my parents know that I'd run away and was catching the train up north. 'I mean, is that what this is all about? "Finding yourself" on some commune or something?'
I was nearly sixteen and with my bestie. Sarah and I had been best pals all through school and we had saved each other's sanity on a daily basis. We laughed at the same things, loved the same things, we finished each other's sentences – hell, we knew what each other was thinking before we'd even thought it.
We'd been together through thick and thin . . . and times had been Ryvita-thin of late. Drug overdoses, unwanted pregnancies, school suspensions, abortions, catfights, beach territorial warfare… Welcome to life in the top Cronulla surfie gang.
I had hung around the periphery of this golden, sun-kissed elite, totally overawed. Barbie and Ken dolls clearly have sex – because these surfie gods and goddesses were obviously the progeny. What else could explain their perfection?
By ingratiating myself with the alpha surfie females, I had finally graduated into the Greenhills Gang at Cronulla Beach. But it was a boy's world. The boys reckoned girls shouldn't surf as it was so hard to get the smell out of the fish. I got 'dropped' by my boyfriend once, for daring to take out a board. My ex, Bruce, threatened to punch my lights out.
But that was before I met Garry.
As a bonsai brunette whose bra-cups do not runneth over, I was not a natural fit with this bronzed, blue-eyed, tousle-haired surf Adonis. He'd already been talent-spotted by a surf sponsor and was destined for aquatic greatness. But there was so much more to him than beauty and brawn. Sensitivity ran deep through him, buried, like a seam of gold. Yet I was the only one who could see it.
Garry was my one true love – but it turned out he loved the surf more, and drugs even better.
Which is why my bestie and I were running away – from exams, from parental lectures, from peer-group pressures, from the macho meatheads in the Greenhills Gang, from girls so catty they needed to go to the vet to get their claws clipped, from life in the Sydney beachside suburbs and, mainly, from my unromantic boyfriend.
Yes, I pined and ached for his warm mouth and salty tang. Oh, I had a pang every time I thought of that tang… But we'd made a pact to 'never let a penis come between us'.
'I like Garry, sure,' Sarah had said as we boarded the overnight train bound for Byron Bay, 'but with him, surf comes first. You can't trust the big dag. He's let you down so often. I, on the other hand, am like your human hammock.'
'I will always hold you up too,' I promised.
And so it was just us against the world. As the train chugged north and the day died in the window, we made plans to be singers or poets or novelists… Whatever came first. From now on, we would only surf our brainwaves. We would sit up all night and plan our brilliant, technicolour future…
I awoke with a jolt and lurched leftwards.
'Quick! Casino station. Move it!' I shouted.
We grabbed our sleeping bags and swags and tumbled out onto the platform, into the searing northern New South Wales sunshine, blinking like newborn field mice. The sun sliced into my bleary eyes, which is why it took me a moment to realise what I was looking at. He was resting nonchalantly up against the railings, his surfboard propped beside him.
'What took youse so long?' He grinned, all wry and dry, his blue eyes ablaze.
'Garry! How the hell did you know we'd be… And how the hell did you get up here so fast?'
'Hitched.'
'Relying on the kindness of passing psychopaths… Sooo smart,' Sarah said facetiously. She was clearly not as pleased as I was to see my boyfriend, leaning on the wall, leg cocked up behind him like a flamingo.
Garry shrugged and biffed her good-naturedly. They were friends too. Mostly.
'There's a bus to Byron in ten,' he said.
After we'd kissed on the bus until our lips went numb, I prised myself free, left him stretched out along the back seat to sleep and went to sit with Sarah. We jounced along three rows in front of him.
'I can't believe he came after me,' I whispered to her, amazed, thrilled, tingling.
She raised a caustic brow.
'I mean, just when I'd given up on him.'
She shrugged.
'Are you pissed off?'
'No,' she said, sarcastically. 'Not at all. Obviously, the three of us make a really good pair.'
---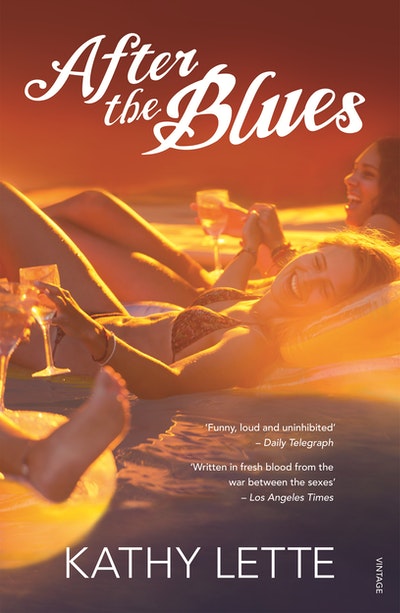 Now an adult, Debbie and her girlfriends reveal what women really say when men aren't around. Oh dear . . .!
Buy now
Buy now
---