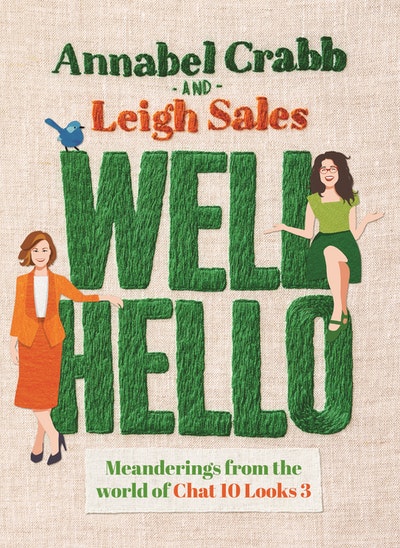 Published:

28 September 2021

ISBN:

9781761041525

Imprint:

Penguin

Format:

Trade Paperback

Pages:

352

RRP:

$39.99
Well Hello
Meanderings from the world of Chat 10 Looks 3
Extract
Introduction
Just two chicks chatting into the same phone
The Chat 10 Looks 3 story
'Pre-emptively – it's not an audition for a show and it's not an ABC thing. It's just us mucking around for a few weeks.' Tweet by Leigh Sales announcing that she and buddy Annabel Crabb were launching a little podcast, November 2014.
When podcast anthropologists eventually study the phenomenon of Chat 10 Looks 3 they'll quickly deduce that Episode 1 laid down all the signposts for what was to come: piss-poor audio quality; Leigh luring Annabel into a room that just happened to have a grand piano in it; an immediate, gregarious launch into a show tune; the first hero-worship of Yotam Ottolenghi ('constantly in my top 1 of cookbooks') and Helen Garner ('the best living Australian writer'); shameless name-dropping and clock-watching; and Sales giving Crabb the wind-up at the 30-minute mark – all inside a barely planned conversation held together by a string of creative yet affectionate insults.
'We might leave it here for this week, and then we'll see how it goes. And if we've got time, we'll do it again next week. Thanks for listening to us,' wrapped up Leigh, casually. 'Oh, Crabb just fell over.'
Annabel: 'It's my physical grace you admire.'
Yet somehow this shambolic and deeply self-indulgent opener became a hit with listeners. Perhaps they had come for the serious Leigh Sales of Lateline and 7.30 and stayed for the daggy, potty-mouthed Queenslander with unfulfilled dreams of stage musical stardom. Or maybe they'd tuned in for the wit and warmth of Annabel Crabb and got sucked in by her outlandish vocabulary and anecdotes of unwieldy length and dubious merit.
By Episode 2, our bumbling bibliophiles realised people would actually tune in to two chicks chatting into the same phone about what they'd 'read, watched, cooked or been irrationally interested by' that week. Leigh's then husband Phil Willis – later to become known as 'Brendan' due to an erroneous iTunes review – was producing the podcast and had supplied them with a handheld microphone, which quickly became the victim of a power struggle between Crabb and Sales. Leigh revealed herself to be a monster who discards unwanted books – even inscribed ones; Annabel called a man who'd ineptly tried to insult her on social media a 'prong'. Cake was discussed and eaten; bookshelf organisation was compared; fantasy memoir names were tossed about; and a frankly disturbing tale of jellied breastmilk was allowed to air.
Certain motifs emerged as more episodes were somehow recorded despite the hosts' galactic ineptitude with the audio equipment. Various interruptions – planes, dogs, kids – in the recording became the norm. Leigh said unprovoked, rude things about tuba players. Competitive baking ramped up and the compliment 'smug bundt' was bandied about. Sales droned on and on about music but tapped her watch impatiently when Annabel launched into one of her shaggy-dog stories. Celebrity names were dropped with suspicious regularity, causing the hosts to shriek 'CLANG!' each time. And almost every episode was derailed at some stage by the pair collapsing into cry-laughing at something absurd the other had said.
It became frighteningly apparent that yes, people were listening. The hard-to-classify and cryptically named Chat 10 Looks 3 had become an unlikely smash, as Annabel and Leigh discovered. Fans – who had started to self-identify as 'Chatters' – seemed not to mind about the slapdash structure and inconsistent release schedule, sometimes waiting weeks before Crabb and Sales hit the mic once more for a shoddy recording session in a cupboard, or the ladies' loos, or a car.
And the podcast that had ostensibly started out about books and movies and cooking had unintentionally revealed itself (or, at least, by Episode 25, as follows) to be about something else: friendship.
A I have to say, one of the nicest things is, I've met some incredibly excellent people who really I only know because they have listened to the podcast and come up and say 'Hello' or hand over cakes. And you can really tell a podcast listener because they'll just come up and give you a giant hug. It's a really interesting thing, isn't it?
L Well, it's interesting for me because previously, because of my 7.30 persona, people tended to be somewhat scared of me, and give me a wide berth, or approach me with some level of trepidation. Whereas the Chat 10 listeners barrel up like they're my best friend and want to have a chat, which is really, really lovely. One of the greatest compliments, actually, that I look at occasionally, on the iTunes reviews that Brendan's always directing people into . . .
A The best one ever is that lady who said, 'God, it's the greatest podcast, I just love it, it's so cool, I've just never heard anything like it! Two out of five.' Two stars! She is excellent.
L I liked the one that was the construction worker: 'Yeah, look, I started listening to this because I needed to drown out the noise of an angle grinder, and all I knew was that Sales was some harpy that rips into politicians and Crabb is something or other else and yeah, it's actually pretty good!'
A That was my dad.
L The thing that I've seen multiple people say is they feel like they're hanging around with us, and like they're trying to get a word in edgeways but they can't. Which I think is a really, really nice compliment – that you actually feel like we're your friends, that we're hanging around with you. So that makes my heart glad.
A horde of Chatters keen to join the conversation needed an outlet, thought Sales and second producer Cathy Beale, aka Brenda 1.0, and so the behemoth Chat 10 Looks 3 Community Facebook group was spawned, becoming a vast locality of like-minded, interesting, kind folk with a subculture of its own that we definitely avoid calling a cult, because, well . . . cults. A Chat 10 merchandise shop sprang up, fuelled by consumer demand for fairy-wren regalia and insults-based kitchenware. More on all that later.
More on this later, too: the decision of two already overstretched women on the verge of a nervous breakdown to embark on live podcast shows, selling out theatres across Australia to audiences who paid 40ish bucks to watch them not only sit around gasbagging about books but also sing, dance, dress up in idiotic costumes, quiz guests, accidentally insult their hosts and generally make arses of themselves.
But a multi-pronged media and entertainment empire needs a support crew, and Crabb and Sales roped in a gang of pals and partners to help run it. Phil uploaded the first podcasts, and started the indispensable podcast notes; Leigh's ABC pal Cathy succeeded him and added Facebook wrangler to her job description; neighbour Gwen Blake handled the merch and the marketing and the design and just about everything else; Crabb's partner Jeremy Storer came on board as the details and logistics bloke and revealed a hitherto untapped skill as a theatre impresario; old chum Miranda Murphy whipped up a sporadic email newsletter; Chatter Bec Francis turned into Brenda 2.0 and took over as Facebook shepherd with the help of a flock of Brendalings; and Antony Stockdale took time out of his busy Betoota Advocate schedule to be brought on as partnerships and podcast production guy.
To the undoubted astonishment of audio engineers everywhere, Chat 10 Looks 3 was even a double winner at the 2019 Australian Podcast Awards, managing to cover the gamut of culture from low to high by being recognised in the categories of TV, Film & Pop Culture AND Literature, Arts & Music.
That's what happens when Leigh Sales and Annabel Crabb 'just muck around for a few weeks'. The 'itinerant podcast in which they discuss what they're reading, watching, cooking, listening to or irrationally exhilarated by' found a niche and then lodged itself under the skin of thousands of new friends.
'I like that we have a space where it says: you know what it is okay to be in life? Smart, well-read and a nice person,' Sales said in a Fairfax newspaper profile of Chat 10. 'Because I think for women the messages that you get elsewhere are usually not that. The messages you get are it's good to be skinny, to not have wrinkles and to look amazing. And we never talk about any shit like that. We don't care about that.' (More on that later, too.)
'Having this community with all the listeners has been the most unexpected and amazing thing and thank you to all of you for the gift you've given to Annabel Crabb and me. We really do feel the love. And thanks to Annabel Crabb for the unbelievable number of laughs, her generosity of spirit, her brilliant mind and the non-stop interesting conversation. Love that turnip-obsessed, Brian May-haired, Ottolenghi-stalking freakshow of a person.'
---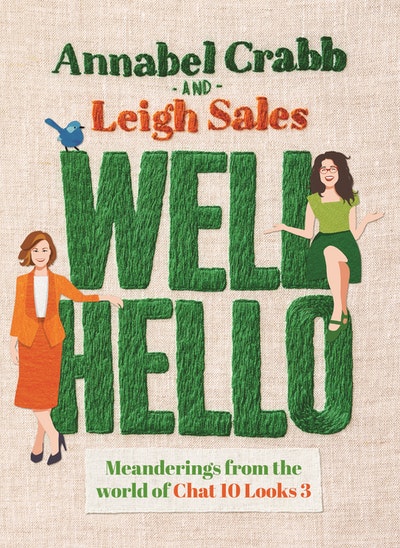 From the hit podcast Chat 10 Looks 3 comes a smart, hilarious and heartfelt book about friendship, the vagaries of life and culture, and everything in between.
Buy now
Buy now
---