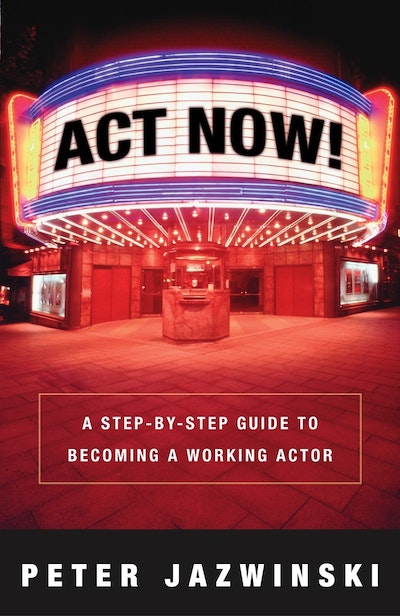 Published:

15 September 2003

ISBN:

9781400048625

Imprint:

Crown

Format:

Paperback

Pages:

288

RRP:

$24.99
Act Now!
---
---
Finally, a book that tells you step-by-step exactly how to become a working actor. The other books out there rely on one person's specific experiences and provide the basics, not the specifics.
How do I become an actor? As top stars are making $20 million per film or $1 million per episode for Friends, it's a question that more
and more people are asking every day.
Peter Jazwinski's www.myactingaagent.com has turned into Yahoo's number-one-ranked site for aspiring actors who are seeking a foolproof plan for how to make it in show business. In ACT NOW, Jazwinski provides an seven-step plan for making it in Hollywood.
Perhaps Jazwinski's clients draw inspiration from his own story. A native of Connecticut, he arrived in Hollywood without any contacts or
knowledge of the business. By trial and error, and eventually by following the plan that he outlines in this book, Jazwinski got auditions, a SAG card, and a speaking part in a scene with Jim Carrey in The Mask. It wasn't an accident. It was the direct result of persistently
following all of the steps provided in ACT NOW!
Too many acting books have been written by managers, agents, or acting coaches who simply recount what they know from their own
unique experiences. What they don't tell readers is how to do it exactly—how to start from scratch and actually become a working actor.
All of the other books on the market seem to provide the same basic information, such as what a headshot should look like and what an actor should say and wear at an audition. These books simply assume too much and don't offer the vital information that a true beginner needs.
What most aspiring actors want to know is: How do I get in there? What's the secret? How do I meet an agent? ACT NOW! provides actors with a step-by-step plan that will put them in the right spot at the right time. This book is about the nuts and bolts of actually doing it. It reads more like a Suze Orman or Tony Robbins book than something written by Marion Brando or George Bernard Shaw. It even comes complete with an easy-to-follow flowchart of daily activities all geared toward getting the actor into an audition or into an interview with an agent.

Published:

15 September 2003

ISBN:

9781400048625

Imprint:

Crown

Format:

Paperback

Pages:

288

RRP:

$24.99