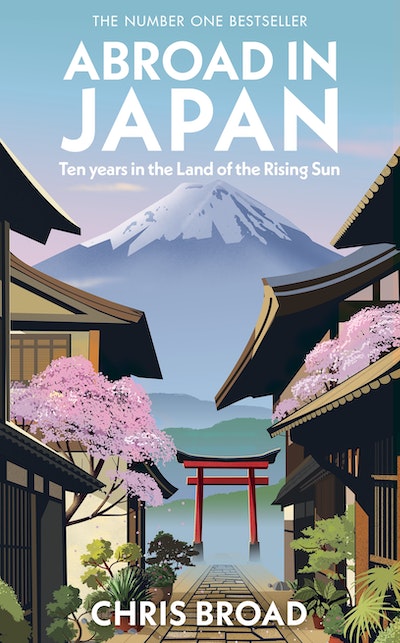 Published:

8 August 2023

ISBN:

9781787637085

Imprint:

Bantam

Format:

Trade Paperback

Pages:

320

RRP:

$35.00
Abroad in Japan
The No. 1 Sunday Times Bestseller
---
---
---
From YouTube sensation Chris Broad, the hilarious and insightful memoir of a Brit trying assimilate into life in Japan as he unravels the wonders and eccentricities of one of the world's most mysterious cultures.
When Englishman Chris Broad landed in a rural village in northern Japan he wondered if he'd made a huge mistake. With no knowledge of the language and zero teaching experience, was he about to be the most quickly fired English teacher in Japan's history?
Abroad in Japan charts a decade of living in a foreign land and the chaos and culture clash that came with it. Packed with hilarious and fascinating stories, this book seeks out to unravel one the world's most complex cultures.
Spanning ten years and all forty-seven prefectures, Chris takes us from the lush rice fields of the countryside to the frenetic neon-lit streets of Tokyo. With blockbuster moments such as a terrifying North Korean missile incident, a mortifying experience at a love hotel and a week spent with Japan's biggest movie star, Abroad in Japan is an extraordinary and informative journey through the Land of the Rising Sun.
Published:

8 August 2023

ISBN:

9781787637085

Imprint:

Bantam

Format:

Trade Paperback

Pages:

320

RRP:

$35.00
Praise for Abroad in Japan
From wide-eyed exchange teacher to seasoned youtuber, Chris Broad explores Japan in all its quirky glory, surviving earthquakes, North Korean missile alerts, cat cafe allergies and Love Hotel evictions. Endlessly fascinating!

Will Ferguson, author of <i>Hokkaido Highway Blues<i>
From wide-eyed exchange teacher to seasoned youtuber, Chris Broad explores Japan in all its quirky glory, surviving earthquakes, North Korean missile alerts, cat cafe allergies and Love Hotel evictions. Endlessly fascinating!

Will Ferguson, author of <i>Hokkaido Highway Blues<i>
From wide-eyed exchange teacher to seasoned youtuber, Chris Broad explores Japan in all its quirky glory, surviving earthquakes, North Korean missile alerts, cat cafe allergies and Love Hotel evictions. Endlessly fascinating!

Will Ferguson, author of <i>Hokkaido Highway Blues<i>
From wide-eyed exchange teacher to seasoned youtuber, Chris Broad explores Japan in all its quirky glory, surviving earthquakes, North Korean missile alerts, cat cafe allergies and Love Hotel evictions. Endlessly fascinating!

Will Ferguson, author of <i>Hokkaido Highway Blues<i>
From wide-eyed exchange teacher to seasoned youtuber, Chris Broad explores Japan in all its quirky glory, surviving earthquakes, North Korean missile alerts, cat cafe allergies and Love Hotel evictions. Endlessly fascinating!

Will Ferguson, author of <i>Hokkaido Highway Blues<i>
From wide-eyed exchange teacher to seasoned youtuber, Chris Broad explores Japan in all its quirky glory, surviving earthquakes, North Korean missile alerts, cat cafe allergies and Love Hotel evictions. Endlessly fascinating!

Will Ferguson, author of <i>Hokkaido Highway Blues<i>
From wide-eyed exchange teacher to seasoned youtuber, Chris Broad explores Japan in all its quirky glory, surviving earthquakes, North Korean missile alerts, cat cafe allergies and Love Hotel evictions. Endlessly fascinating!

Will Ferguson, author of <i>Hokkaido Highway Blues<i>
From wide-eyed exchange teacher to seasoned youtuber, Chris Broad explores Japan in all its quirky glory, surviving earthquakes, North Korean missile alerts, cat cafe allergies and Love Hotel evictions. Endlessly fascinating!

Will Ferguson, author of <i>Hokkaido Highway Blues<i>
From wide-eyed exchange teacher to seasoned youtuber, Chris Broad explores Japan in all its quirky glory, surviving earthquakes, North Korean missile alerts, cat cafe allergies and Love Hotel evictions. Endlessly fascinating!

Will Ferguson, author of <i>Hokkaido Highway Blues<i>
Fascinating, fact-packed and very funny. Broad's wry humour, in-depth knowledge and adept storytelling make him an engaging guide to the bewildering Japanese experience. Accurately captures the excitement and dream-like disorientation of a foreigner discovering Japan. An excellent and enjoyable read for the Japan-curious. I loved it and learned a lot.

Sam Baldwin, author of <i>For Fukui's Sake: Two years in rural Japan<i>
Fascinating, fact-packed and very funny. Broad's wry humour, in-depth knowledge and adept storytelling make him an engaging guide to the bewildering Japanese experience. Accurately captures the excitement and dream-like disorientation of a foreigner discovering Japan. An excellent and enjoyable read for the Japan-curious. I loved it and learned a lot.

Sam Baldwin, author of <i>For Fukui's Sake: Two years in rural Japan<i>
Fascinating, fact-packed and very funny. Broad's wry humour, in-depth knowledge and adept storytelling make him an engaging guide to the bewildering Japanese experience. Accurately captures the excitement and dream-like disorientation of a foreigner discovering Japan. An excellent and enjoyable read for the Japan-curious. I loved it and learned a lot.

Sam Baldwin, author of <i>For Fukui's Sake: Two years in rural Japan<i>
Fascinating, fact-packed and very funny. Broad's wry humour, in-depth knowledge and adept storytelling make him an engaging guide to the bewildering Japanese experience. Accurately captures the excitement and dream-like disorientation of a foreigner discovering Japan. An excellent and enjoyable read for the Japan-curious. I loved it and learned a lot.

Sam Baldwin, author of <i>For Fukui's Sake: Two years in rural Japan<i>
Fascinating, fact-packed and very funny. Broad's wry humour, in-depth knowledge and adept storytelling make him an engaging guide to the bewildering Japanese experience. Accurately captures the excitement and dream-like disorientation of a foreigner discovering Japan. An excellent and enjoyable read for the Japan-curious. I loved it and learned a lot.

Sam Baldwin, author of <i>For Fukui's Sake: Two years in rural Japan<i>
Fascinating, fact-packed and very funny. Broad's wry humour, in-depth knowledge and adept storytelling make him an engaging guide to the bewildering Japanese experience. Accurately captures the excitement and dream-like disorientation of a foreigner discovering Japan. An excellent and enjoyable read for the Japan-curious. I loved it and learned a lot.

Sam Baldwin, author of <i>For Fukui's Sake: Two years in rural Japan<i>
Fascinating, fact-packed and very funny. Broad's wry humour, in-depth knowledge and adept storytelling make him an engaging guide to the bewildering Japanese experience. Accurately captures the excitement and dream-like disorientation of a foreigner discovering Japan. An excellent and enjoyable read for the Japan-curious. I loved it and learned a lot.

Sam Baldwin, author of <i>For Fukui's Sake: Two years in rural Japan<i>
Fascinating, fact-packed and very funny. Broad's wry humour, in-depth knowledge and adept storytelling make him an engaging guide to the bewildering Japanese experience. Accurately captures the excitement and dream-like disorientation of a foreigner discovering Japan. An excellent and enjoyable read for the Japan-curious. I loved it and learned a lot.

Sam Baldwin, author of <i>For Fukui's Sake: Two years in rural Japan<i>
Fascinating, fact-packed and very funny. Broad's wry humour, in-depth knowledge and adept storytelling make him an engaging guide to the bewildering Japanese experience. Accurately captures the excitement and dream-like disorientation of a foreigner discovering Japan. An excellent and enjoyable read for the Japan-curious. I loved it and learned a lot.

Sam Baldwin, author of <i>For Fukui's Sake: Two years in rural Japan<i>
Chris Broad's wry, self-deprecating memoir carves a unique path across Japan bringing him into contact with far too many cats, heartening renewal in Tohoku, and even pizza with Ken Watanabe. This is a thoroughly contemporary book, a memoir of life in Japan that couldn't have been written at any other point in history.

Iain Maloney, author of <i>The Only Gaijin in the Village<i>
Chris Broad's wry, self-deprecating memoir carves a unique path across Japan bringing him into contact with far too many cats, heartening renewal in Tohoku, and even pizza with Ken Watanabe. This is a thoroughly contemporary book, a memoir of life in Japan that couldn't have been written at any other point in history.

Iain Maloney, author of <i>The Only Gaijin in the Village<i>
Chris Broad's wry, self-deprecating memoir carves a unique path across Japan bringing him into contact with far too many cats, heartening renewal in Tohoku, and even pizza with Ken Watanabe. This is a thoroughly contemporary book, a memoir of life in Japan that couldn't have been written at any other point in history.

Iain Maloney, author of <i>The Only Gaijin in the Village<i>
Chris Broad's wry, self-deprecating memoir carves a unique path across Japan bringing him into contact with far too many cats, heartening renewal in Tohoku, and even pizza with Ken Watanabe. This is a thoroughly contemporary book, a memoir of life in Japan that couldn't have been written at any other point in history.

Iain Maloney, author of <i>The Only Gaijin in the Village<i>
Chris Broad's wry, self-deprecating memoir carves a unique path across Japan bringing him into contact with far too many cats, heartening renewal in Tohoku, and even pizza with Ken Watanabe. This is a thoroughly contemporary book, a memoir of life in Japan that couldn't have been written at any other point in history.

Iain Maloney, author of <i>The Only Gaijin in the Village<i>
Chris Broad's wry, self-deprecating memoir carves a unique path across Japan bringing him into contact with far too many cats, heartening renewal in Tohoku, and even pizza with Ken Watanabe. This is a thoroughly contemporary book, a memoir of life in Japan that couldn't have been written at any other point in history.

Iain Maloney, author of <i>The Only Gaijin in the Village<i>
Chris Broad's wry, self-deprecating memoir carves a unique path across Japan bringing him into contact with far too many cats, heartening renewal in Tohoku, and even pizza with Ken Watanabe. This is a thoroughly contemporary book, a memoir of life in Japan that couldn't have been written at any other point in history.

Iain Maloney, author of <i>The Only Gaijin in the Village<i>
Chris Broad's wry, self-deprecating memoir carves a unique path across Japan bringing him into contact with far too many cats, heartening renewal in Tohoku, and even pizza with Ken Watanabe. This is a thoroughly contemporary book, a memoir of life in Japan that couldn't have been written at any other point in history.

Iain Maloney, author of <i>The Only Gaijin in the Village<i>
Chris Broad's wry, self-deprecating memoir carves a unique path across Japan bringing him into contact with far too many cats, heartening renewal in Tohoku, and even pizza with Ken Watanabe. This is a thoroughly contemporary book, a memoir of life in Japan that couldn't have been written at any other point in history.

Iain Maloney, author of <i>The Only Gaijin in the Village<i>
A chortleworthy look at the land of karaoke, cat fanatics and chocolate-coated fries.

The Times
A chortleworthy look at the land of karaoke, cat fanatics and chocolate-coated fries.

The Times
A chortleworthy look at the land of karaoke, cat fanatics and chocolate-coated fries.

The Times
A chortleworthy look at the land of karaoke, cat fanatics and chocolate-coated fries.

The Times
A chortleworthy look at the land of karaoke, cat fanatics and chocolate-coated fries.

The Times
A chortleworthy look at the land of karaoke, cat fanatics and chocolate-coated fries.

The Times
A chortleworthy look at the land of karaoke, cat fanatics and chocolate-coated fries.

The Times
A chortleworthy look at the land of karaoke, cat fanatics and chocolate-coated fries.

The Times
A chortleworthy look at the land of karaoke, cat fanatics and chocolate-coated fries.

The Times
This book seeks to unravel a culture that can often seem distant to visitors, charting his life over ten years and countless quirky anecdotes.

Wanderlust
This book seeks to unravel a culture that can often seem distant to visitors, charting his life over ten years and countless quirky anecdotes.

Wanderlust
This book seeks to unravel a culture that can often seem distant to visitors, charting his life over ten years and countless quirky anecdotes.

Wanderlust
This book seeks to unravel a culture that can often seem distant to visitors, charting his life over ten years and countless quirky anecdotes.

Wanderlust
This book seeks to unravel a culture that can often seem distant to visitors, charting his life over ten years and countless quirky anecdotes.

Wanderlust
This book seeks to unravel a culture that can often seem distant to visitors, charting his life over ten years and countless quirky anecdotes.

Wanderlust
This book seeks to unravel a culture that can often seem distant to visitors, charting his life over ten years and countless quirky anecdotes.

Wanderlust
This book seeks to unravel a culture that can often seem distant to visitors, charting his life over ten years and countless quirky anecdotes.

Wanderlust
This book seeks to unravel a culture that can often seem distant to visitors, charting his life over ten years and countless quirky anecdotes.

Wanderlust