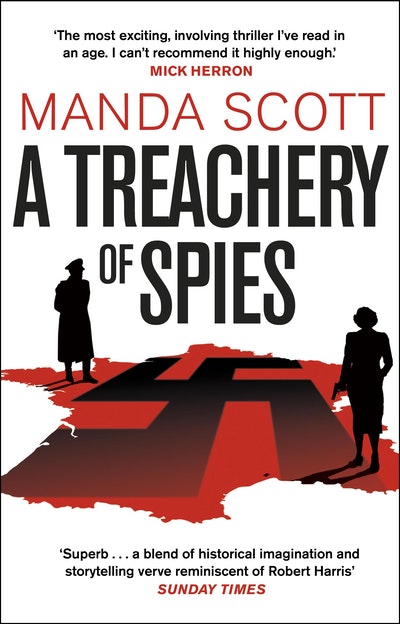 Published:

20 August 2019

ISBN:

9780552169516

Imprint:

Corgi

Format:

Paperback

Pages:

560

RRP:

$19.99
A Treachery of Spies
The Sunday Times Thriller of the Month
---
---
---
A smart combination of double-crossing, code-breaking spies and the murder of an unidentifiable woman. Deftly plotted and brilliantly written, this book will keep you guessing right until the end.
THRILLER OF THE MONTH 'Superb . . . a blend of historical imagination and storytelling verve reminiscent of Robert Harris.' The Sunday Times
'The most exciting, involving thriller I've read in an age, and I can't recommend it highly enough.' Mick Herron
*
A Treachery of Spies is an espionage thriller to rival the very best, a high stakes game of cat-and-mouse, played in the shadows, which will keep you guessing every step of the way.
A body has been found. The elderly victim's identity has been cleverly obscured but one thing is clear: she has been killed in the manner of traitors to the Resistance in World War Two.
To find answers in the present, police inspector Inès Picaut must look to the past; to 1940s France, a time of sworn allegiances and broken promises, where the men and women of the Resistance fought for survival against Nazi invaders.
But, as Picaut soon discovers, there are those in the present whose futures depend on the past remaining buried, and who will kill to keep their secrets safe. Old fashioned espionage might be a thing of the past but treachery is as dangerous as ever.
*
'This is a rich vein for fiction, and Scott does it more than justice, with this beautifully imagined, beautifully written, smart, sophisticated - but fiercely suspenseful - thriller.' Lee Child
'The most exquisite story of heroism, deception, love and treachery you'll find this year.' Simon Mayo
'A fast-moving tightly-wrought thriller. The destination is in fact as unexpected as it's satisfying - and very thought-provoking.' Robert Goddard
'A Treachery of Spies is a masterclass in thriller-writing. It is a heart-racing, heart-wrenching read, conceived with passion and executed with frightening skill. An awe-inspiring achievement.' Giles Kristian
Published:

20 August 2019

ISBN:

9780552169516

Imprint:

Corgi

Format:

Paperback

Pages:

560

RRP:

$19.99
Praise for A Treachery of Spies
Superb . . . a blend of historical imagination and storytelling verve reminiscent of Robert Harris.

The Sunday Times
A Treachery of Spies is the equal of Charlotte Gray in its insights into the period and, I would say, beats it for sheer excitement… one of the most gripping spy stories I have ever read.

Jake Kerridge, S Magazine
This book opened up and swallowed me whole - the characters, the plot, the writing, everything. It's the most exciting, involving thriller I've read in an age, and I can't recommend it highly enough.

Mick Herron
[Scott's] writing is as commanding as ever

Barry Forshaw, Guardian
This is a rich vein for fiction, and Scott does it more than justice, with this beautifully imagined, beautifully written, smart, sophisticated - but fiercely suspenseful - thriller.

Lee Child
The most exquisite story of heroism, deception, love and treachery you'll find this year.

Simon Mayo
Ingeniously plotted and wonderfully written.

Antonia Senior, The Times
A fast-moving tightly-wrought thriller. The destination is in fact as unexpected as it's satisfying - and very thought-provoking.

Robert Goddard
A Treachery of Spies is a masterclass in thriller-writing. It is a heart-racing, heart-wrenching read, conceived with passion and executed with frightening skill. An awe-inspiring achievement.

Giles Kristian
This is how you write a prologue. And the rest is exquisite too. A brutally brilliant and extremely clever novel of espionage, heroism, love and betrayal. Bravo.

Anna Mazzola
Through Scott's deeply compelling, deeply damaged characters - police officers, spies, saboteurs, wartime resisters - we witness the desperate moral complexity of wartime covert operations. But then Scott does something more: she shows us those complexities reflected and remade for our own era. Scott writes with such precision, control and understatement, it's impossible to look away.

Adam Brookes, author of the Night Heron trilogy