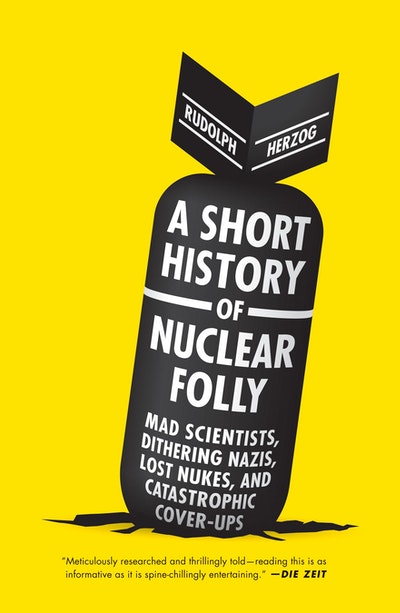 Published:

1 October 2014

ISBN:

9781612193304

Imprint:

Melville House

Format:

Trade Paperback

Pages:

256

RRP:

$27.99
A Short History Of Nuclear Folly
---
---
In the spirit of Dr. Strangelove and The Atomic Café, a blackly sardonic people's history of atomic blunders and near-misses revealing the hushed-up and forgotten episodes in which the great powers gambled with catastrophe
Rudolph Herzog, the acclaimed author of Dead Funny, presents a devastating account of history's most irresponsible uses of nuclear technology. From the rarely-discussed nightmare of "Broken Arrows" (40 nuclear weapons lost during the Cold War) to "Operation Plowshare" (a proposal to use nuclear bombs for large engineering projects, such as a the construction of a second Panama Canal using 300 H-Bombs), Herzog focuses in on long-forgotten nuclear projects that nearly led to disaster.
In an unprecedented people's history, Herzog digs deep into archives, interviews nuclear scientists, and collects dozens of rare photos. He explores the "accidental" drop of a Nagasaki-type bomb on a train conductor's home, the implanting of plutonium into patients' hearts, and the invention of wild tactical nukes, including weapons designed to kill enemy astronauts.
Told in a riveting narrative voice, Herzog—the son of filmmaker Werner Herzog—also draws on childhood memories of the final period of the Cold War in Germany, the country once seen as the nuclear battleground for NATO and the Warsaw Pact countries, and discusses evidence that Nazi scientists knew how to make atomic weaponry . . . and chose not to.
Published:

1 October 2014

ISBN:

9781612193304

Imprint:

Melville House

Format:

Trade Paperback

Pages:

256

RRP:

$27.99
Praise for A Short History Of Nuclear Folly
"Unflinching… Let's just say that Herzog's use of the word 'folly' is an understatement." —The Village Voice

"It is arguably not possible to imagine human stupidity on a grander scale than what Rudolph Herzog has stockpiled in his new book." —The Brooklyn Rail

"An eclectic, innovative approach to the bureaucratization of creativity during the Cold War."  —Los Angeles Review of Books 

"Meticulously researched and thrillingly told—reading this is as informative as it is spine-chillingly entertaining"
—Die Zeit

Praise for Rudolph Herzog's Dead Funny: Telling Jokes in Hitler's Germany

"A concise, compelling book." —The Independent (UK)

"Herzog, the son of the film-maker Werner Herzog, shares his father's curious and mordant wit." —The Financial Times

"Dead Funny isn't just a book of wildly off-limits humor. Rather, it's a fascinating, heartbreaking look at power dynamics, propaganda, and the human hunger for catharsis."
—The Atlantic, Best Books of 2012


From the Hardcover edition.