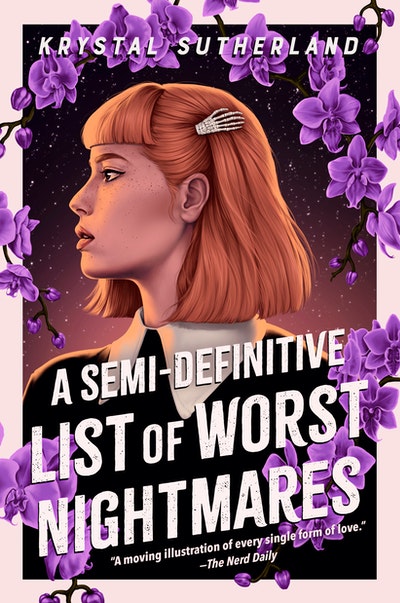 Published:

16 August 2022

ISBN:

9781761048777

Imprint:

Penguin

Format:

Paperback

Pages:

416

RRP:

$19.99
A Semi-Definitive List of Worst Nightmares
---
---
---
From the New York Times bestselling author of House of Hollow comes a new edition of her acclaimed second novel."A sweet and heartfelt story of love, fear, and mental illness . . . funny and touching in all the best ways."—Vox
From the New York Times bestselling author of House of Hollow comes this new edition of her inventive and acclaimed second novel.
"A moving illustration of every single form of love." The Nerd Daily
* An Amazon Editor's Favorite YA Book
* An Amazon Best of the Month Pick — YA/Teens
* A B&N Best Young Adult Book
Esther's family is riddled with fear. Her father is agoraphobic and hasn't left the basement in six years. Her twin brother cannot be in the dark. Her mother is terrified of bad luck. According to the family curse, they are destined to die from the very things they fear most.
Esther doesn't know what her greatest fear is yet (nor does she want to). So she avoids nearly everything, keeping close track of every phobia in her semi-definitive list of worst nightmares.
Then Esther is pickpocketed by Jonah Smallwood, an old elementary school classmate. Along with her phone, money, and a Fruit Roll-Up she'd been saving, Jonah also steals her list. And so begins Esther's ultimate challenge—to work her way through the list, tackling one fear at a time. Including one that Esther hadn't even considered: love.
"Entirely pure pleasure, a sweet and heartfelt story of love, fear, and mental illness. It's funny and touching in all the best ways." —VOX
"Imbue[d] with energy, fascinating histories, wisps of humor and, ultimately, grace. . . Equal parts inspiring and good fun."—The Bulletin of the Center for Children's Books, starred review
"[A] bewitching book . . . Sutherland's fertile imagination makes this book a deep dive into the intricacies of family, friends, and personal history. . . . A fresh and compelling look at mental illness."—Kirkus Reviews

"[A] darkly ironic tale about an offbeat dysfunctional family."—Publishers Weekly
"Rainbow Rowell devotees, John Green junkies, and fans of This Song Will Save Your Life by Leila Sales will find a lot to love here."—School Library Journal
"[I]mmediately hooks readers . . . Libraries should purchase this for readers looking for something quite out of the ordinary."—VOYA
"Dark, magical, and humorous, this is a quirky and cohesive novel about fear, depression, and obsession with death."—Booklist
"[A] magical take on mental illness that feels very real."—Bustle
"The story is fantastic. Making the most of magic realism and with a perfectly paced plot, easy-to-love characters, and a touching array of interesting and relevant topics, Sutherland's book should be on everyone's bookshelves…an alluring exploration of the human mental landscape."—The Nerd Daily
"Entirely pure pleasure, a sweet and heartfelt story of love, fear, and mental illness. It's funny and touching in all the best ways."—Vox

Published:

16 August 2022

ISBN:

9781761048777

Imprint:

Penguin

Format:

Paperback

Pages:

416

RRP:

$19.99
Praise for A Semi-Definitive List of Worst Nightmares
Rainbow Rowell devotees, John Green junkies, and fans of This Song Will Save Your Life by Leila Sales will find a lot to love here.

School Library Journal
A story that is both uproarious­ly funny and thought provoking. Deftly weaving irony within her narrative . . . A Semi-Definitive List of Worst Nightmares is ear­marked to be a classic.

Bookpage
[A] darkly ironic tale about an offbeat dysfunctional family.

Publishers Weekly
A bewitching book . . . Sutherland's fertile imagination makes this book a deep dive into the intricacies of family, friends, and personal history . . . A fresh and compelling look at mental illness.

Kirkus Reviews
A touching, hilarious and relatable book for older teens about depression, anxiety, facing your fears and learning to accept help when you need it most . . .

Tamsien West, Books + Publishing
[I]mmediately hooks readers . . . Libraries should purchase this for readers looking for something quite out of the ordinary.

VOYA
A funny, touching story filled with memorable characters and big issues.

http://babblingbooks.com.au/a-semi-definitive-list-of-worst-nightmares-review/
CBCA Book of the Year Awards
Notable Book • 2018 • Older Readers