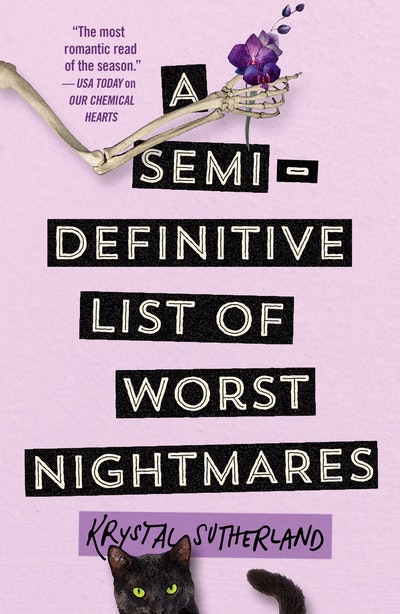 Published:

28 August 2017

ISBN:

9780143573913

Imprint:

Penguin

Format:

Paperback

Pages:

368

RRP:

$19.99
A Semi-Definitive List of Worst Nightmares
---
---
---
From the author of Our Chemical Hearts comes the hilarious, reality-bending tale of two outsiders facing their greatest fears about life and love—one debilitating phobia at a time.
"A moving illustration of every single form of love." The Nerd Daily
* An Amazon Editor's Favorite YA Book
* An Amazon Best of the Month Pick — YA/Teens
* A B&N Best Young Adult Book
Ever since Esther Solar's grandfather met Death, her entire family has been cursed to suffer one great fear in their lifetime—a fear that will eventually lead each and every one of them to their graves.
Take Esther's father, for instance: he's an agoraphobe who hasn't left the basement in six years. Then there's her twin brother, Eugene, whose fear of the dark goes far beyond the things that go bump in the night. And her mother, Rosemary, is terrified of bad luck.
As for Esther, she's managed to escape the curse . . . so far. She doesn't yet have a great fear because she avoids pretty much everything. Elevators, small spaces, crowds—anything that might trigger a phobia is off-limits and is recorded in her semi-definitive list of worst nightmares.
Esther thinks she has it all figured out, until she's reunited with an old classmate—and first crush—Jonah Smallwood. An unexpected friendship between the two develops and together they face one phobia at a time, only to discover the one fear they hadn't counted on: love.
"Entirely pure pleasure, a sweet and heartfelt story of love, fear, and mental illness. It's funny and touching in all the best ways." —VOX
"Imbue[d] with energy, fascinating histories, wisps of humor and, ultimately, grace. . . Equal parts inspiring and good fun."—The Bulletin of the Center for Children's Books, starred review
"[A] bewitching book . . . Sutherland's fertile imagination makes this book a deep dive into the intricacies of family, friends, and personal history. . . . A fresh and compelling look at mental illness."—Kirkus Reviews

"[A] darkly ironic tale about an offbeat dysfunctional family."—Publishers Weekly
"Rainbow Rowell devotees, John Green junkies, and fans of This Song Will Save Your Life by Leila Sales will find a lot to love here."—School Library Journal
"[I]mmediately hooks readers . . . Libraries should purchase this for readers looking for something quite out of the ordinary."—VOYA
"Dark, magical, and humorous, this is a quirky and cohesive novel about fear, depression, and obsession with death."—Booklist
"[A] magical take on mental illness that feels very real."—Bustle
"The story is fantastic. Making the most of magic realism and with a perfectly paced plot, easy-to-love characters, and a touching array of interesting and relevant topics, Sutherland's book should be on everyone's bookshelves…an alluring exploration of the human mental landscape."—The Nerd Daily
"Entirely pure pleasure, a sweet and heartfelt story of love, fear, and mental illness. It's funny and touching in all the best ways."—Vox

Published:

28 August 2017

ISBN:

9780143573913

Imprint:

Penguin

Format:

Paperback

Pages:

368

RRP:

$19.99
Praise for A Semi-Definitive List of Worst Nightmares
Rainbow Rowell devotees, John Green junkies, and fans of This Song Will Save Your Life by Leila Sales will find a lot to love here.

School Library Journal
A story that is both uproarious­ly funny and thought provoking. Deftly weaving irony within her narrative . . . A Semi-Definitive List of Worst Nightmares is ear­marked to be a classic.

Bookpage
[A] darkly ironic tale about an offbeat dysfunctional family.

Publishers Weekly
A bewitching book . . . Sutherland's fertile imagination makes this book a deep dive into the intricacies of family, friends, and personal history . . . A fresh and compelling look at mental illness.

Kirkus Reviews
A touching, hilarious and relatable book for older teens about depression, anxiety, facing your fears and learning to accept help when you need it most . . .

Tamsien West, Books + Publishing
[I]mmediately hooks readers . . . Libraries should purchase this for readers looking for something quite out of the ordinary.

VOYA
A funny, touching story filled with memorable characters and big issues.

http://babblingbooks.com.au/a-semi-definitive-list-of-worst-nightmares-review/
Krystal Sutherland' new book, A Semi-Definitive List of Worst Nightmares, is the kind of charmingly quirky YA novel that in five years will absolutely become a cult classic teen movie that underperforms at the box office.

Vox
CBCA Book of the Year Awards
Notable Book • 2018 • Older Readers