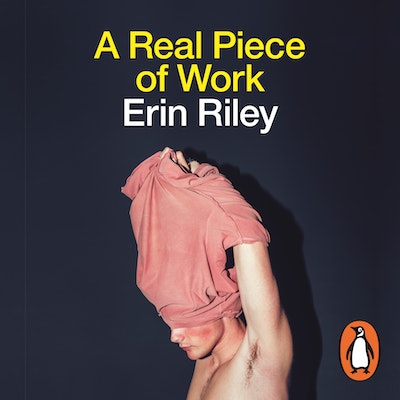 Published:

25 July 2023

ISBN:

9781761342615

Imprint:

Penguin Random House Australia Audio

Format:

Audio Download

Length:

7 hr 39 min

Narrator:

Erin Riley

RRP:

$26.99
A Real Piece of Work
A Memoir in Essays
---
---
---
An exhilarating, thought-provoking and joyful debut that asks how we create our identities and how we can transcend them.
This edition includes an additional essay exclusive to the audiobook.
'Language gave to me the body I knew was mine and brought into existence so many possibilities for what my gender can be.'
Across these twenty fresh and boldly intimate stories, Erin Riley writes about the things that matter most: family, heartbreak, humanity, justice and swimming, and the messy, hard graft of becoming one's authentic self.
In weaving together their everyday while questioning society and its structures, Erin gifts us stories that double as a manifesto on how to disrupt and reinvent narrative, identity, love and community.
Life is complicated, messy and – when small risks are taken – even exhilarating. In Erin's hands we fall in love, get curious and become exasperated with (and sometimes charmed by) the people in their life, emerging with new perspectives on how to be in the world.
Social worker and counsellor Erin Riley is a recipient of Penguin Random House Australia's 2021 Write It fellowship program, which aspires to find, nurture and develop unpublished writers across all genres, with a focus on underrepresented sections of our community.
Published:

25 July 2023

ISBN:

9781761342615

Imprint:

Penguin Random House Australia Audio

Format:

Audio Download

Length:

7 hr 39 min

Narrator:

Erin Riley

RRP:

$26.99
Praise for A Real Piece of Work
Crisp and lively, these tales are witty, sharply observed and moving.

Sydney Morning Herald
Healing and hopeful and heartbreaking. Absolutely stunning. I am begging you to read this book.

sydney khoo
Erin Riley makes a fine companion through these stories of their life. With a knack for calm appraisal and a sharp essayist's eye, they take us through the modern world's pains and delights, its paradoxes and its people.

Ronnie Scott
Crisp, caring, and at times, delicate, Riley writes of turning to themselves with tenderness when at times the world can't even look or stares a little too hard. From the awakening of a young crush to the collective bricks of community, this is a nourishing read that offers up the complexity of love with two hands and a glorious moustache.

Kaya Wilson
What's most striking about Erin Riley's writing is its warmth – their stories are always genuine, in expression and emotion, and always huge of heart. Riley is a natural storyteller, and they combine this with a strong sense of all that's artful in the essay: there are big and important ideas within these pieces, but they're never laboured or forced. These are intimate, intelligent essays about belonging, interconnection, many and varied kinds of love, and how a person might make and find a clear calmness of self amid it all.

Fiona Wright
Essays full of heart, soul, probing intelligence and wonderful characters.

Fiona Kelly McGregor
In these pages, Riley is modelling a new way to be smart: soft and tender and sweet.

Yves Rees, Australian Book Review
Erin writes wonderfully about the complexity of their relationship with their parents.

ABC Life Matters
A Real Piece of Work is a joyful and heart-aching collection of essays.

ArtsHub
A wonderful insight into the pieces of work we all need to do to make this complicated continent a more equitable place for everyone.

Books+Publishing
A remarkable new storytelling voice on the block.

Sun Bookshop recommended reading
A Real Piece of Work is a captivating and thought-provoking memoir that digs deep into the essence of vulnerability. Erin Riley's powerful storytelling will challenge your perceptions, ignite introspection, and ultimately leave you with a profound appreciation for the strength vulnerability can bring.

Ramona Magazine
Riley's career as a social worker within marginalised communities provides an engaging intellectual throughline, while their love affair with Merryn, a spunky public health nurse, is the heartbeat . . . Riley finds comfort in their queer community, who perform an act of collective solidarity right when they need it most.

Big Issue
Deeply felt and thought-through; compelling, inviting, guileless; leaves you feeling free.

Jessica Stanley, Read. Look. Think.