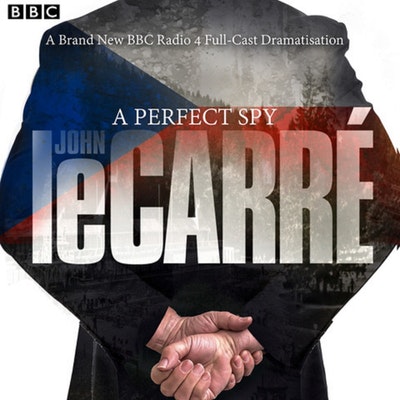 Published:

17 August 2017

ISBN:

9781785296635

Imprint:

BBC DL

Format:

Audio Download

Length:

2 hr 50 min

Narrator:

Michael Maloney, Bill Paterson, Julian Rhind-Tutt

RRP:

$12.99
A Perfect Spy
---
---
---
Julian Rhind-Tutt is Magnus Pym in this BBC Radio 4 full-cast adaptation of John le Carré's superb spy novel
Julian Rhind-Tutt is Magnus Pym in this BBC Radio 4 full-cast adaptation of John le Carré's superb spy novel
Winner of AudioFile Earphones Award © AudioFile
'Love is whatever you can still betray. Betrayal can only happen if you love.'
So says Magnus Pym, the spy of the title; and he has betrayed a lot in his life – countries, friends, family and lovers. When Magnus disappears after his father's funeral, MI6 launches an urgent manhunt to prevent his defection. But Pym is on a search of his own – to unravel the mystery of what made him the perfect spy.
Was it the duplicity of his con artist father, Rick? Or his MI6 mentor and father figure Jack Brotherhood? Or was it Axel, the Czech agent he has known since his teens? All have marked him in crucial ways, and as the net closes around Magnus, he attempts finally to make sense of his life and find the source of his talent for deception...
A Perfect Spy is le Carré's most autobiographical novel, and has been hailed as his masterpiece. This superlative radio production, starring Julian Rhind-Tutt, Bill Paterson, Michael Maloney and Anton Lesser, is a compelling exploration of identity, treachery and the complexities of the human heart.
Published:

17 August 2017

ISBN:

9781785296635

Imprint:

BBC DL

Format:

Audio Download

Length:

2 hr 50 min

Narrator:

Michael Maloney, Bill Paterson, Julian Rhind-Tutt

RRP:

$12.99
Taut, intricate, and urbane--this BBC/Scotland radio adaptation captures the sound and feel of the British-grey atmosphere and cold war imagery of John le Carré's 1986 masterwork. […]

Audio File Magazine
[…] It's not often that a spy novel can be described as heartbreaking, but that's just how close to the bone and well told this spy story is.[…]

Audio File Magazine