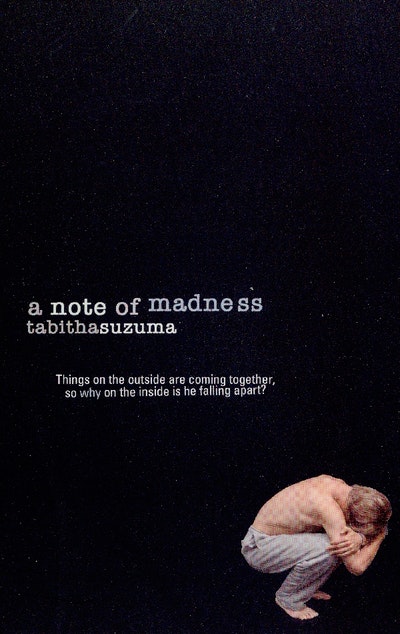 Published:

31 December 2011

ISBN:

9781446431399

Imprint:

Penguin eBooks

Format:

EBook

Pages:

320
A Note Of Madness
---
---
---
A hard-hitting, rollercoaster-ride of a novel about a teenage musical genius suffering from manic depression
Life as a student is good for Flynn. As one of the top pianists at the Royal College of Music, he has been put forward for an important concert, the opportunity of a lifetime.But beneath the surface, things are changing. On a good day he feels full of energy and life, but on a bad day being alive is worse than being dead. Sometimes he wants to compose and practise all night, at other times he can't get out of bed. His flatmate Harry tries to understand but is increasingly confused by Flynn's erratic mood swings. His friend Jennah tries to help, but Flynn finds it difficult to be around her as he struggles to control his feelings and behaviour. With the pressure of the forthcoming concert and the growing concern of his family and friends, emotions come to a head. Sometimes things can only get worse before they get better.
Published:

31 December 2011

ISBN:

9781446431399

Imprint:

Penguin eBooks

Format:

EBook

Pages:

320
Praise for A Note Of Madness
An exhilarating, emotive and at times exhausting read, which I couldn't put down

TES
Intense and extremely moving...written with compassion and perception, this is a moving, impressive debut.

The Bookseller
...a page-turner.

INIS (Children's Books Ireland Magazine)
Mental health issues are tackled here with insight and integrity...a book from the real world.

Lesley Agnew, The Bookseller
Intense and extremely moving...written with compassion and perception, this is a moving, impressive debut.

Becky Stradwick, The Bookseller
Flynn's struggle with Bipolar disorder, or Manic Depression, is not only a compulsively readable story, but a convincing portrayal of a young boy's struggle with mental illness. Not only is it brave for Suzuma to tackle a subject that has up until relatively recently been a taboo area, especially for young readers, but she has managed it with such style and compassion that the novel does not end up being about an 'issue' but about a set of people that the reader is able to feel for and relate to... A Note of Madness is a simply, but beautifully written story about a loving family who rally round to support and care for Flynn who has an incurable, but treatable illness. There is enough in the book for all teenagers to engage with, whether they have come into contact with metal illness or not.

Writeaway!
This book needs to come with a health warning. It is so well written, that we almost become Flynn, the young music student. Because of the age of the main protagonists, the novel will certainly appeal to young people who are in the middle of the hurly-burly of becoming adult... Suzuma accurately portrays for us Flynn's torture. The author has managed to capture the perspective of a young person suffering from manic depression in a much the same way as Haddon found the voice of the Asperger's syndrome / savant in The Curious Incident of the Dog in the Night-time. It is encouraging to see Young Adult Literature in the UK tackling some deep issues. This novel delightfully extends the range of what is available for young adults. It really pushes the boundaries further than even the work of Blackman and Burgess and comes close to what is being produced in other parts of Europe. For me, this book was a real page-turner. I can thoroughly recommend this book. I long to read another one equally as absorbing and fascinating. I hope Tabitha Suzuma will come up with the goods.

Gill James, Hackwriters.com
The deeply personal nature of the novel serves to give it a certain maturity, allowing the older reader to relate to its underlying emotional complexity... this touching book will be of great interest to any student who comprehends even a little of the mentality underlying Suzuma's thoughtful work.

Cherwell 24 (University of Oxford)
This debut novel about a struggling hero is beautifully written.

Betty Bookmark
Intelligent, intense and refreshingly honest, Flynn Laukonen is the perfect protagonist for Tabitha Suzuma's beautifully-written debut novel.... words cannot describe how lucid and readable this story is. Given that one in four people in the UK suffers from a mental health problem, a little understanding will go a very long way.

Imperial College Online
Suzuma handles the onset of manic depression with real skill and the music dimension with expertise.

Niall MacMonagle, Irish Times
A Note of Madness is much more than a book about depression: it's about brilliance, fear, love and living. That is its achievement, and what makes it a heartingly good read.

The Guardian