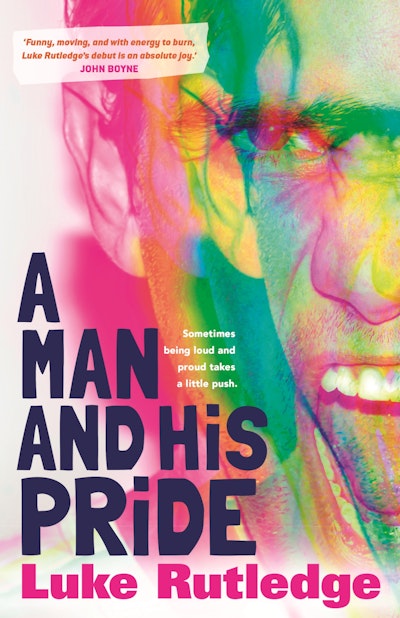 Published:

31 January 2023

ISBN:

9781761048456

Imprint:

Michael Joseph

Format:

Trade Paperback

Pages:

320

RRP:

$32.99
A Man and His Pride
---
---
---

'Funny, moving, and with energy to burn, Luke Rutledge's debut is an absolute joy.' – John Boyne

Sometimes life can be hard – until the right person shows you the way.
Despite coming out years ago, twenty-six-year-old Sean Preston has never been one to shout his sexuality from the rooftops. When his relationship of three months comes to a humiliating end, he vows never to become emotionally attached again, falling into a cycle of hook-ups, booze and an unrelenting gym routine.
The rest of Sean's life isn't panning out how he hoped either. His job as an online troll moderator is testing his mental health, his best friend and former girlfriend still resents him for coming out, and even his own mother seems to blame him for a tragedy that tore their family apart. But it is his surprising connection with an eighty-seven-year-old nursing home resident that pushes his identity crisis to the brink.
Then Sean meets naive but kind nurse William, and an unlikely friendship blossoms. William is shy and inexperienced when it comes to the gay dating scene, and Sean offers to show him the way – but it turns out William has a few unexpected life lessons to offer in return . . . and when it comes to forgiveness and self-love, Sean has a lot to learn.
Set in Brisbane during Australia's 2017 same-sex marriage plebiscite, A Man and His Pride is an exuberant and deeply moving story that celebrates some of the many ways to be gay, and shows that finding your pride is a journey – one you cannot take alone.
'A Man and His Pride is breezily written, moving queer fiction with a deft light comic touch.' - The Age
'This is thoroughly engrossing, deftly constructed and refreshingly frank about the ruthless realities of the gay scene and the difficulties in coming out and becoming comfortable in your identity.' DNA magazine
Published:

31 January 2023

ISBN:

9781761048456

Imprint:

Michael Joseph

Format:

Trade Paperback

Pages:

320

RRP:

$32.99
Praise for A Man and His Pride
Reading A Man and his Pride is the literary equivalent of spending a night in a club, dancing all your blues away, and waking the next morning with a smile on your face and a stranger in your bed. Funny, moving, and with energy to burn, Luke Rutledge's debut is an absolute joy.

John Boyne
A Man and His Pride announces Luke Rutledge as an exceptionally talented and exciting new voice, one whose contribution to the gay canon has got off to a soaring start!

Matt Cain
One man's story to understand and exorcise his shame, reunite himself with his natural and found family, and celebrate his pride at last. A great, relatable read for LGBTQ+ people and allies!

Henry Fry
A Man and His Pride is equal parts funny, sexy, brutal and poignant – an impressive debut.

Holden Sheppard
Candid, heartfelt, and ultimately hopeful, A Man and His Pride is a truly authentic queer Aussie debut.

Tobias Madden
A Man and His Pride is breezily written, moving queer fiction with a deft light comic touch.

The Age